Tomorrow's Leaders Graduate Students Give Back to their Communities
Tomorrow's Leaders Graduate Students Give Back to their Communities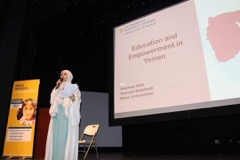 Shaima Al-Monefie, Sumood Al-Bahlooli, and Reem Al-Sulaimani recipients of the US Department of State-funded Tomorrow's Leaders Graduate (TLG) Program from Yemen, organized an educational conference for the Yemeni schools that are operating in Cairo. The conference took place in August at the Falaki Mainstage Theatre, The American University in Cairo (AUC) Tahrir Square campus, and aimed at outreaching principals, academic coordinators, and teachers to raise awareness on three main pillars: educational integrity, teaching strategies, and child safeguarding. Building upon the knowledge shared throughout the conference, teachers and principals have started further teacher training sessions in their own schools, with an eye on developing their curricula and teaching styles in the classroom.
Taking the initiative to lead and organize such an event was also no less useful for the three young women themselves. "The educational conference has enriched our experience in several ways. We have learned how to transfer a project idea from a piece of paper to the real world by working hard on our passion and what we believe in," reflected Al-Monefie. "We increased our social networks by being integrated with schools, the Yemeni embassy, some departments at AUC, printing houses, designers, different venues and volunteers," said Al-Bahlooli. "Our social media connections widened through the conference page and our personal profiles. Additionally, we gained experience in monitoring and observing, and following up on all the procedures before and after the conference," added Al-Sulaimani.
The TLG program is a joint effort between the US Department of State, Bureau of Near Eastern Affairs (NEA/AC), and AUC. It offers students from the Middle East and North Africa (MENA) a unique opportunity to pursue higher education and earn a master's degree at AUC in one of the following graduate programs: economics; international and comparative education; migration and refugee studies; and nanotechnology. It also equips students with the leadership skills, and experience needed to advance knowledge and contribute to the achievement of socially relevant outcomes and to propose local solutions to shared problems in the MENA region.
The Tomorrow's Leaders Graduate program is currently recruiting students from Iraq, Jordan and Morocco. The deadline to apply for spring admission is October 1, 2021.
For more information about TLG, visit the Tomorrow's Leaders Graduate Program webpage.