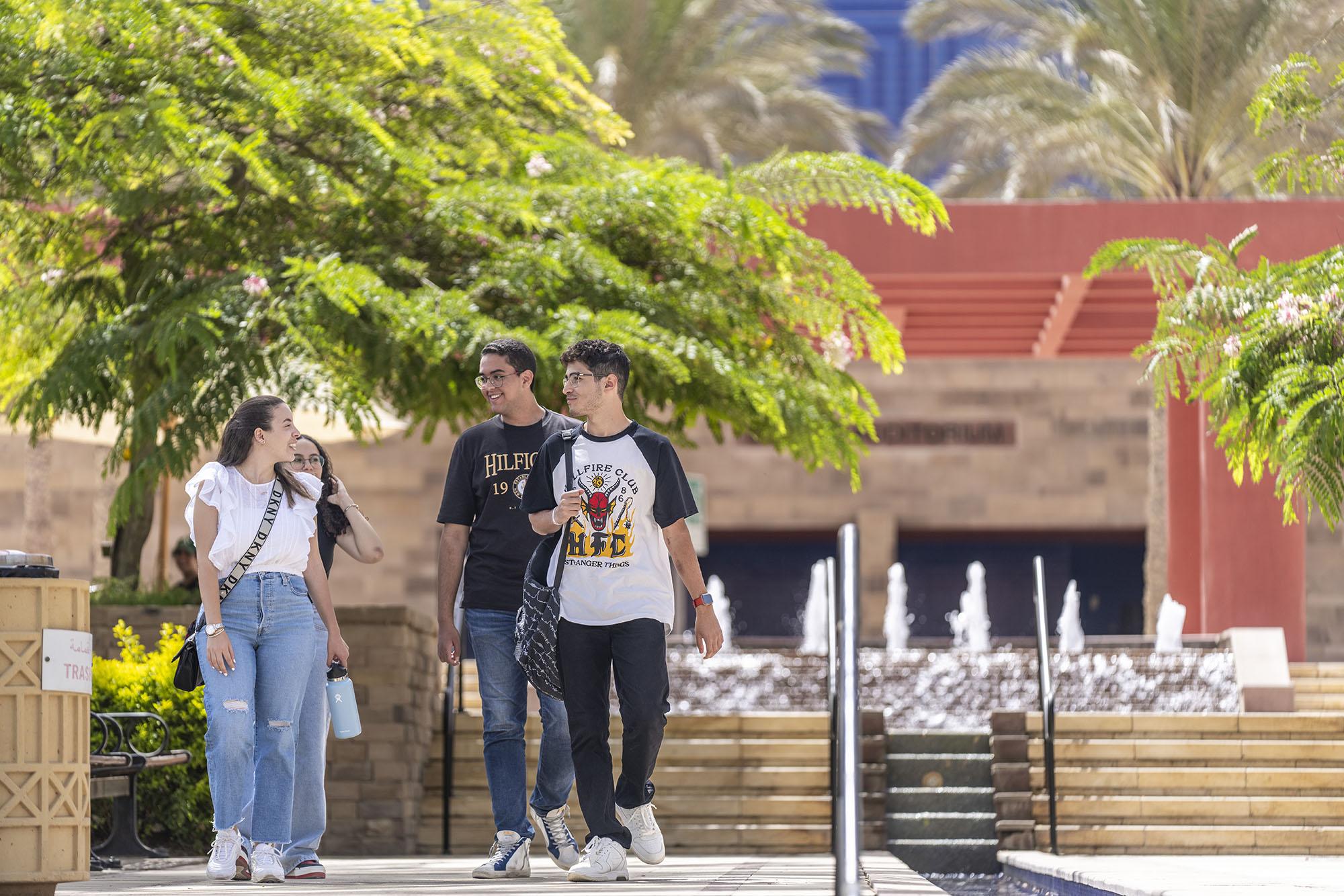 Campus Tours
A History-Rich Destination for the 21st Century
On Campus Tours
When it comes to choosing the right university, there's nothing like visiting the campus and experiencing it for yourself. A tour of AUC's award-winning New Cairo campus is your opportunity to engage with a diverse and robust community eager to learn, innovate and make a difference in the world. Learn interesting facts about our 260-acre, fully accessible, modern campus that weaves Egyptian urban and architectural traditions.
Get a feel for life at AUC during the one-hour tour when visiting the academic buildings, library, sports complex, University gardens and more. To go on a campus tour, you will need to register in advance by selecting the desired day and filling in the registration form. For the best experience, a maximum of 15 visitors can be accommodated per tour.
Your campus tours will be led by one of our student ambassadors. Representing the spirit and values of the institution, student ambassadors not only conduct tours, sharing their expert knowledge of AUC's campus, but also play an integral role during our community events, including commencement, orientations, commemorations and celebrations.
For interested high schools or high school students and parents, email enrolauc@aucegypt.edu to arrange for a tour.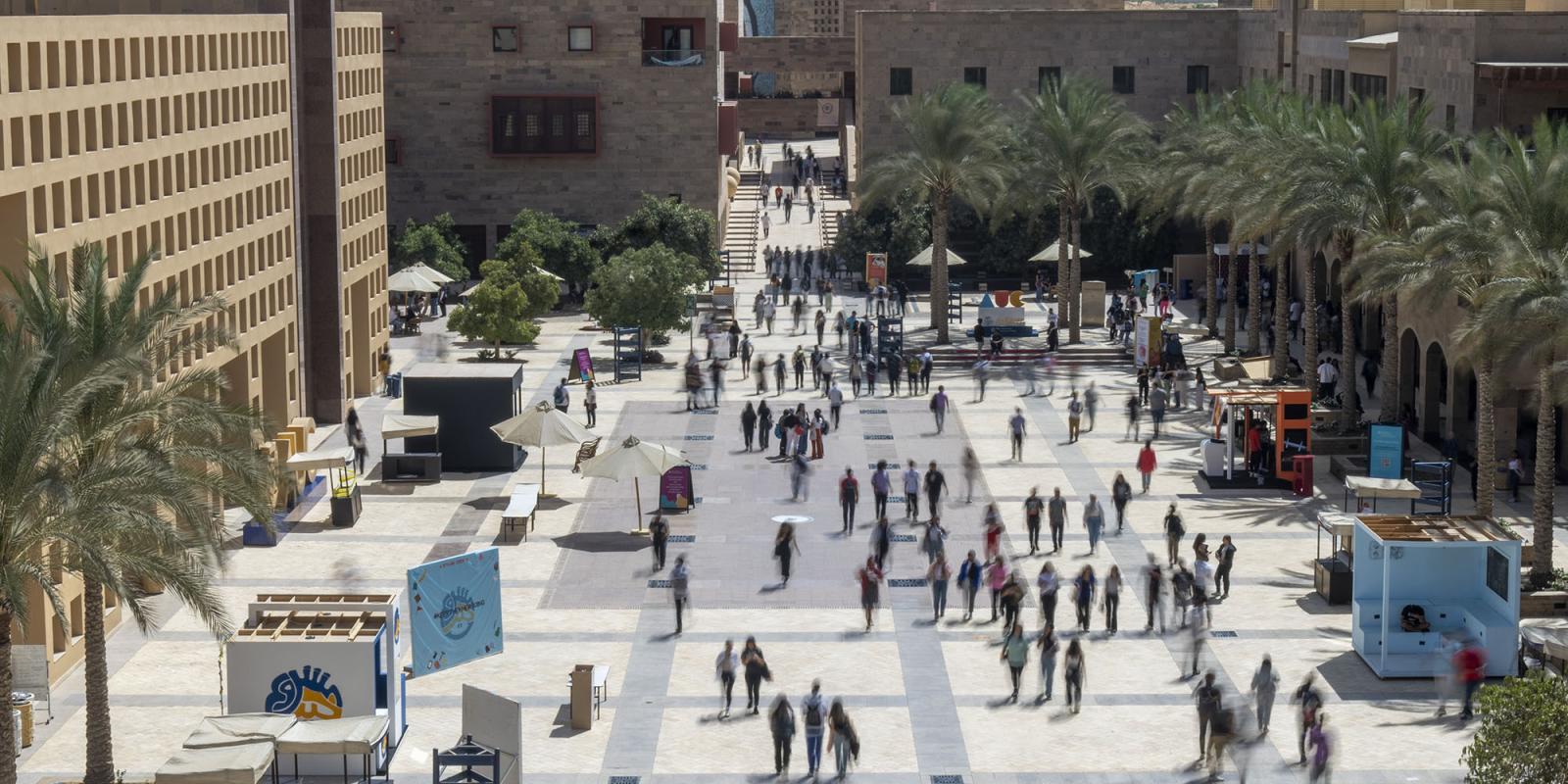 AUC New Cairo
AUC's newest award-winning campus is at the intersection of history and innovation. The 260-acre campus features one of the most impressive library collections in the region, along with technologically advanced and environmentally sensitive laboratories and research facilities.
Before you visit…
For a successful and fruitful trip to Cairo and AUC's campus, be sure to remember these important and helpful tips:
Make sure you have your national ID or passport.

Children under the age of 16 must be accompanied by an adult.

Once you are on campus, you are required to follow and abide by all

AUC policies.

Our tours start right on time, so plan to arrive a bit early. Unfortunately, if you come late, you might end up missing your group's tour and have to reschedule for another time.

You'll want to see every bit of our beautiful campus, so we strongly advise that you wear comfortable walking shoes.

Bring a hat or cap and sunglasses. Our tours are mostly outdoors, so we strongly advise that you dress suitably for the weather and season. Cairo is generally sunny, so make sure to come prepared.

Tour Cancellation: To cancel your tour registration, email

campustour@aucegypt.edu

.
Important Links
Learn about our guidelines on how to access the AUC New Cairo campus and check the maps to find your way around campus.
Directions and Parking Information
Parking is available from Gate 1 (Visitor's Gate). Once you have parked, follow the signs directing you to the gathering point for the tour (beside the flags). Your designated student ambassador will be waiting for you to assemble and start the tour. Find us on Google Maps.
Campus Virtual Tour
Check out our 360º virtual tour to give you a realistic experience of what you can expect to see when you arrive.