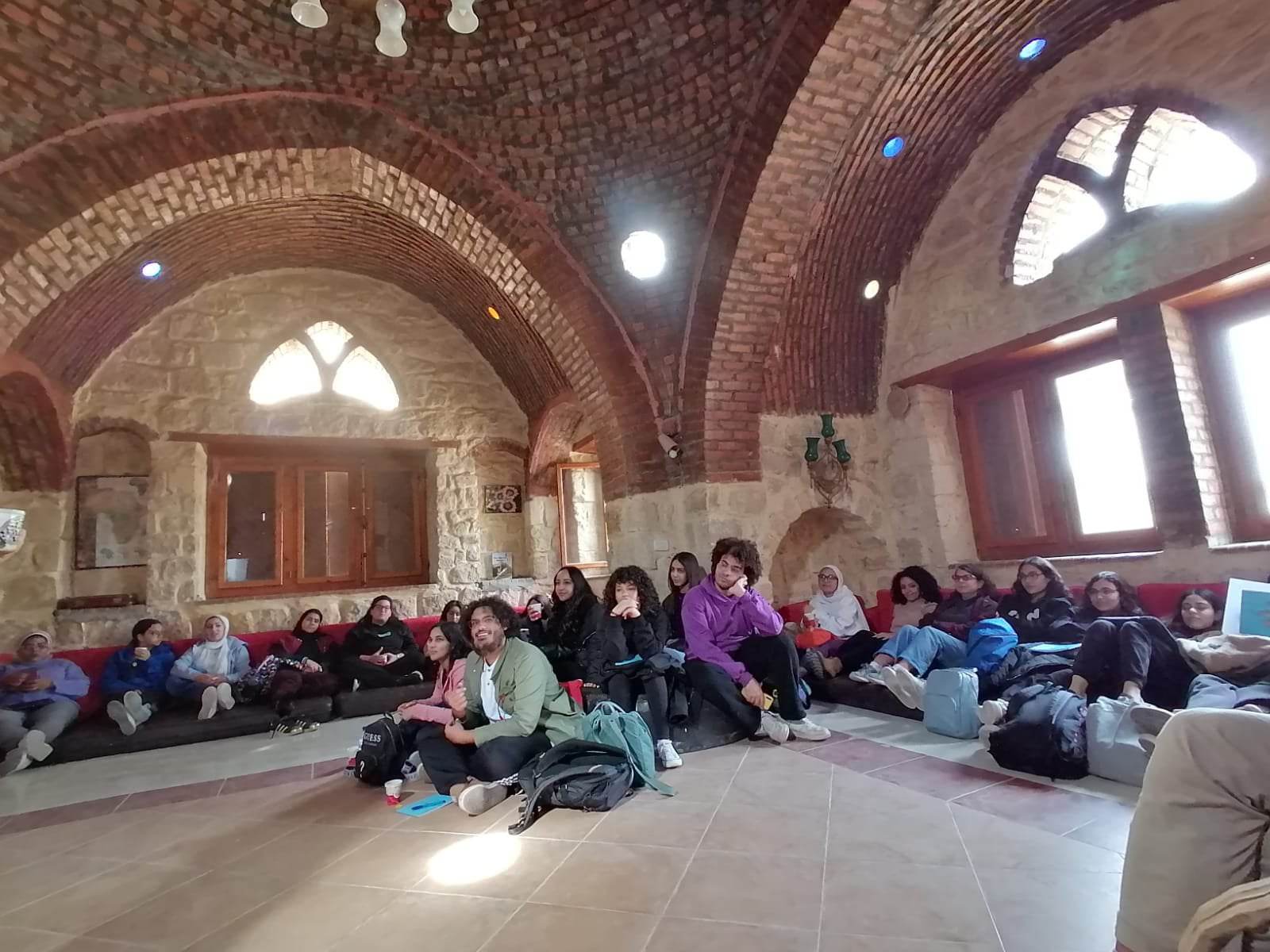 Tomorrow's Leaders Programs Newsletter - Fall 2022
New Cohorts and Welcome Dinner
Last October, Tomorrow's Leaders (TL) hosted a dinner to greet the newest Tomorrow's Leaders Undergraduate Scholarship Program (TLU) and Tomorrow's Leaders Gender Scholars (TLS) cohorts. Thirty-nine new students from Egypt, Libya, Jordan, Lebanon, Morocco, Tunisia, the West Bank and Yemen joined in the fall of 2022, bringing the total number of currently enrolled students to 98. The new students met current undergraduate and graduate students, alumni, staff and faculty members, U.S. embassy representatives and other program partners. Current TL students participated in planning and organizing the event, and our sponsor got to join this great night by watching the event on the livestream.
Recap on Gender Wednesdays
TLS organized Gender Wednesdays, a series that mainstreams gender and fosters an inclusive culture at The American University in Cairo (AUC) by bringing in experts and discussing current issues and their relationship to gender. In the fall of 2022, the sessions explored online sexual harassment in Arabic and the impact of gender on social media trends, climate change and its impact, intersectionality between climate and gender, climate security, social vulnerability and global accountability. The final session looked at the film industry through a gendered lens, discussing topics and challenges that female filmmakers face.
Egyptian Cities Embrace TLers
TLG students went on a retreat in Hurghada, where they got the chance to take leadership assessments based on the Emotionally Intelligent Leadership model and Socially Responsible Leadership Scale to identify their strengths and areas for development. The results were used to create their personal development plans. The students also participated in an expressive art therapy workshop focused on two main themes: achieving self-regulation and maintaining a balanced and sustainable life.
TLU students had their retreats in Dahab and Aswan. In Dahab, freshmen enjoyed their first retreat, which focused on team building, improving teamwork abilities and getting to know each other better. Meanwhile, in Aswan, juniors and sophomores focused on developing their conflict resolution and peacebuilding skills, as well as their emotional intelligence. All our students came out of their retreats with knowledge, skills and excitement for the next one!
Session on Problem-Solving
TLP students participated in a session on problem-solving and communication, where they were introduced to problem-solving steps, good research methods and how to create a survey structure. The session also tackled how to develop business solutions and present them in a systematic manner. Furthermore, the students learned how to give an effective pitch presentation.
"This was a very beneficial session because it introduced me to new concepts that I did not take in other classes. I learned about different ways to tackle a consulting case, which also enhances other problem-solving skills. I benefited most from the part on the presentation plan, and I even used it in other courses," remarked Rana Soltani (Tunisia).
TLG Student Joining Create X and Launching Taif
Joining the TLP Create X course Entrepreneurship Lab: Developing and Launching a New Venture, Feras Al Mekhlafy (Yemen) was able to launch his project Taif, which entails manufacturing and selling customized scented candles. Al Mekhlafy researched the respective industries of his business idea and presented his business model canvas with the support of TLP and AUC Ventures Lab. Check out Taif's account on Instagram.
Gender Policy Working Group in Action
To revisit relevant AUC policies and introduce new gender-sensitive policies, the Gender Policy Working Group in Action (GPWG) members have been working tirelessly to propose new policies to AUC senior leadership. University administration is currently considering the GPWG draft on paternity leave and other drafts related to maternity and paternity leave for students and early childcare benefits for staff and faculty.
TL Annual Symposium and TLG Conference Combined
The upcoming TL Annual Symposium has been merged with the TLG Conference, and students and staff gathered to choose a chairperson. During the election, five students from different TL programs nominated themselves and presented their vision for this year's symposium. Moustafa Sherif (Egypt), TL Gender Scholar, won the election and started the process of creating a symposium charter that contains all the rules and guidelines for the symposium. The high board of 10 committees was then chosen after interested students nominated themselves to the seats of committee heads. The committees are currently recruiting members, and a call for abstracts has been sent to students at the partner universities, the American University of Beirut (AUB) and Lebanese American University (LAU). This year's theme is the Sustainable Development Goals, with a focus on climate change.
TLG Student Training for Teachers in Yemen
Shaimaa Almonefie (Yemen) conducted training sessions for female Yemeni teachers in Yemen on the roles of strategy and values in the success of educational institutions, ethics of the teaching profession, evaluation and assessment, and lesson planning and preparation. Almonefie reflected on the experience saying, "Although the situation in Yemen is dangerous due to the war and conflicts, I felt so pleased seeing students waking up early in the morning and going to school. I felt so bright seeing teachers attend their classes without receiving their salaries. I also felt so responsible for seeing Yemeni citizens giving back to themselves and their community, although they are not safe and living under risky circumstances. Accordingly, I decided that as an educator, leader and researcher, I have to give back to my country even if all the conditions were not ideal for me.
TLS Student at the American Student Government Association
Ahmed Ayman (Egypt) was one of 16 students chosen by the Office of Student Life to participate in the American Student Government Association's conference in Washington, DC, in October. ASGA focuses on student government training, research and consulting. The conference provides information about the latest student government trends and issues nationwide. Ayman connected with other students from around the world, getting to know more about the work they do and the challenges they face, as well as discussing potential solutions and initiatives.
Visiting the UN Headquarters
During her semester abroad journey, Rihem Sejil (Tunisia) went on a field trip to the UN Headquarters in New York.
"As someone who aspires to a career in diplomacy, I appreciated the opportunity to meet and chat with high-ranking experts in peacemaking, gender and communications from different UN agencies. I think talking to experts in the field is fundamental to understanding the nuts and bolts of the profession. I particularly appreciated the brutal honesty of the speakers while they shared what it really means to work in diplomacy.
My favorite part of the day was certainly touring the UN New York Headquarters, which was, by all means, a unique experience that left me eager to speculate about the future of diplomacy amidst current global crises and a greater enthusiasm to be part of that future." said Rihem Sejil from Tunisia
TLG at NileTESOL
This January, Amina Sabour (Algeria) had the opportunity to speak about teaching English for sustainability at NileTESOL. The presentation covered the importance of education for sustainable development and outlined the differences between 21st-century educational methods and ESD. Finally, Sabour discussed the different ESD strategies that teachers can use with their students.
Eco-Anxiety Among Youth
Sumood Abdulhadi (Yemen) and Mostafa Sherif (Egypt) volunteered as research assistants on a project named Young People, Climate Change and
Mental Health, which is focused on addressing eco-anxiety and the mental health consequences of climate change. The project was led by Kate Ellis, assistant professor at AUC's Department of Psychology. To measure the eco-anxiety of climate change among youth, Abdulhadi and Sherif collected data from four Egyptian cities: Cairo, Alexandria, Assiut and El Quseir.
"The experience was of a multidisciplinary approach, new and rich. Also, I have been exposed to the opinions of 61 youth about climate change from different governorates in Egypt," commented Abdulhadi.
TL in Social Media
With their involvement in COP27, coaching at the Junior Cairo International Model United Nations, peer tutoring, writing short stories and winning business competitions and programming contests, TL students embodied leadership and civic engagement wherever they went. Check out our social media accounts for more information: Facebook and Instagram.
TLU Student and the Art of Giving Back
Chaima Er-Rafiy (Morocco) successfully completed her civic engagement internship at Kechart, a Moroccan Non-Governmental Organisation (NGO) known for its cultural and artistic activities. Er-Rafiy interned in the training committee, where she helped with planning new projects that will be launched in the future. In addition, she was a project manager for a new initiative called the Association Ambassadors Project. The initiative's goal is to have ambassadors for the association outside the country.
TLG Students at StARS
Albaraa Quradi (Yemen) and Marah Abu Motawe (Jordan) volunteered at Saint Andrew's Refugee Services (StARS). Quradi worked as an English instructor and program director assistant for the Adult Education Program, in which he learned about the various needs that vocational educators have. Abu Motawe worked in the psychosocial department's outreach team. She expressed that it was a rewarding experience for her because it was her first time working with a refugee-led organization, adding, "I had the chance to meet regularly with representatives from different local community-based organizations to shadow some of the mental health and psychological interviews and sessions with clients.
Alumni Giving Back to TL
Meet the Expert was a heartwarming session where TLU alumni shared their experiences and passed on their knowledge to current TLU students. Nouran Ghannam '15 (Egypt), founder and CEO of Stllr Network, and Chada Benmahcene '15 (Algeria), senior manager of product management – sustainability at Baker Hughes, shared their experiences as TLU undergraduates at AUC and their current experience as female entrepreneurs and intrapreneurs in their communities.
A PhD Candidate!
TLU alumna Mai Nasrallah '15 (Jordan) is in New Zealand on a PhD scholarship at the University of Auckland's School of Critical Studies in Education. "Throughout my PhD, I'm continuing my work as a subject matter expert/consultant in the field of education in emergencies. Contributing to that space would still be the plan after the PhD," commented Nasrallah.
Professional Development and Knowledge Sharing
TL staff has taken advantage of several training and professional development opportunities, both onsite and online, ranging from sexual harassment training by Title IX to emergency safety wellness training and Next Generation Facilitation Certificate courses.
The team also got together for a retreat in Alexandria that aimed at reflecting on the TL values through an art workshop.
Modeling Excellence
Ahmed Tolba '97, '01, professor, chair of the Department of Management, and TLG and TLP academic director, won first place at the 2022 CEEMAN/Emerald Case Writing Competition.