Athletics
Athletics
AUC has a state-of-the-art sports complex with facilities for everything from karate to basketball to yoga. AUC also has 20 athletic programs and sports teams that compete against other universities throughout Egypt and internationally.
AUC's Office of Athletics offers quality athletic activities and learning opportunities to all students. Its programs promote a healthy lifestyle, discipline, teamwork and leadership development, as well as high standards of ethical conduct and sportsmanship. The sports program emphasizes health and enjoyment through recreation, fitness, competitions and sound physical habits.
Eagle Awards Banquet 2018 - 2019
Last Thursday, May 2, 2019 the Office of Athletics hosted the first Eagles Awards Banquet, which we hope will become an annual tradition here at AUC. We had the opportunity to celebrate the success of our Student-athletes on and off the field for the academic year 2018 – 2019. It was an incredible evening, the students came dressed in their finest, the room was beautiful, and our staff did a tremendous job in refurbishing ARTOC sports court to make it look and feel like an All-American Sports Banquet.
President Ricciardone, Vice President Deena Boraie and Dean George Marquis helped hand out the awards. We gave out awards for Most Valuable Players, which from now on will be called the Eagle Award. We gave out Senior Letters, a Male and Female Scholar-Athlete Award, Male and Female Sportsmanship Award, Team of the Year award and finally the most prestigious the Male and Female Athlete of the Year award. The trophies and certificates given out were designed using our new Athletics logo.
Eagle Award winners are: 
| Sport | Student-Athlete |
| --- | --- |
| Football | Youssef Zakaria |
| Men's Basketball | Seifeldin Amin |
| Women's Basketball | Farida Wael |
| Men's Volleyball | Youssef El Menshawy |
| Women's Volleyball | Jailan Tawfik |
| Men's Futsal  | Ahmed Amr |
| Women's Futsal | Aliaa El Zenouki |
| Handball | Zeyna Ayman |
| Waterpolo | Karim Mansour |
| Men's Rowing | Omar Oraby |
| Women's Rowing | Sara Shehab |
| Men's Tennis | Sherif Makhlouf |
| Women's Tennis | Laila El Nimr |
| Men's Track and Field | Khaled Essam |
| Women's Track and Field | Mariam Karmoty |
| Men's Squash | Zeyad El Mamdouh |
| Women's Squash | Engy Hamouda |
| Men's Swimming | Omar Elewa |
| Women's Swimming  | Reem Kassem |
The Male and Female Scholar-Athlete award winners are: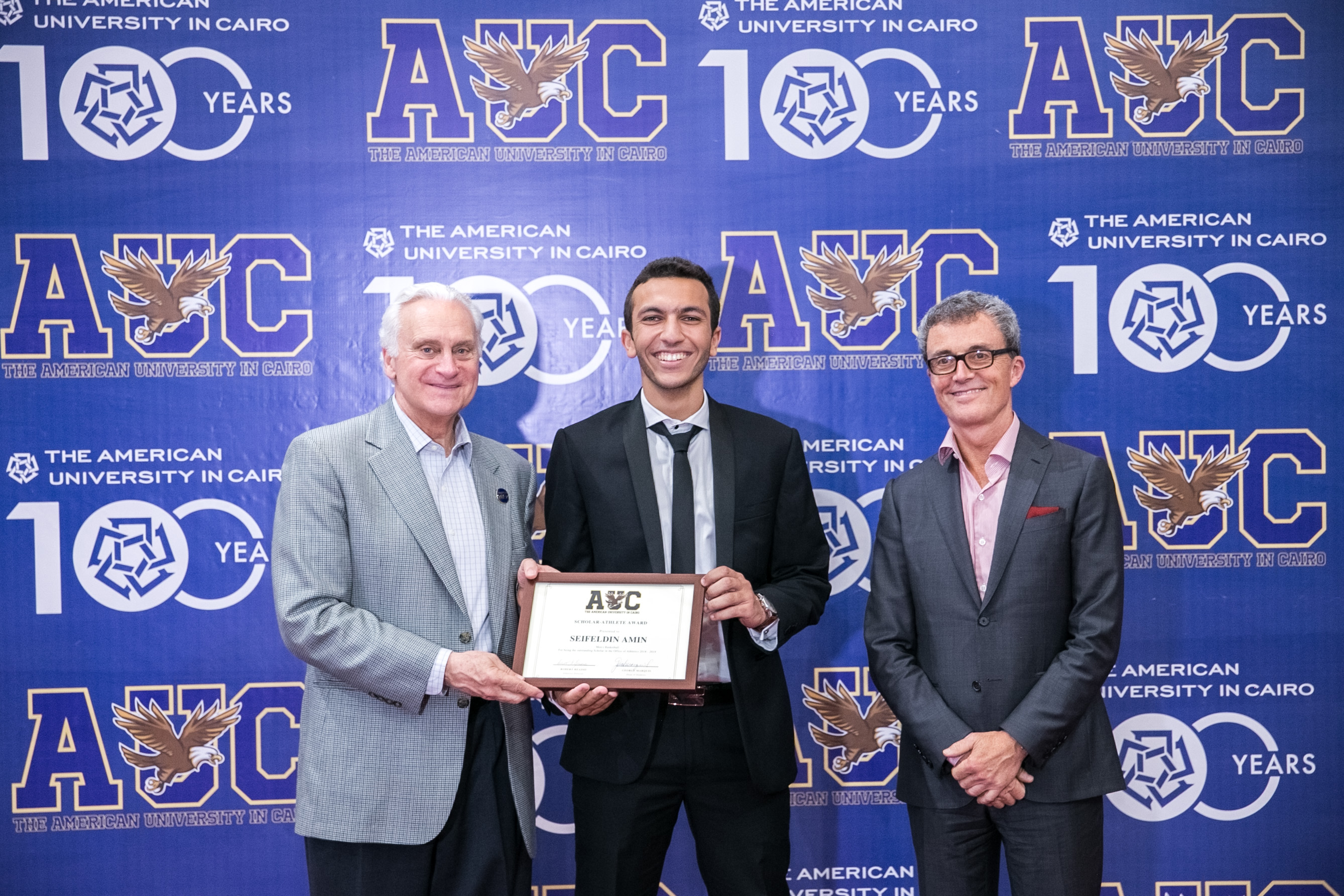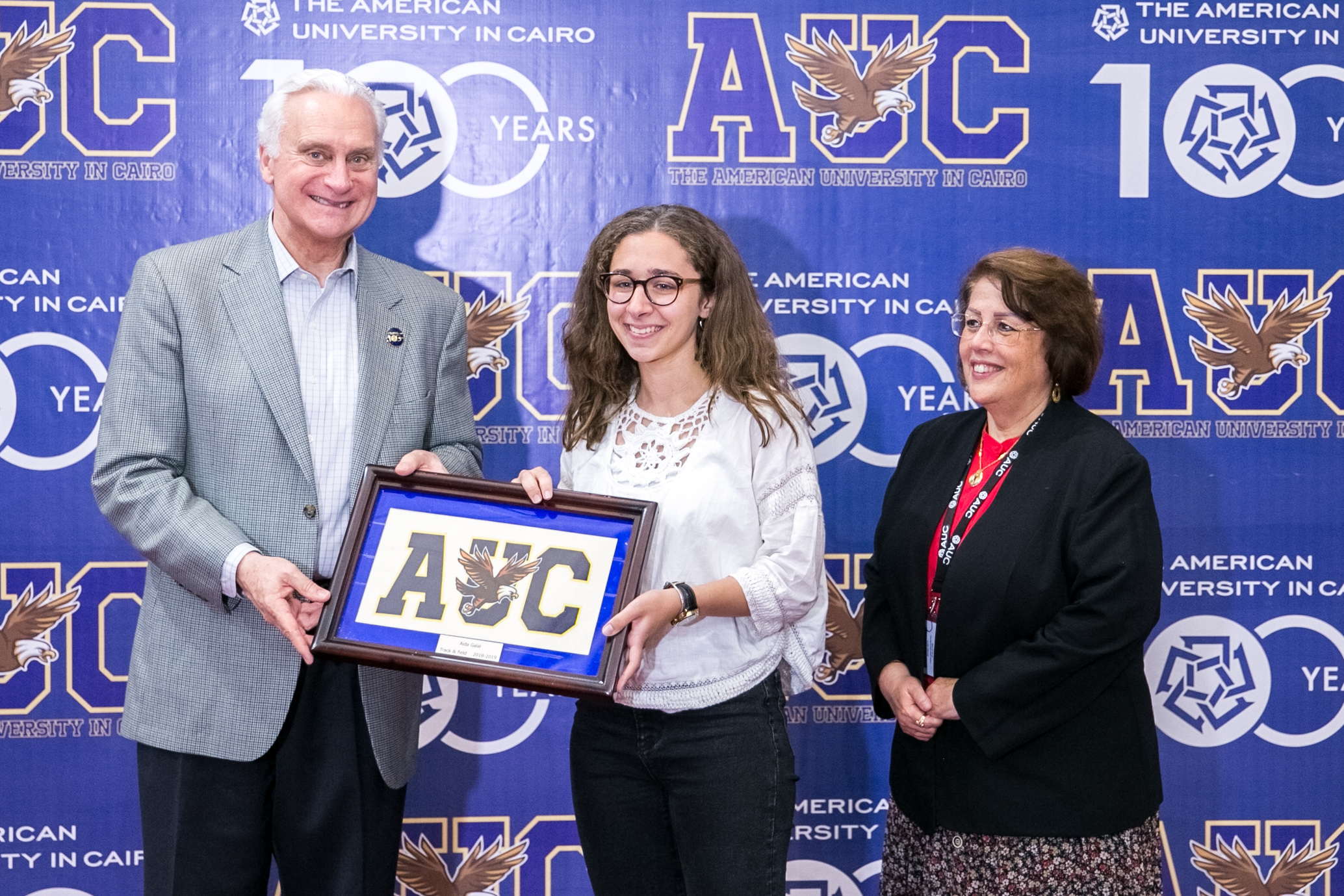 The Male and Female Sportsmanship Award winners are: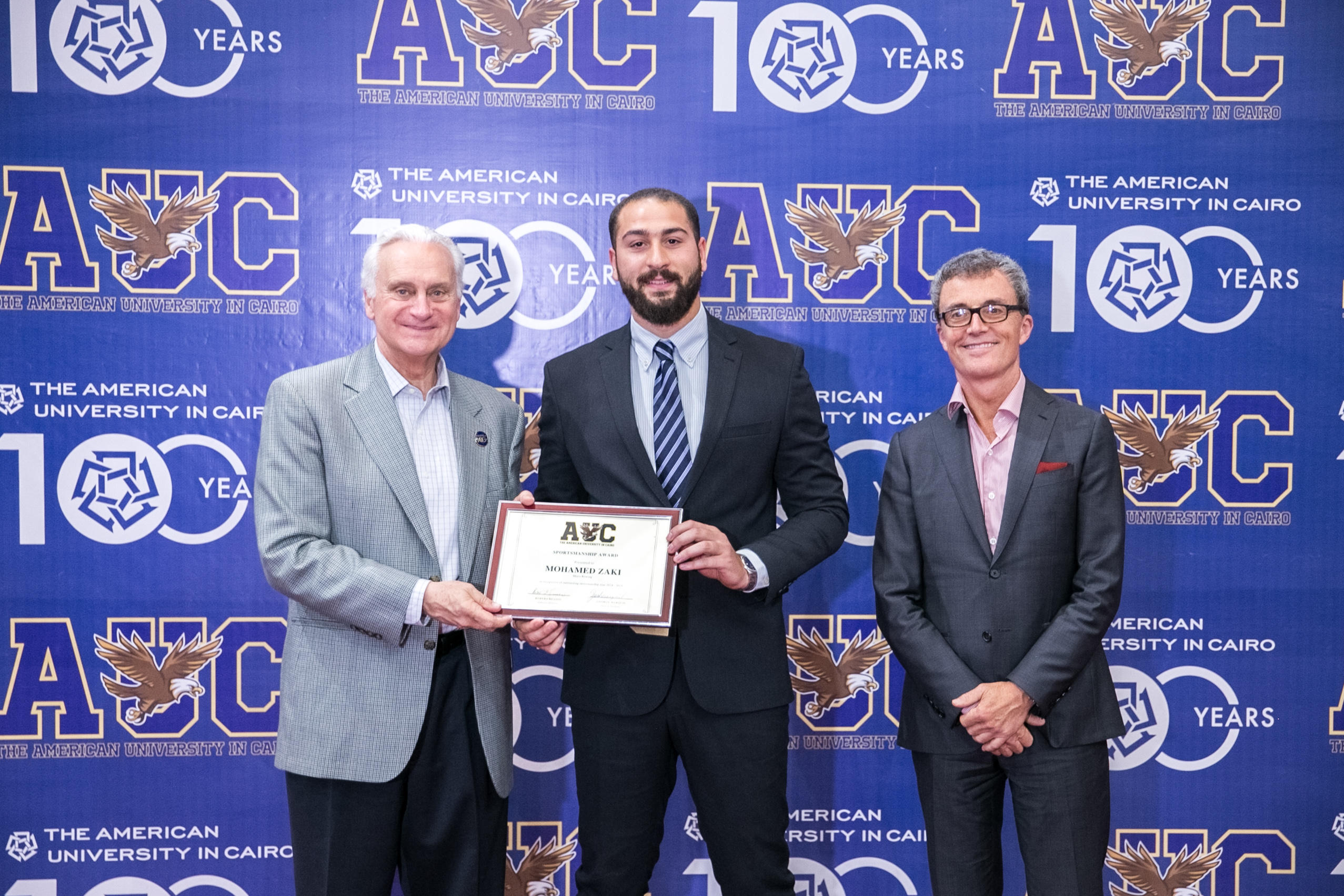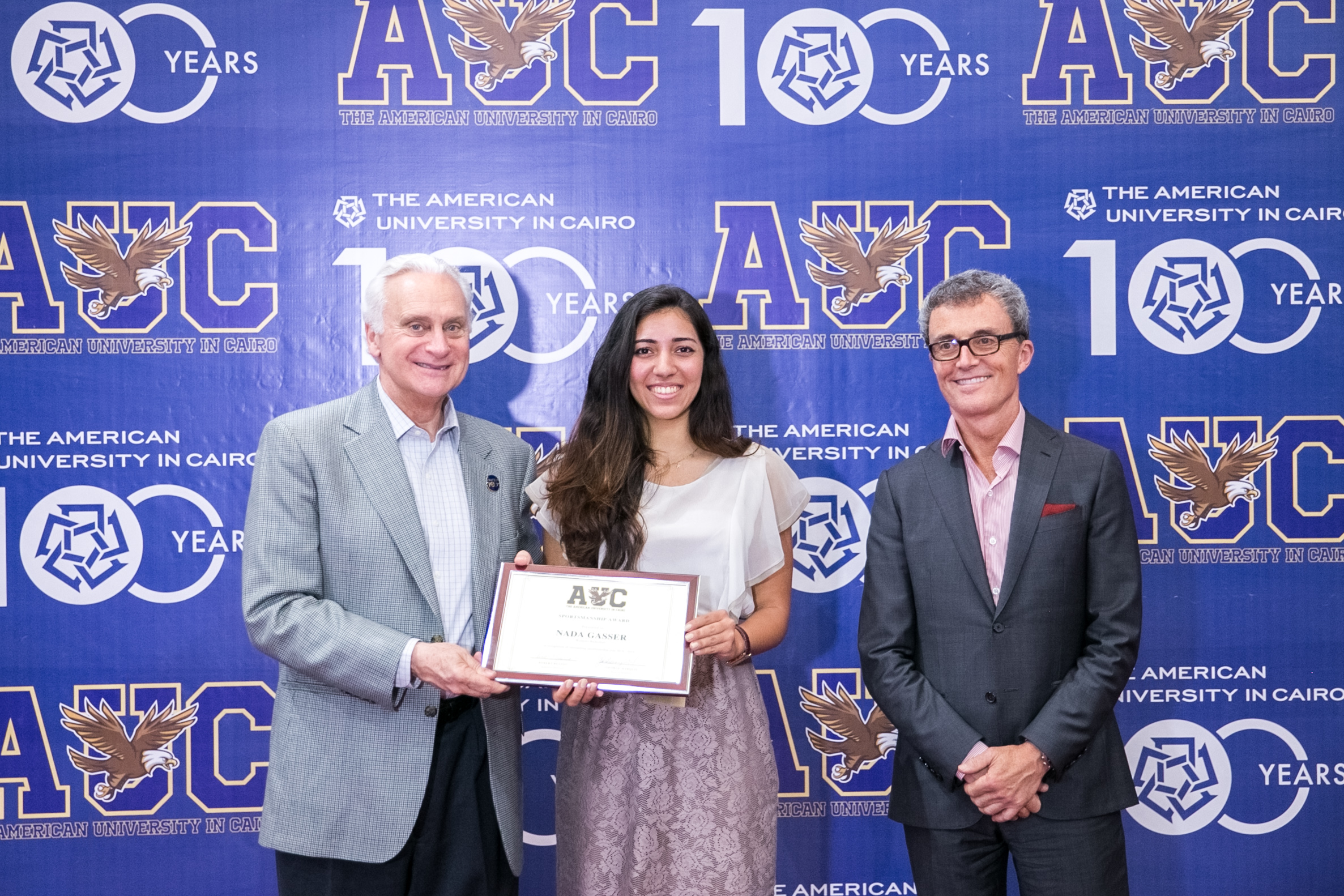 The Team of the Year Award winners are: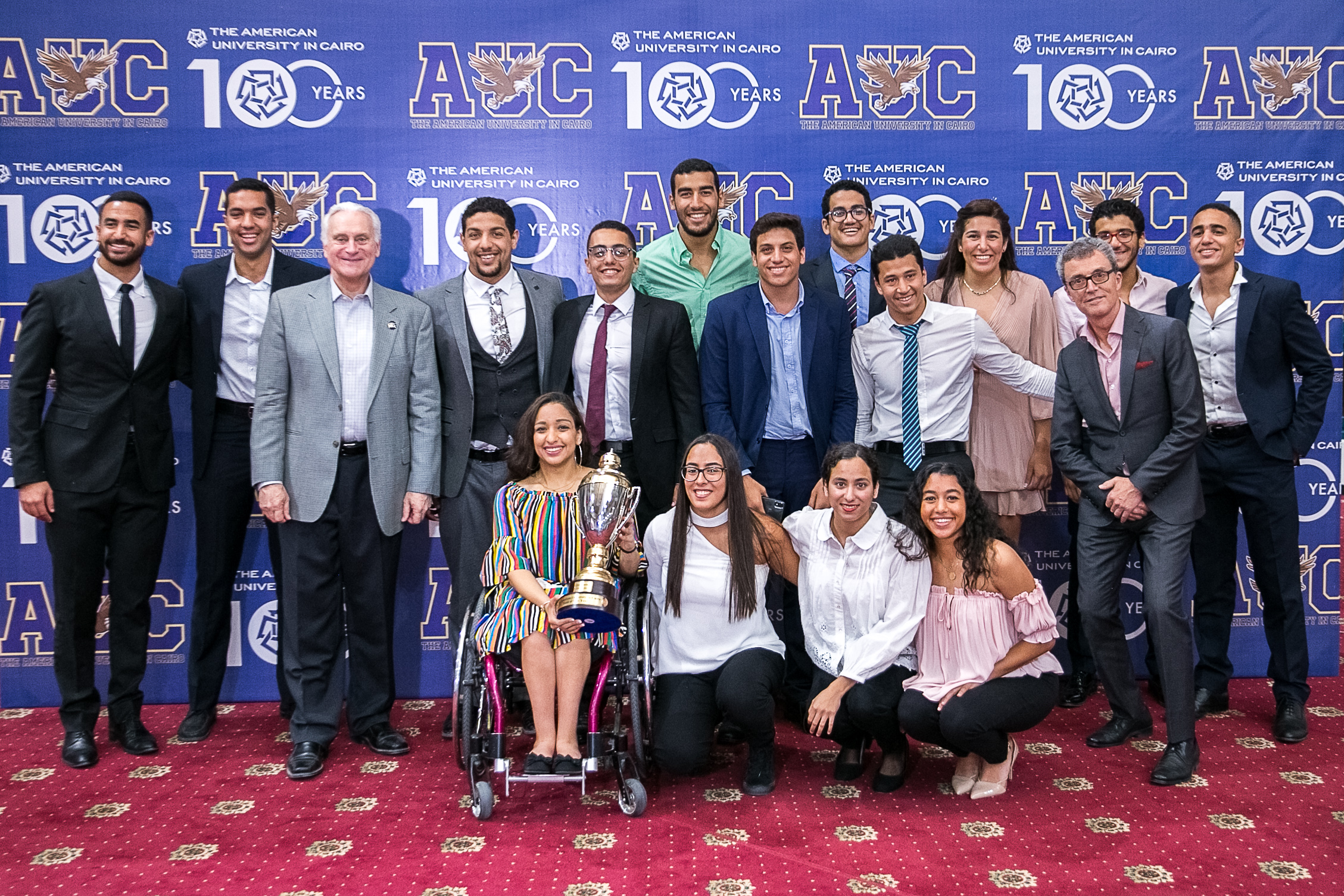 The Male and Female Athlete of the Year Awards winners are: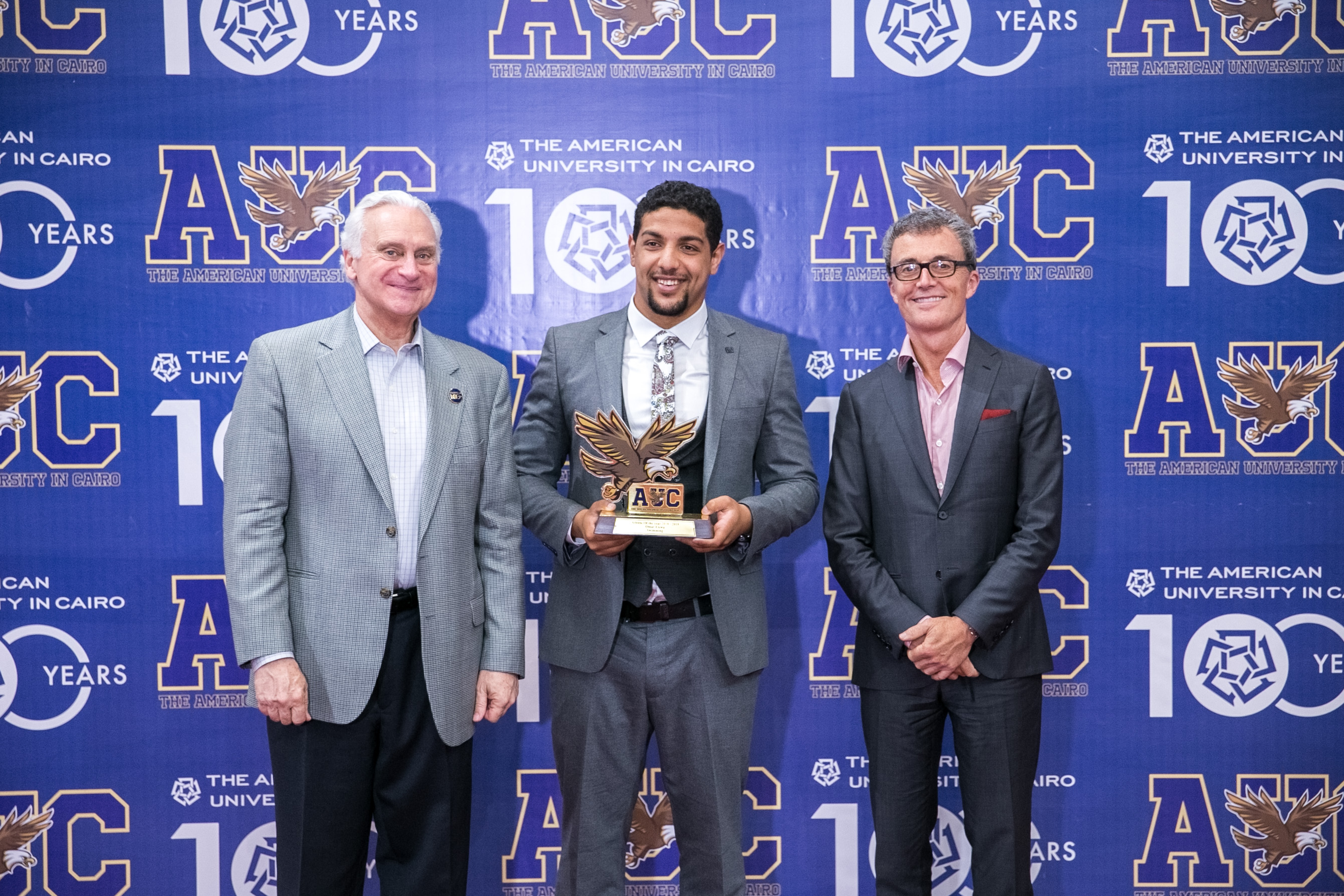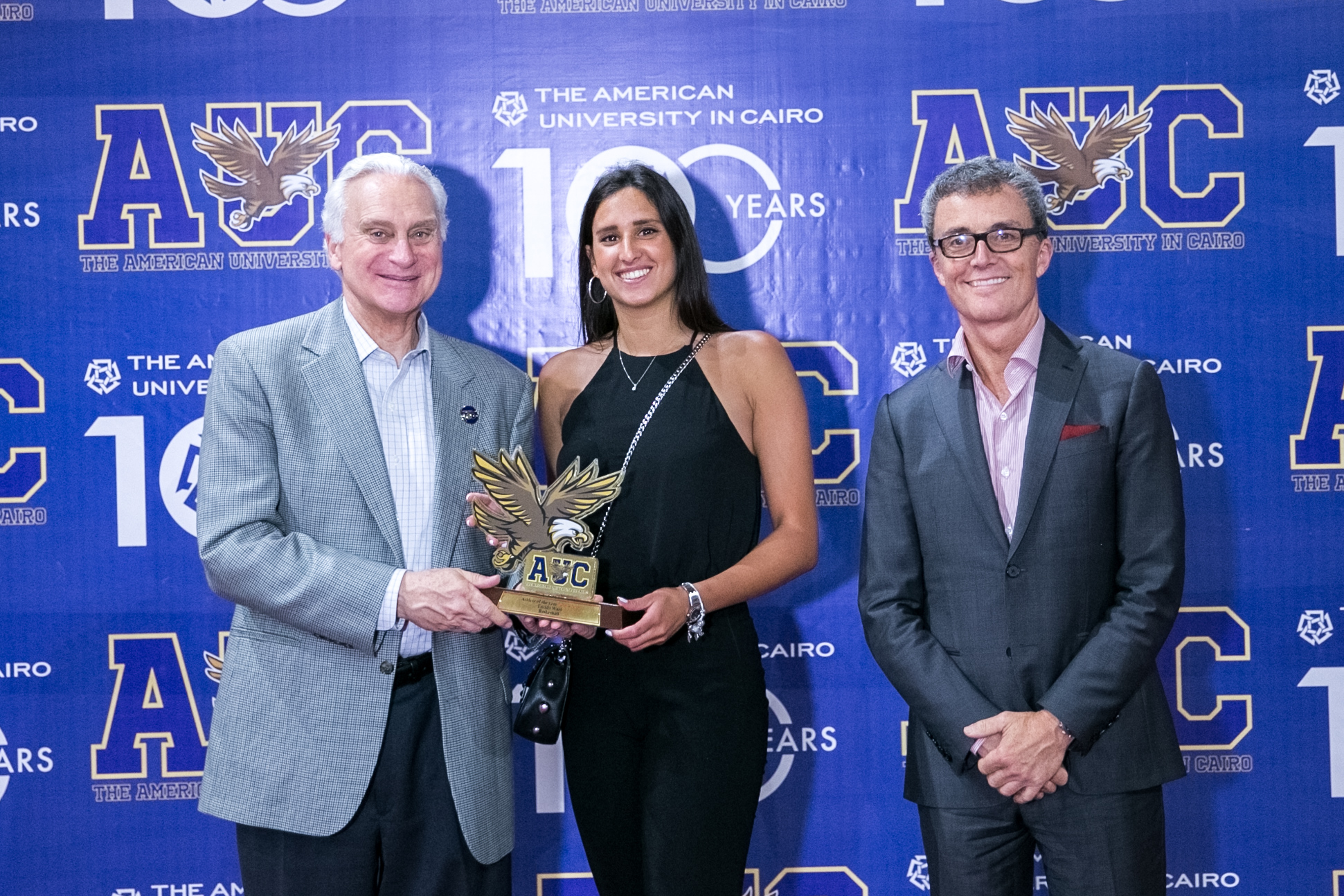 The night ended with our students having a celebratory dance session and visiting the AUC tower with President Ricciardone.
The American University in Cairo Athletics Recap for Fall 2018
The American University in Cairo's Office of Athletics sponsored 20 varsity sports teams with 250 athletes both men and women last fall. It was a busy semester for the department and a very exciting one too. Starting with the tryouts on September 5, 2018, then weekly friendly games with universities and clubs all over Egypt including; the Arab Academy for Science Technology and Maritime Transport, The German University in Cairo and Heliopolis club.
On October 1, 2018, the Office of Athletics launched the Student-Athlete Advisory Committee (SAAC) under the direction of Amira Farrag, athletic recreation manager. SAAC is a committee consisting of one freshman and one senior student from each team picked to have a voice in improving the athletic experience for students. The committee also helps the Office of Athletics in organizing events and fundraising for charity events held by the office. This year they picked the Special Olympics as their designated charity.
On October 27, 2018, the Office of Athletics along with SAAC hosted the special Olympics event celebrating their fiftieth anniversary where members of the SAAC played a huge role in organizing and helping the special needs young athletes.
Special Olympics

In November, our teams participated in two major events locally and internationally. The World Inter-Universities Championship in Barcelona, where AUC ranked fifth among 80 Universities from around the world participating in this championship. Six of our teams placed; the basketball men team ranked fifth and girls third, futsal girls ranked fourth, football men fifth, water polo second and tennis men and women ranked first.
World Inter-Universities Tournament Barcelona

The second event was the forty-sixth national universities tournament held by the Egyptian universities sports federation. All the AUC teams that participated advanced to finals and the women swimming team took the spotlight and won the national championship. The national championship for the remaining sports will take place during the spring semester.
Swimming Meet

November 2018 also witnessed the launch of Tivity Application in cooperation with AUC Alum Hashem Ahmed, developed to help students search, register and rate on-campus fitness classes and programs.
On October 8, 2018, the Office of Athletics decided to no longer charge faculty and staff for the use of our athletic facilities, in an effort to help promote health and fitness on campus. The AUC Office of Athletics does not only sponsor varsity sports, but it also plays a big role in providing students, faculty, and staff with the opportunity to stay fit and healthy through our range of fitness classes and "The Fitness Grind" program.
Last but certainly not least, The American University Office of Athletics in conjunction with the Office of Advancement and Communications developed a new athletics logo that represents the AUC Eagles mascot to be used on all our uniforms, apparel and social media outlets. This is part of the new positioning plan for the office that is being implemented currently and will resonate soon.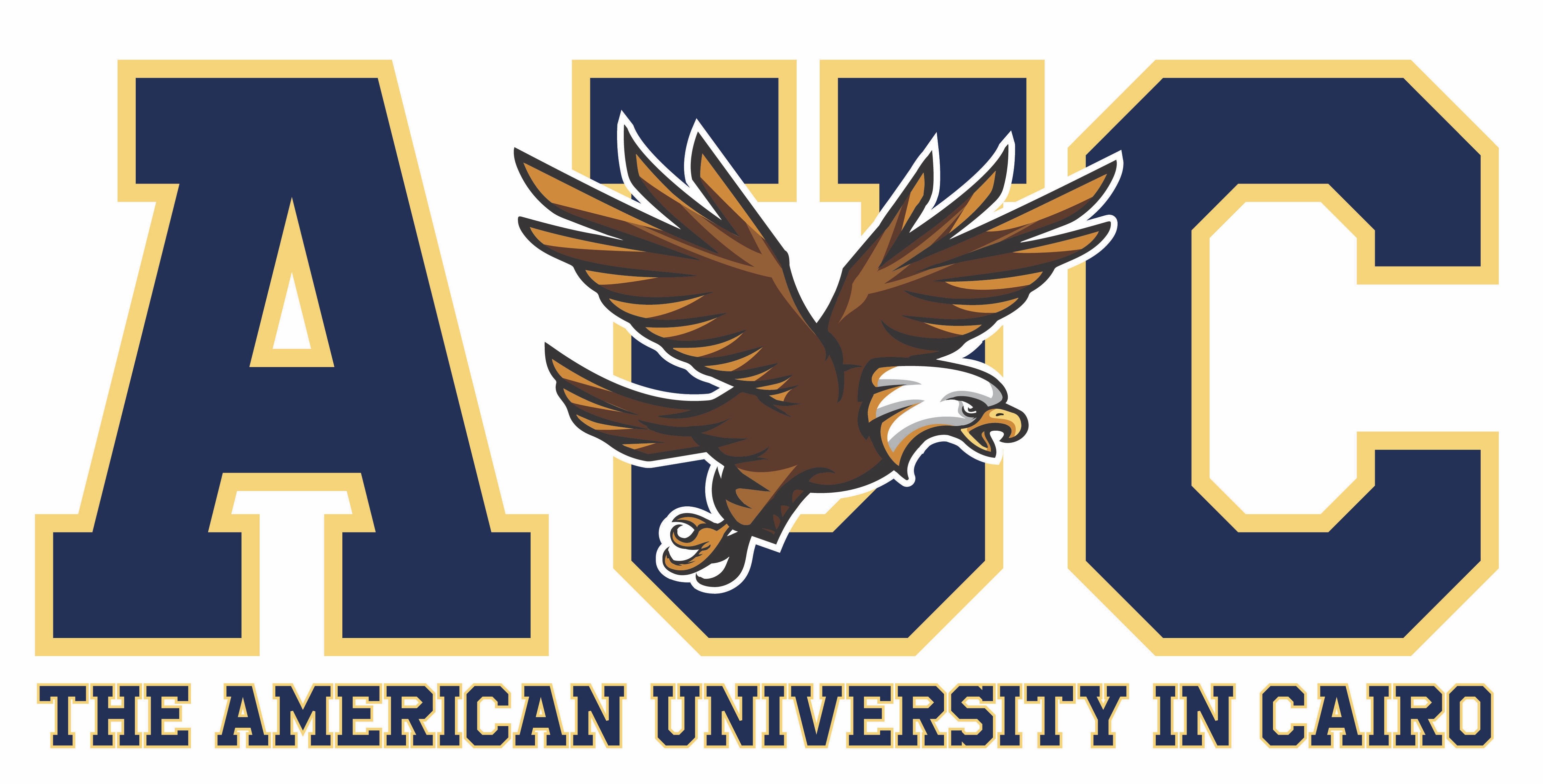 As we look into 2019, we are excited to celebrate AUC's Centennial with the University and we expect our student-athletes to give outstanding performances on the field, courts and classrooms.
"Sport has the power to change the world. It has the power to inspire, the power to unite people in a way that little else does. It speaks to youth in a language they understand. Sports can create hope, where there was once only despair." Nelson Mandela (2011)