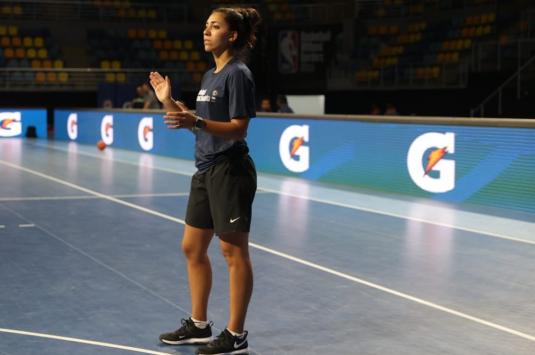 Inside Athletics
From competitive excellence at the global level to recreational activities and healthy habits, AUC's athletic programs promote physical fitness, teamwork and sportsmanship among athletes and students at all levels. AUC's athletic programs bring together a wide cross-section of the community to create opportunities for students to meet new people and connect through extracurricular activities.
Inside Athletics
About the Office of Athletics
The Office of Athletics offers quality athletic activities and learning opportunities to all students. Its programs promote a healthy lifestyle, discipline, teamwork and leadership development, as well as high standards of ethical conduct and sportsmanship. The sports program emphasizes health and enjoyment through recreation, fitness, competitions and sound physical habits.
Sports equipment is available for every sport for checkout-free of charge at the control desk near the locker rooms. We hope our sports center meets your needs for exercise and recreational activities and provides a competitive outlet for interested students.
Vision
The Office of Athletics aims to enrich the lives of our students. We are invested in competitive excellence as we challenge both students and student-athletes alike to develop their best selves as athletes, teammates, students, and ultimately citizens of the world. As athletes, they embody physical strength and learn the value of movement in incorporating healthy activities and habits in their lives.
Through sport, we are committed to teaching how to work collaboratively to reach performance goals, how to embrace the diversity of thought and culture, how to persevere through failure with resiliency and how to compete with integrity.
We strive to engage our community through fitness and recreation to encourage holistic and healthy living, to build confidence, and to confront challenges both physically and mentally.
Intramural Activities
We arrange student tournaments and competitions between teams and schools.
We organize and manage sports days for the different University constituencies (AUC Alumni, Student Union, Office of the Associate Vice President for Human Resources, School of Business, School of Global Affairs and Public Policy, Career Center, Office of Safety and Security, and the Office of Facilities and Operations).
We also organize and manage staff soccer tournaments.
Community Services
We host and organize events, sports days and tournaments for the Egyptian Universities Sports Federation (EUSF) (local and international) and for organizations including the Special Olympics and Hospital 57357.