Khaled El-Enany Speaks at Nadia Younes Memorial Lecture
Khaled El-Enany Speaks at Nadia Younes Memorial Lecture
The American University in Cairo (AUC) hosted the 13th Nadia Younes Memorial Lecture on January 18, 2022, at its Tahrir Square campus. This year's guest speaker was His Excellency Khaled El-Enany, Egypt's Minister of Tourism and Antiquities. The event was attended by members and friends of the Younes family, donors, the AUC community, and ambassadors.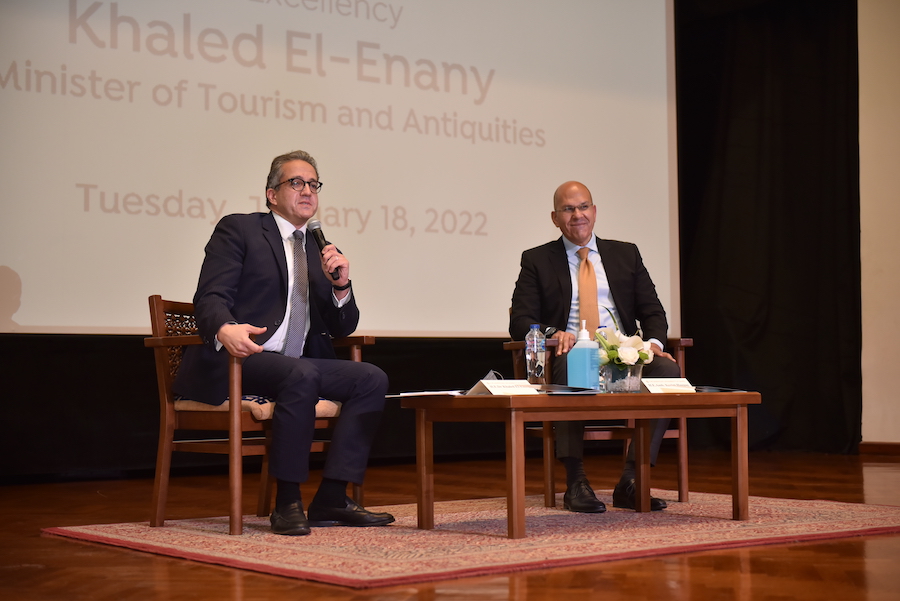 El-Enany shared with the audience the Egyptian government's efforts to preserve Egypt's cultural heritage and the significant archeological discoveries in the last five years in Luxor, Minya, Sohag, and Saqqara. The minister also spoke about the ministry's success in repatriating artifacts that left Egypt illegally, participating in international exhibitions, renovating dozens of museums and archaeological sites around Egypt, and inaugurating the National Museum of Egyptian Civilization.
"This lecture series was created with AUC in 2004 to commemorate the life and legacy of Nadia Younes. We felt this was the most appropriate way of keeping her memory alive as a shining example to future generations of students." Nahed Younes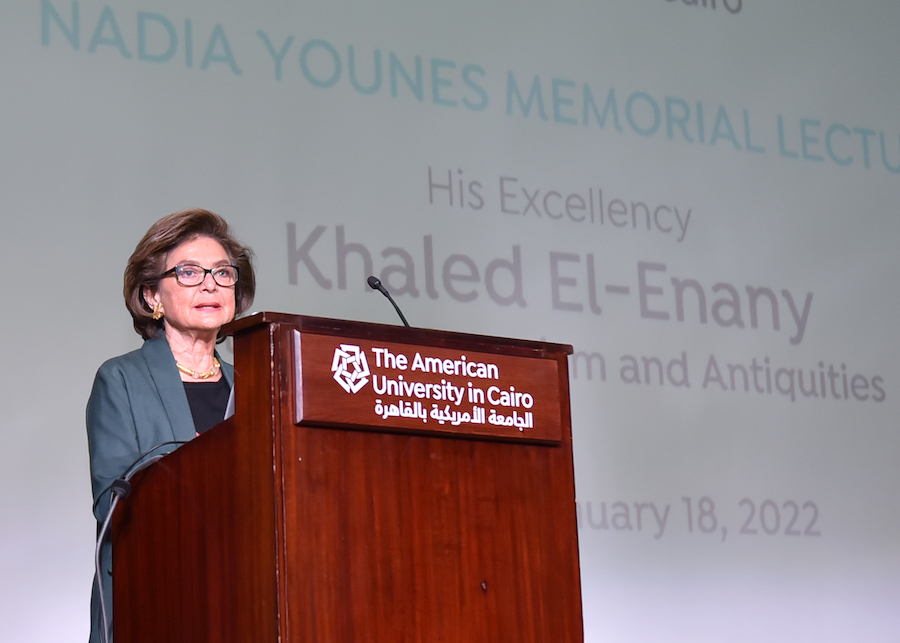 The Nadia Younes Memorial Lecture has, over the years, hosted a broad range of speakers from the world of global affairs. The ethos of the lecture series is to provide a global perspective on issues affecting Egypt and the Middle East and to provide prescriptive solutions to these problems.
"A celebration of Nadia's life and contributions, the lecture brings public officials, prominent intellectuals, and leaders to share invaluable expertise and insight and engage in discussions on timely regional and global issues." AUC President Ahmad Dallal
Nadia Younes had a long and interesting career at the UN spanning some 30 years. She was an exceptional woman who made outstanding efforts throughout her life to further international humanitarian affairs around the world. She tragically passed in the 2003 devastating bombing of the United Nations headquarters in Baghdad while serving as chief of staff.