Mrs. Hosna Mohamed Rachid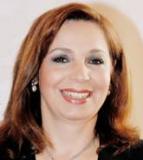 Chairperson
Rachid Masheq Group, Unilever Mashreq
United Kingdom
Mrs. Hosna Mohamed Rachid, a prominent businesswoman, is the Chairperson and major Shareholder of Rachid Mashreq Group, an Investment Holding Entity with various joint ventures, including Dreem SAE. The group specializes in the manufacturing and marketing of fast-moving consumer goods in Egypt and the Middle East, where it holds market leadership. Operating 13 factories and employing approximately 5000 people, the group has a significant presence in the region. Apart from her role at Rachid Mashreq Group, Mrs. Rachid holds several other influential positions. She is the Chairperson and major Shareholder of Dreem Egypt, a leading food processing company that specializes in bakery ingredients and dry mix consumer products. Mrs. Rachid was also the formerly the Honorary Consul of Mexico in Alexandria. Additionally, Mrs. Rachid is the President of the Mohamed Rachid Foundation for Cultural and Social Development, a family-funded association located in the Amerya district of Alexandria. The foundation focuses on the social, educational, and cultural development of youth in more than 27 villages, addressing areas such as education, illiteracy, healthcare, and handicraft workshops.
Mrs. Rachid's contributions extend beyond the business and social sectors. She was serving as the President of the Club; Affaires Franco Egyptien, Alexandria (CAFE), the Confederation Egyptian European Business Association, Alexandria (CEEBA), and the ECUME Association (Echanges Culturels en Mediterranee), promoting cultural exchanges among Mediterranean countries. For her notable contributions in strengthening relations between Egypt, France, Belgium, and Mexico, Rachid has received prestigious honors and awards. She is the Holder of the Legion; Honneur Garde de Chevalier, bestowed upon her by the French President Jacques Chirac, and the Holder of the Order of the Crown rank Officer, offered by HRH King Albert II of Belgium. Furthermore, she is the recipient of the Mexican Order of Merit Aguila Azteca. In 2007, she was honored with the Leading Women Entrepreneurs of the World Award.
Deeply committed to community development, Mrs. Rachid serves as a board member in various charitable and social associations, including the Alexandria Development Center, the Higher Advisory Board of the National Council on Motherhood and Childhood, the Integrated Care Society and the German Arab Chamber of Industry and Commerce. She has also played a significant role as a founder and board member of the "I, the Egyptian" Foundation, addressing the issue of homeless children, and serves as a board member of the Magdi Yacoub Heart Foundation. Her impact extends to gender equality as well. She is a Founding Member of the Middle East Gender Parity Group at the World Economic Forum.
Mrs. Rachid holds a BA in Economics from Alexandria University, adding to her wealth of knowledge and experience in the business and philanthropic sectors.