Dr. Sadek Wahba
Dr. Sadek Wahba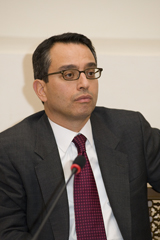 Dr. Sadek Wahba '87
Managing Partner
I Squared Capital
United States
Dr. Sadek Wahba is the managing partner of I Squared Capital, an independent global infrastructure investment company based in New York, Houston, London, Delhi, Singapore and Hong Kong.  I Squared capital recently closed a $3 billion global fund that invests in infrastructure investments in the energy, utilities and transport sectors in North America, Europe and select high-growth economies.  
 
Sadek was previously at Morgan Stanley for 14 years where he was the CEO of Morgan Stanley Infrastructure, the global platform for infrastructure investments and CIO of MSIP, a $4 billion infrastructure investment fund. Prior to joining Morgan Stanley, Sadek was at Lehman Brothers where he worked on structured financing and The World Bank where he worked as an economist for several years in Washington DC.
 
He holds a PhD in economics from Harvard University, a MSc in economics from the London School of Economics (LSE) and a BA in economics from the American University in Cairo. He is a published author on  economic research, including articles in  the Journal of the American Statistical Association, Review of Economics and Statistics as well as other publications and proceedings. One of his publications was recently selected by MIT as one of their 50 most influential papers in the last 50 years.