AUC Faculty Reflect on their Students' Handwritten Notes of Gratitude
AUC Faculty Reflect on their Students' Handwritten Notes of Gratitude
On the last day of classes, students surprised their professors with handwritten notes to express their gratitude for their ongoing support in online learning despite the unusual circumstances.
Walid Kazziha, professor of political science:
"A number of students sent me thank you notes during the semester. However, the most rewarding gesture of thanks that I received from them is when at the end of the last class, they unmuted the sound and video and each one of them carried a note of thanks expressing their appreciation. For me, it was a thrilling gesture, which I will always cherish."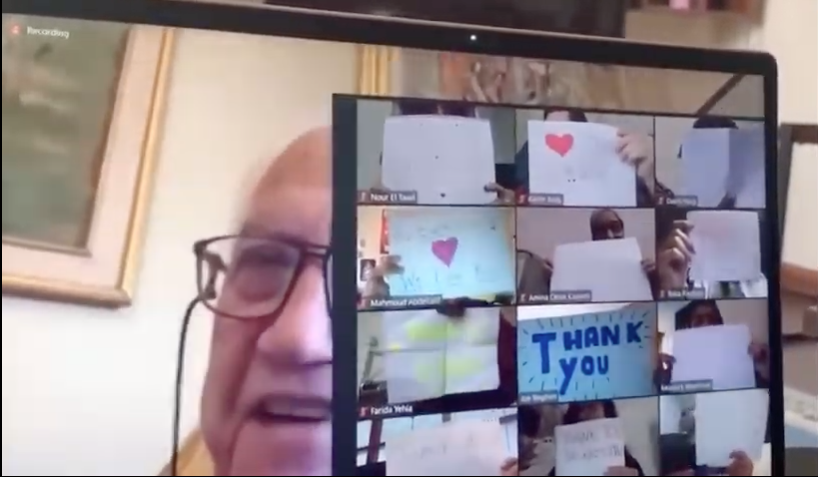 Read more here.
Tarek Selim '92, '95, professor of ecomomics:
"A gratifying moment from my wonderful students in the feasibility study class (Econ 4012). They were one of the best feasibility classes I taught, and I have been teaching at AUC for the past 20 years."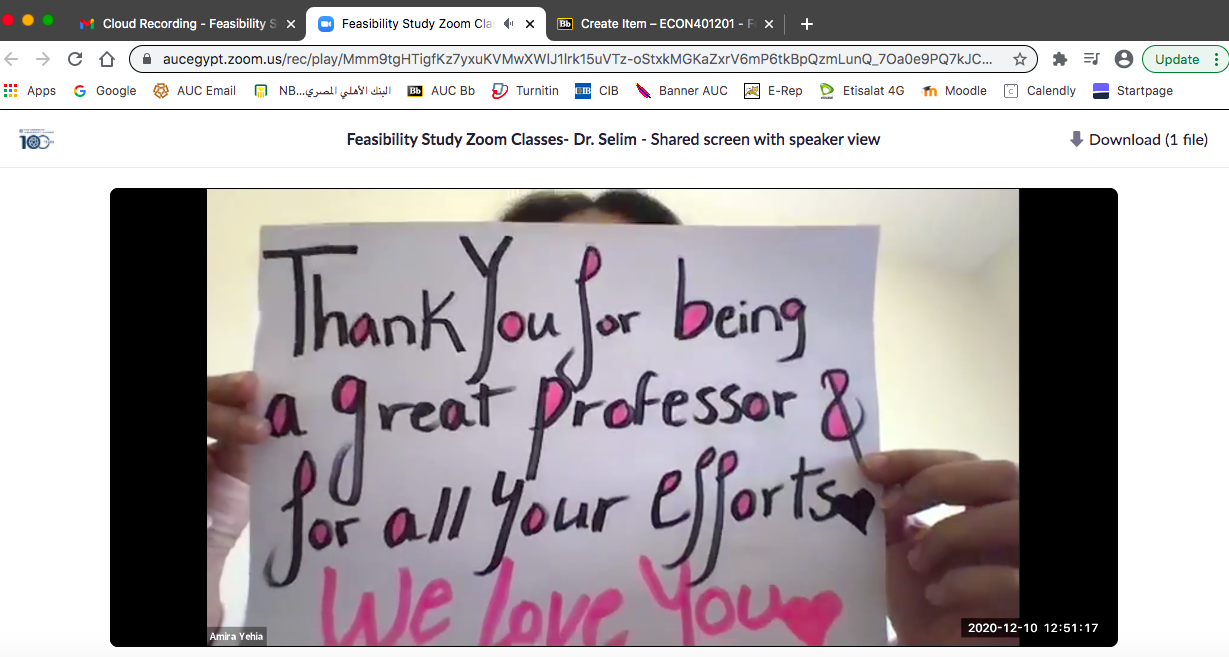 Soraya Altorki, professor of anthropology:
"I was very touched by the message that I received from my students in ANTH 1099 on the last day of classes this semester. It reads: 'We love you professor! Thank you for the amazing course.' It is truly gratifying to get [my] students' feedback like this. It is an experience that says it all."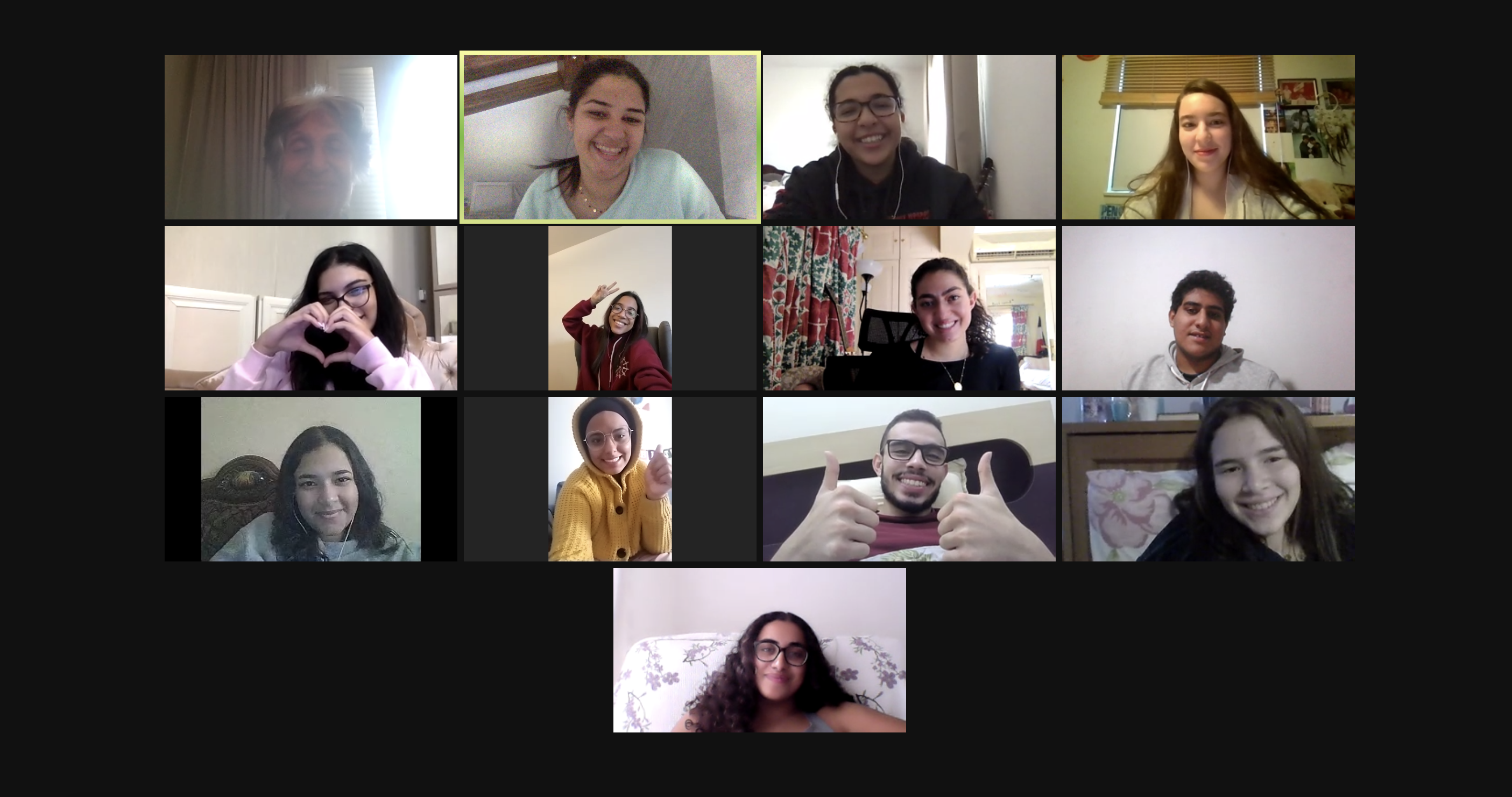 Hania Sholkamy '85, '89, associate professor at AUC's Social Research Center:
"In my Introduction to Community Development course (Anth 2201), my students surprised me. They are a wonder bunch and made the course interesting and dynamic. I am thanking them for their kindness. They said 'thank you,' and that really meant a lot to me. So in sharing this with you, I am thanking them."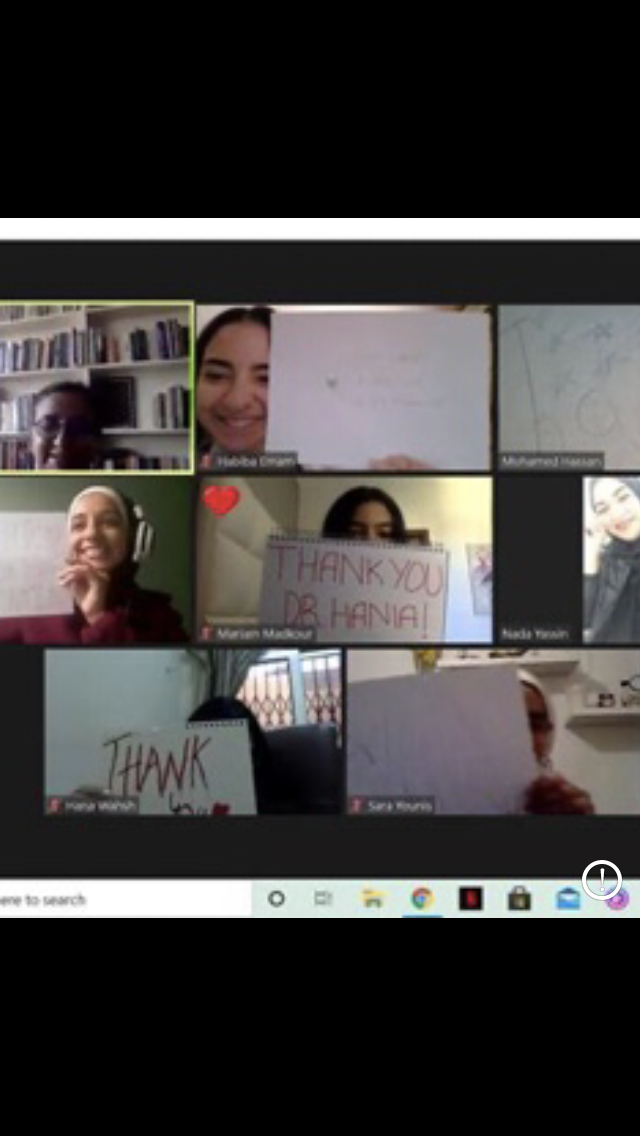 Students in the marker research class also decided to surprise their professor, Hakim Meshreki (MBA '05), visiting assistant professor of marketing, and show him love and appreciation. Nathalie Nabil Kamel, senior, who decided to share with us the story on behalf of her class, says:
"A class member sent the idea in our project group, and then we created a students only group to coordinate. No one hesitated to join this celebratory action for Dr. Hakim, I guess because he's not only our doctor, [but also] he checked up on everyone who missed class, every class he asked how we were and gave us advice to help us mitigate the stress. All his classes were enjoyable, even the difficult chapters, and we wanted to show him the appreciation we had for him."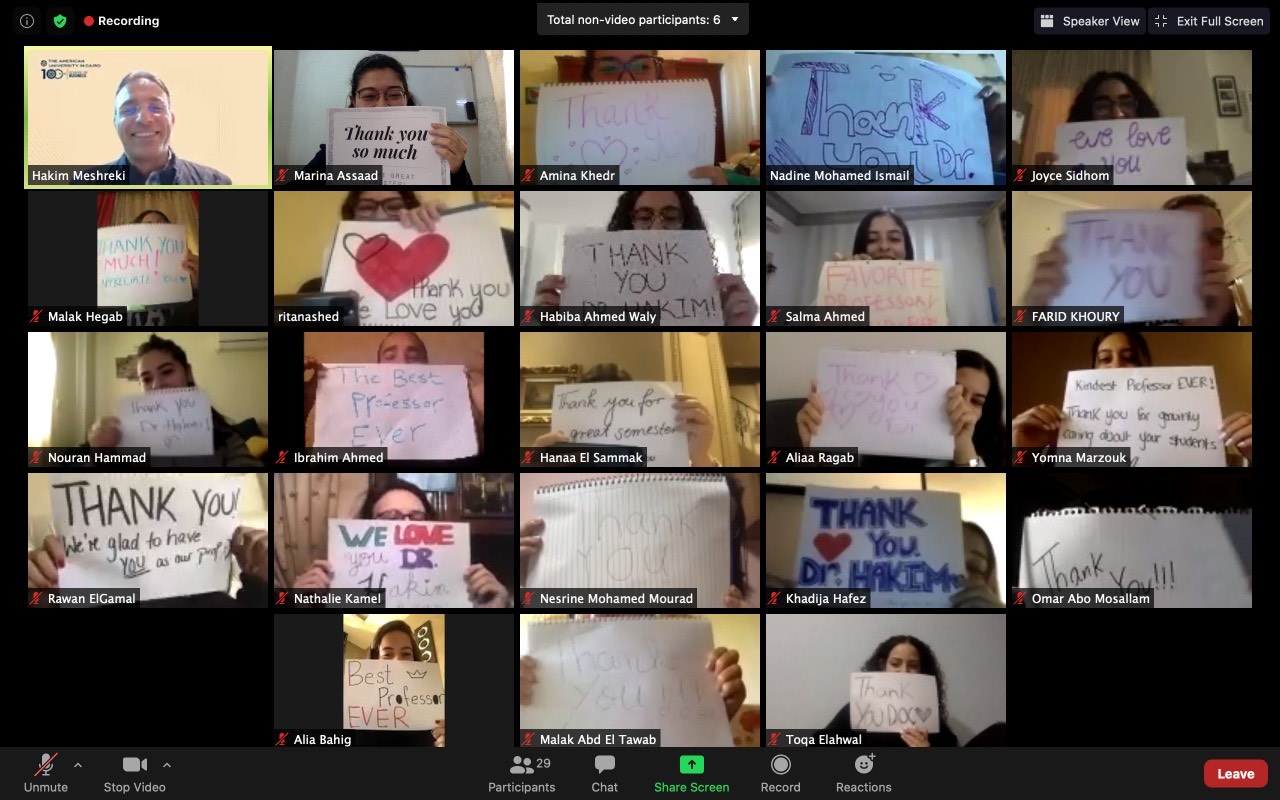 Hakim Meshreki (MBA '05), visiting assistant professor of marketing:
"Toward the end of the last class, students stunned me with a wonderful thank you note that represents the best reward an instructor can get from his students. Though they were not forced to do so, they showed that good work, care and dedication pay off. They were able to understand the essence of my teaching philosophy, which is knowledge, fun and love . For this, I am thankful and grateful to all of them."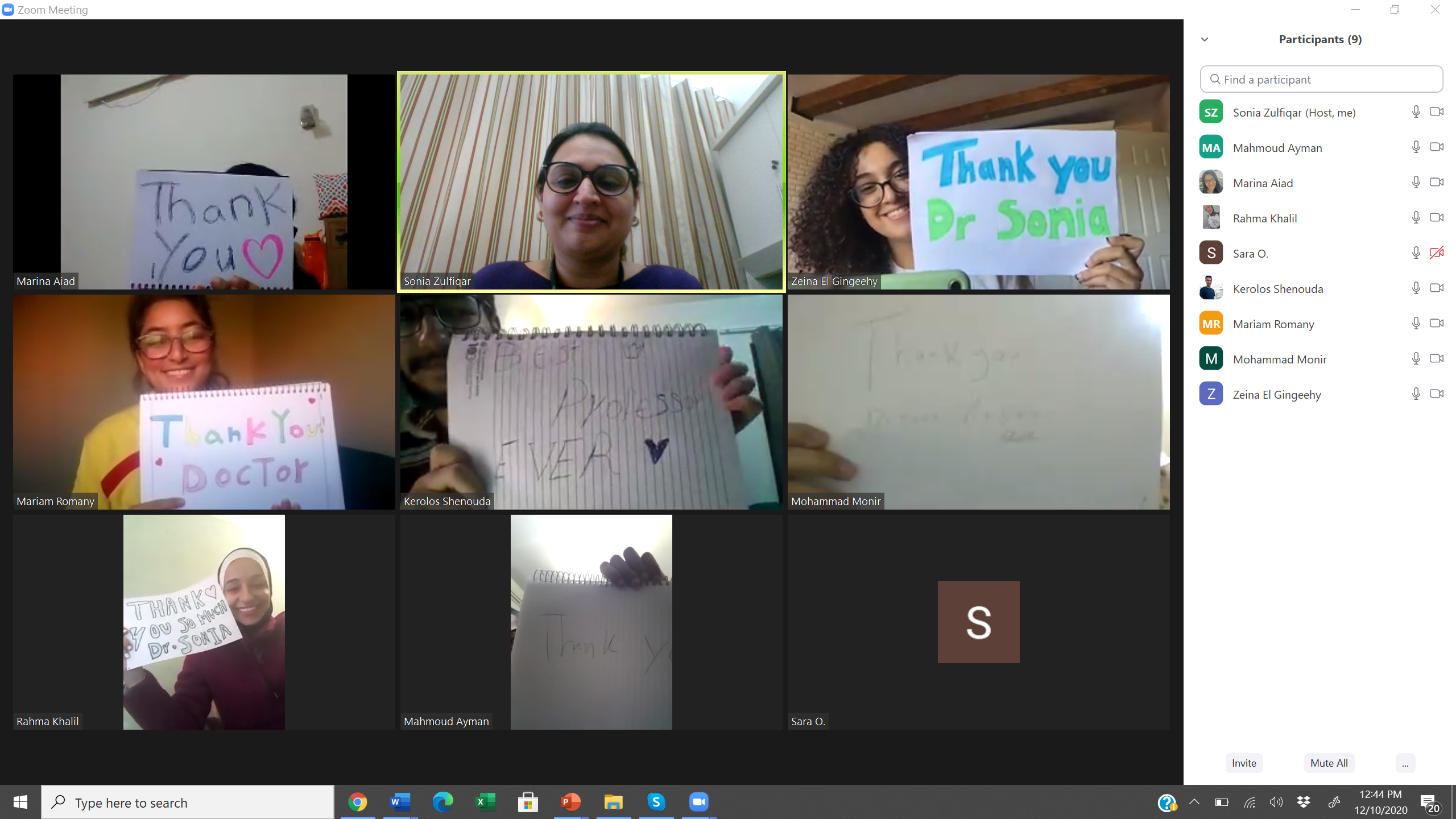 Sonia Zulfiqar, associate professor of chemistry,
"It is an overwhelming experience for me to earn so much love, affection, and respect, given the fact that I am teaching this course for the first time."
Read more here.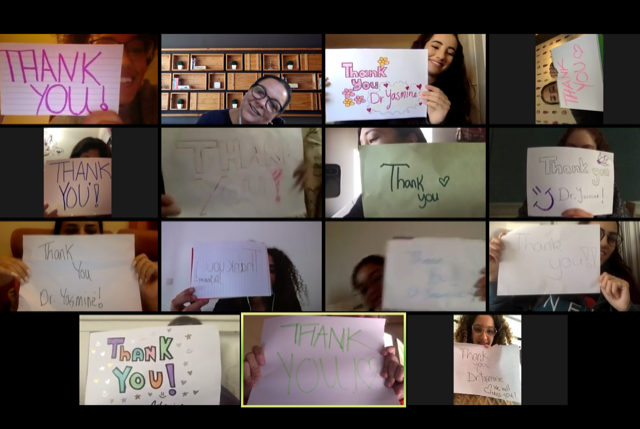 Yasmine Saleh '91, associate professor of practice of clinical psychology,
"When the students asked me at the end of the class to stop sharing my screen since they had something that they wanted to share with me, I had no idea what was going on, and I was genuinely very surprised. This was unexpected and SO appreciated, after all we have been through together."
Read more here.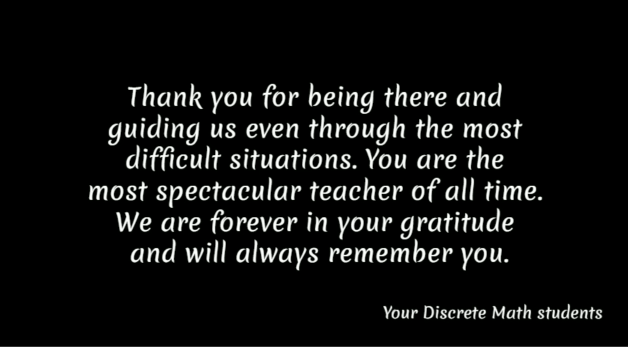 Daoud Siniora, assistant professor of mathematics and actuarial science
"I feel honored to teach such beautiful minds and future stars. The main lectures were pre-recorded and sent to students in advance. On lecture days I hosted optional live Zoom sessions for further discussions on the material, homework problems, and beauty of mathematics. When the semester became very stressful, I made all deadlines flexible, meaning that students may submit their work as soon as they can. I also supplied my students with detailed lecture notes covering the whole course so they do not need to worry about taking notes. From time to time I give easy short quizzes so students can keep up with the course. We had a WhatsApp group that included the students, teaching assistants, and myself so that we all stay connected with each other as one team."