100 Years Logo: Final Vote
100 Years Logo: Final Vote
AUC's 100 Years Logo - Final Vote
Here are the five finalists!
LOGO 1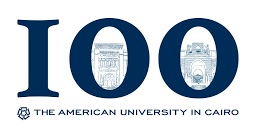 The idea of the logo is simply combining the old and the new campus to symbolize 100 years of heritage and modernity engraved within the AUC. Within a numeric shape inspired of classic literature which symbolizes education and knowledge, it holds the two illustrated campuses inside the zeros of the 100.
LOGO 2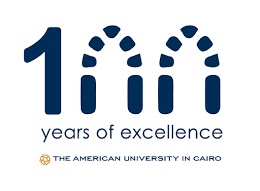 This logo was inspired by the main identity of the AUC campus. The main concept of the logo derives from the feel of the AUC campus architecture. I used the most recognized aspect of the architecture used within all buildings: the archs. The two zeros that form the 100 consist of two simplified silhouettes of the archs present all around campus. The colors and fonts used are from the AUC original brand identity.
LOGO 3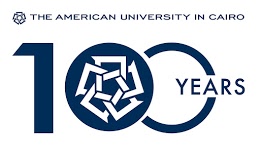 The design is featuring the intersecting pentagons as a key component in the heart of the centennial logo, the historic pentagons particularly represent a remarkable point of AUC's history when President Christopher Thoron and illustrator Naim Fahmi introduced AUC's first emblem that contained the pentagons which shaped our first logo in 1970. The pentagons were added in the heart of the number 100 to signify motion that goes beyond the first hundred years of our history, which reflects the very reason why these pentagons were first chosen by Thoron and Fahmi as they thought it gave thoughts of motion. This design symbolizes the number 100 as it makes a direct allusion to the remarkable centennial celebration (100 years). In addition, the number 100 in numerology represents independence, wholeness and infinite potential which best characterize AUC as an institution and as a community.
LOGO 4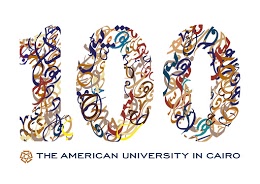 Inspired by the calligraphy designed in AUC's admissions office. I was able to design a special edition logo for AUC's 100 years anniversary. A logo that reflects AUC's 100 years of excellency, 100 of success. Arabic calligraphy is a powerful art direction, very fitting to this milestone. The Arabic letters used in the logo symbolize the endless knowledge and words. 100 glyphs were used to create this shape. In addition to the calligraphic icon, and it's deep integration with AUC culture, the colors used to add the spirit of the logo are all AUC's corporate colors as AUC's official brand manual had stated. The logo abides by all AUC guidelines.
LOGO 5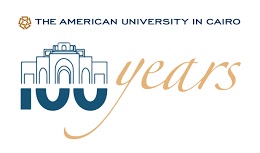 The logo consists of AUC's significant architectural design, as it is known for its cultural elements and inspirations. The logo includes a juxtaposition between modern and classic factors that represent that AUC community throughout the years. AUC's architecture is the element that makes it noticeable to people. It is what makes it distinguishable than any other campus around the world.