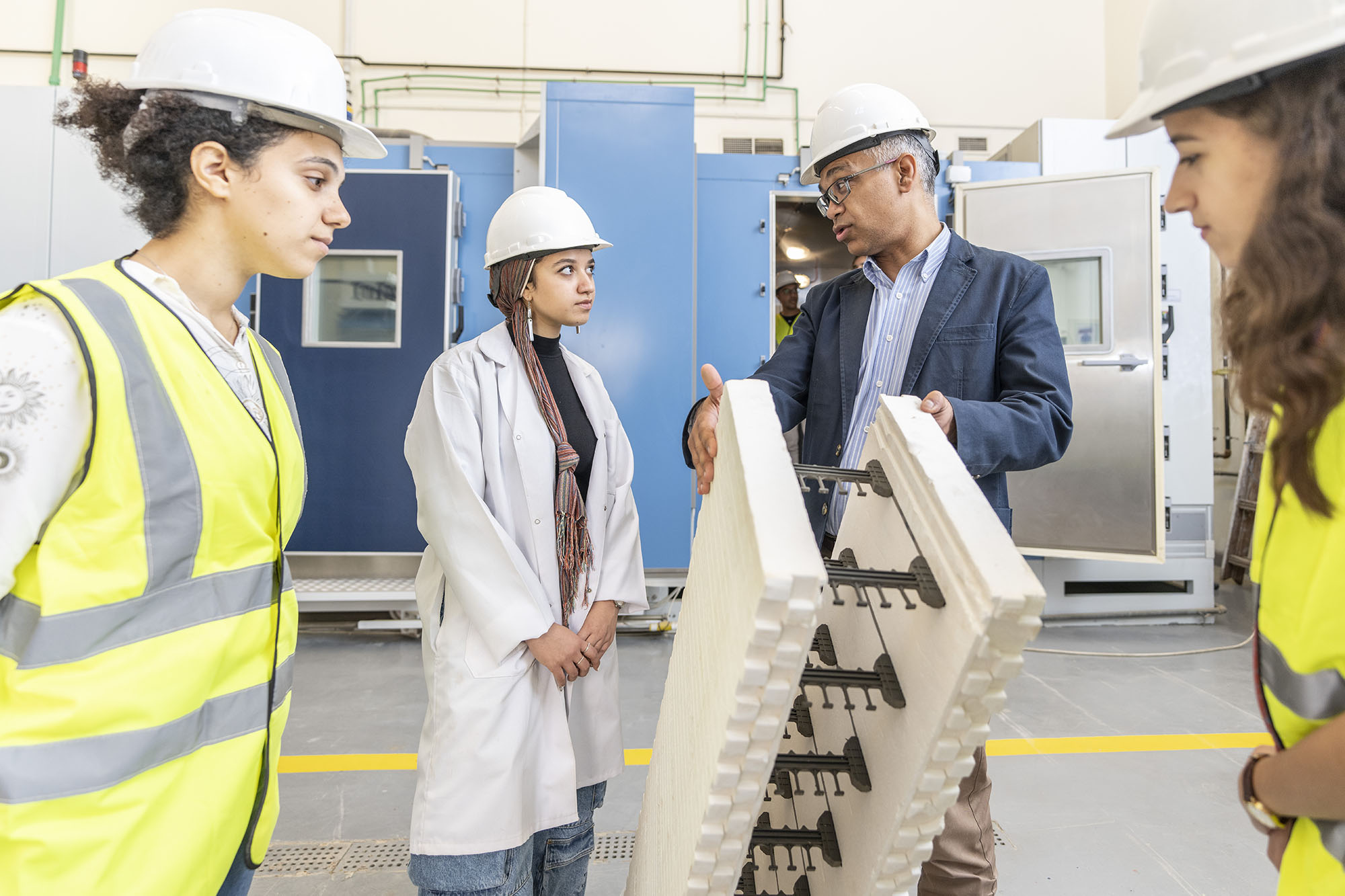 Undergraduate Research Program
Undergraduate research, scholarship, and creative inquiry are fundamentally pedagogical approaches to teaching and learning.
Undergraduate Research Program
About the Undergraduate Research Program
With an emphasis on process, undergraduate research is: "A mentored investigation or creative inquiry conducted by undergraduates that seek to make a scholarly or artistic contribution to knowledge."
As an institutional member, AUC's undergraduate research program adopts the following key definition from the Council on Undergraduate Research (CUR), an organization of over 900 higher education institutions seeking to promote and enhance undergraduate research on their campuses: "Undergraduate Research is an inquiry or investigation conducted by an undergraduate student that makes an original intellectual or creative contribution to a discipline."
The Association of American Colleges and Universities (AAC and U) classifies undergraduate research as a High-Impact Practice (HIP). Undergraduate research aims to "involve students with actively contested questions, empirical observation, cutting-edge technologies, and the sense of excitement that comes from working to answer important questions" (Kuh, 2008)*. Its positive impact on student retention, growth, and engagement has been well documented in a wide range of educational research. Alongside other HIP programs in the ALA, including Academic Civic Engagement, the Common Reading Program, the Freshman Program, and the Core Curriculum. The undergraduate research program advances the institutional strategic goal of 'Quality Education.'
*Kuh, G. D. and Schneider, C. G. (2008). High-impact educational practices: What they are, who has access to them, and why they matter. Washington, DC: Association of American Colleges and Universities.
The AAC and U also define the terms "inquiry" and critical "analysis" in its VALUES Rubrics as follows:
The inquiry is a systematic process of exploring issues, objects, or works through the collection and analysis of evidence that results in informed conclusions or judgments. Analysis is the process of breaking complex topics or issues into parts to gain a better understanding of them."
AAC and U's learning outcomes of inquiry and analysis, as adopted by the undergraduate research program are:
Topic selection: identifies a creative, focused, and manageable topic that addresses potentially significant yet previously less-explored aspects of the topic.

Existing knowledge, research, and/or views: synthesizes in-depth information from relevant sources representing various points of view/approaches.

Design process: all elements of the methodology or theoretical framework are skillfully developed. Appropriate methodology or theoretical frameworks may be synthesized from across disciplines or from relevant subdisciplines.

Analysis: organizes and synthesizes evidence to reveal insightful patterns, differences, or similarities related to focus.

Conclusions: states a conclusion that is a logical extrapolation from the inquiry findings.

Limitations and implications: insightfully discusses in detail relevant and supported limitations and implications.
The undergraduate research program envisions a vibrant, undergraduate-centered campus that fosters independent, creative, life-long researchers, passionate for innovation and the sharing of knowledge.

The Undergraduate Research Program:
Institutionalises support and expands opportunities for undergraduate student research and creative achievement.
Nurtures amongst the academic community, across the disciplines, a culture of research and development, and the drive to advance the liberal education outcomes of undergraduate inquiry, investigation, critical analysis, and creative competence.
Life-long passion for conducting and sharing critical and creative inquiry.
Integrity in data collection, analysis, documentation, and dissemination.
Inclusion and respect for diverse research teams and subjects.
Innovation and problem-solving for social value and creative expression.
Develop the program, on an ongoing basis, building on the advisory council of key stakeholders.
Promote undergraduate research and creative works through activities, periodic events, and ongoing services to students, graduate fellows, and academic faculty members.
Document undergraduate written, oral and visual outcomes, faculty pedagogical experiences, and graduate fellows' mentoring reflections.
Reward exemplary performance and provide grants to support undergraduate research.
Evaluate program outcomes through continuous research and assessment.
CUR articulates the following benefits of undergraduate research:
Enhances student learning through mentoring relationships with faculty
Increases retention
Increases enrollment in graduate education and provides effective career preparation
Develops critical thinking, creativity, problem-solving and intellectual independence
Develops an understanding of research methodology
Promotes an innovation-oriented culture
The Annual Conference for Excellence in Undergraduate Research, Entrepreneurship and Creative Achievement (EURECA) is an opportunity for students to share in the social construction of knowledge, sharpen critical thinking and expression skills -- written, oral and visual -- and engage in interdisciplinary dialogue. EURECA features students' oral, multimedia, or poster presentations, published articles, works of fiction, theatre or dance performances, musical compositions, photo essays, social documentaries, entrepreneurial business plans, or innovative models.
URJe – The Undergraduate Research Journal
This is a multi-modal, multi-disciplinary, refereed annual publication for undergraduate research and creative works. URJe uses an open-access digital platform on Open Journal Systems. URJe is committed to showcasing student works of inquiry and investigation in various genres – research articles, essays, case studies, reviews, creative writing, documentaries, entrepreneurial proposals, pdfs of poster presentations, and audio/visual recordings of various artistic forms of expression. The undergraduate research journal is a registered publication with the following serial number for both print and online versions: ISSN 2356-8976
Undergraduate Research Support Grants
The undergraduate research program offers funding for AUC-enrolled undergraduate students to support original research or creative work. Different types of grants are available.
Grant awardees are documented in the Directory of Grant Recipients.
NUR – The Newsletter for Undergraduate Research
NUR is the email channel through which undergraduate opportunities and achievements are communicated. Excellent student scholars and artists are highlighted, and events are announced.
iResearch Workshops
The undergraduate research program offers workshops, resources, and online tutorials each semester. Some of the topics covered include"What are UR Opportunities," "How to Apply for a Grant," "Writing a Winning Abstract," "How to Get Published," and "Turning your Thesis into an Article."
This is AUC's annual creative writing competition. Participants enroll in one of five creative work genres: short story, scriptwriting, spoken word poetry, podcasts, and graphic novel. Students receive training workshops and present their work at the EURECA conference.
Undergraduate Research Award for the Disciplines
This is a Research and Creativity Convention (RCC) initiative that awards

departments

for creating opportunities for undergraduate research. The prize amounts are:

$10000 – award for undergraduate research achievements and established supportive infrastructure;

$15000 - grant for proposed new activities that enhance undergraduate research.
Students enrolled in the credit-bearing class RHET 4270 may serve as research interns in the undergraduate research program.
The Summer Research Academy is an online interactive workshop, developed by the undergraduate research program, offering training to both graduates and undergraduates from local universities in the step-by-step development of a research proposal.
Advanced students who wish to engage in faculty-mentored undergraduate research activities may approach one of the following:
The Career Center's Work-Study Program as an academic research intern
Faculty members in your department who may employ undergraduate research trainees on a Faculty Support Research Grant
Students who accomplish research or creative activities may apply to include the completed activity in their Co-Curricular Transcript.