AUC-Mountain View Design Thinking Challenge
AUC-Mountain View Design Thinking Challenge
AUC-Mountain View Design Thinking Challenge
AUC Innovation Hub (iHub) launched its first design thinking innovation challenge in partnership with Mountain View and the Center for Learning and Teaching (CLT), member of the Global Design Thinking Alliance (GDTA).
First Challenge June 2021
The innovation challenge is a 10-day immersive student workshop that was held on June 9 - 20, 2021. The design thinking workshop exposed participants to the creative problem-solving framework, where an authentic challenge will be tackled in collaboration with Mountain View, a leading industry partner. Participants engaged in an experiential learning experience that reflects the high-impact practices that The American University in Cairo aspires to promote. Further, participants were coached by a group of international coaches from GDTA along with expert mentors from various backgrounds.
Challenge Theme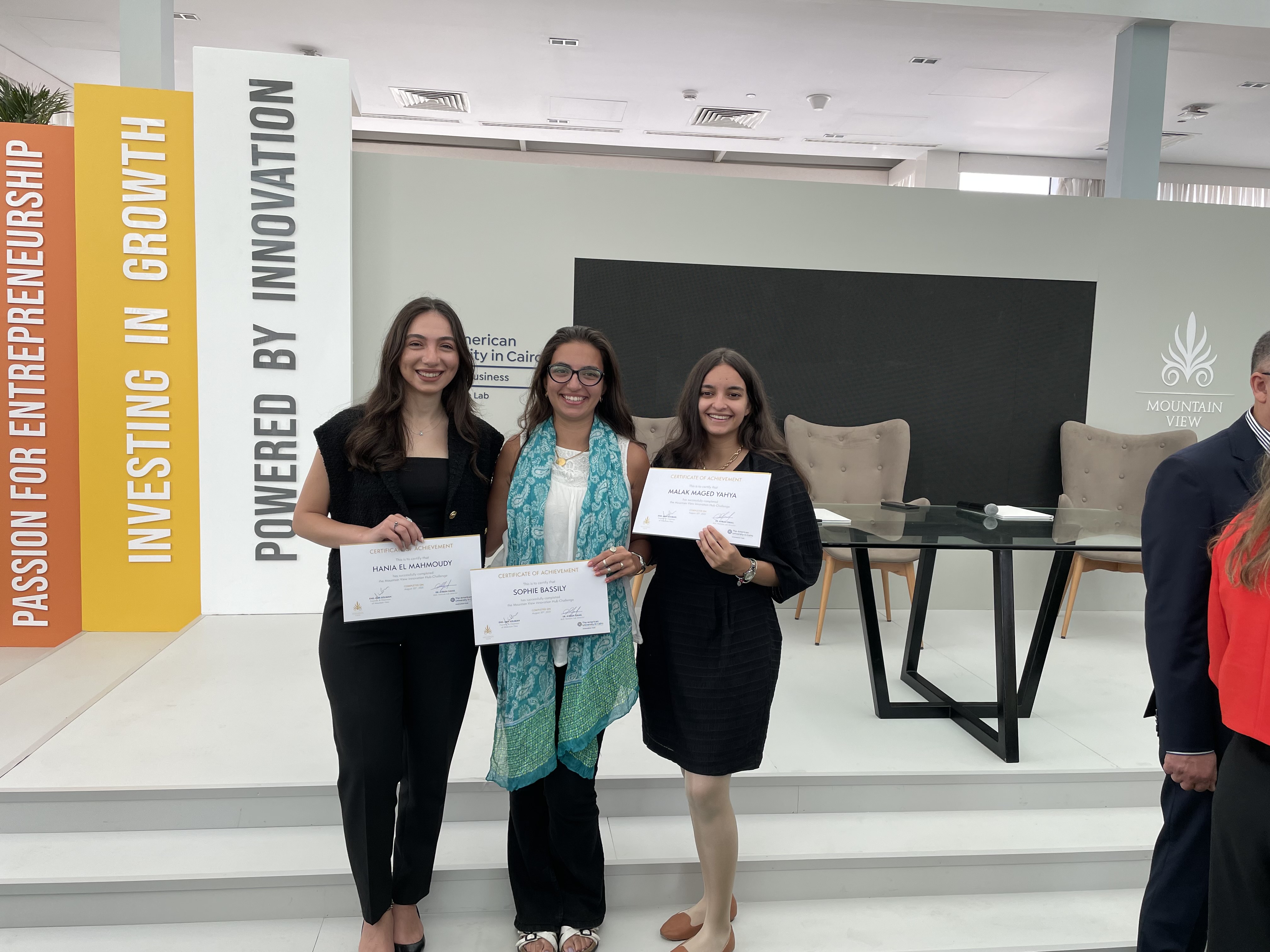 How might we redefine the residential compound living experience, in a world where modern families' needs and lifestyles hold them back from living a genuine, connected life?
Upon completion, all participants received a certificate of completion from The American University in Cairo and six participants were eligible for summer on-ground internships at Mountain View.
Teams embraced ambiguity, and in the duration of the bootcamp, they explored the challenge space, interviewed real users and other stakeholders, identified user needs and unearthed unarticulated insights, which served as the foundation for their designs. Teams also had AUC faculty mentors from different disciplines during their design phases, who gave them feedback and insights that guided them through their design thinking process. Over seven prototypes were created, five of them were presented to the Mountain View Team.
Hear from some of the participating students
Second Challenge November 2021
This Design Thinking Immersive Workshop, held on November 4 - 6, was designed to expose participants to the creative problem-solving innovation framework; where students tackle a real-life challenge presented by an industry partner. AUC Faculty coaches led this innovation challenge.
AUC Innovation Hub (iHub), Center For Learning and Teaching (CLT), Office of the Assistant Provost for Innovative Learning Experiences, and Mountain View Developments (MV), a leading real estate development company, partnered up for this workshop. The industry partners' aspirations include building connected communities, a true sense of happiness and human-centered solutions in the post-pandemic ecosystem.
Second AUC Mountain View Design Thinking Challenge
The Challenge
Design Thinking teams follow an iterative process to discover user needs, struggles and aspirations, and design user-centered solutions that are technically feasible and financially viable. During the workshop, faculty-led teams worked on the following challenge statement: "How might we design a mixed-use urban living experience that nurtures true happiness, in a world where young families struggle to lead a genuine, connected life?"

AUC-Partnership with Mountain View
Listen to Riham Sherif, Mountain View's innovation development manager as she speaks about the value of the Design Thinking Challenge and the youth internships.
Listen to Ahmed El Morsy, Mountain View's innovation director as he speaks about AUC's long partnership with Mountain View.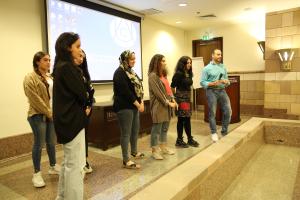 Team 1: Harmony
Harmony presented their idea around the iCommunity which included taking part of the mixed use area and turning it into a community where both the compound residents and external visitors are able to interact and share ideas and network.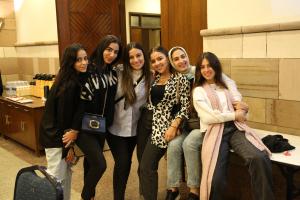 Team 2: Power Puff Girls
Power Puff Girls presented their idea as two parts, first part was an app that would connect the users to the different community network and another part in the physical space where activities take place for the community to interact. Through their solution they believed that users can network both digitally and face to face.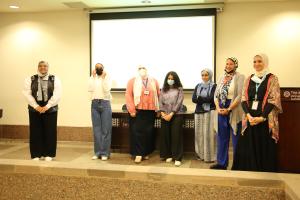 Team 3: Ser Elsa3ada
Ser Elsa3ada presented their idea around Oneness or One which included a holistic solution to engage young teenagers in exchanging activities within the community for services within an entertainment hub.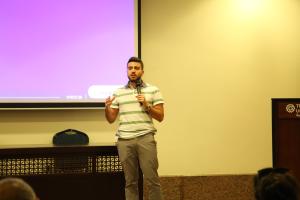 Team 4: HIT
HIT presented their idea as a multi-purpose zone that merges the different generations, including an element of surprise, and offers purposeful activities for the children. Their focus was to bring the experience alive through the 5 senses.
Ideas with Impact
The teams delivered their final presentations. Two ideas out of four were chosen for a deeper three-day workshop at the Mountain View headquarters to be fine-tuned for implementation; while all participants are eligible to apply for internships at Mountain View.
Hear from Our Participants
Amina Sabour, International and Comparative Education Graduate Student, Watch Video
Nouran Ezzat, Communications and Media Arts Student, Watch Video
Omar Mohsen, Master of Business Administration Graduate Student, Watch Video
/
Design Thinking Second Challenge