AUC Recognized for Exemplary Performance in Digital Innovation with Operational Efficiency Award
AUC Recognized for Exemplary Performance in Digital Innovation with Operational Efficiency Award
Earlier this year, The American University in Cairo announced its decision to move the Ellucian Banner Student Information System (SIS) to the cloud.
Moving its SIS to the cloud is a major step toward achieving AUC's larger mission of driving forward innovation for student success. The partnership with Ellucian, the leading provider of software and services built to power higher education, is intended to help AUC embark on an ambitious strategy to digitally transform the University experience.
AUC's digital strategy has three main goals: real-time access to services and information from digital touch points, open yet secure data, and innovation beyond the campus.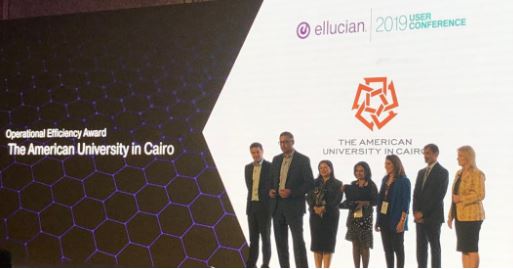 Keeping in line with its demonstrated track record of excellence in digital innovation, AUC was recently awarded the Operational Efficiency Award from Ellucian for its successful and efficient implementation of the Banner system and for moving its student information system to the cloud. The award highlighted AUC's leading role in higher education and its commitment to serving as a pioneer in the MENA region, particularly within the realm of digital innovation.
Among the recipients of the award was Iman Megahed, chief knowledge and strategy officer, who underscored the importance of pursuing digital transformation as a means of enhancing AUC's Quality of Education and Experience. She stated that "AUC is on a continuous journey to enhance its student experience by adopting state-of-the art transformative technologies that will support and enable students in all facets of their study at AUC."
Shereen Gamal, Cloud project lead and director of technology solutions, was also among the award recipients. "Beginning the cloud migration with Banner gives AUC a springboard to move other technology and enables the integration of solutions. It also provides a solid benchmarking for education as an industry. The cloud move allows AUC to easily access the most current application releases and provide the most modern, mobile user experience to students and faculty alike," she said.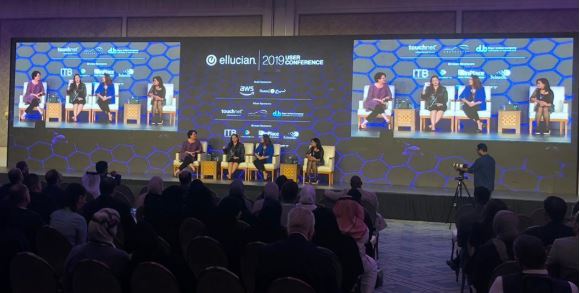 Nouran Maher, director of technology solutions, was also among the award recipients. and an integral member of the project team. She stated that, "Cloud is the new era for technology. We are very excited about the agility that the cloud experience will offer us. No more downtimes, and no more running out of resources during peak times. We will be able to deliver what we promise to our students, which is a reliable, robust and innovative system."