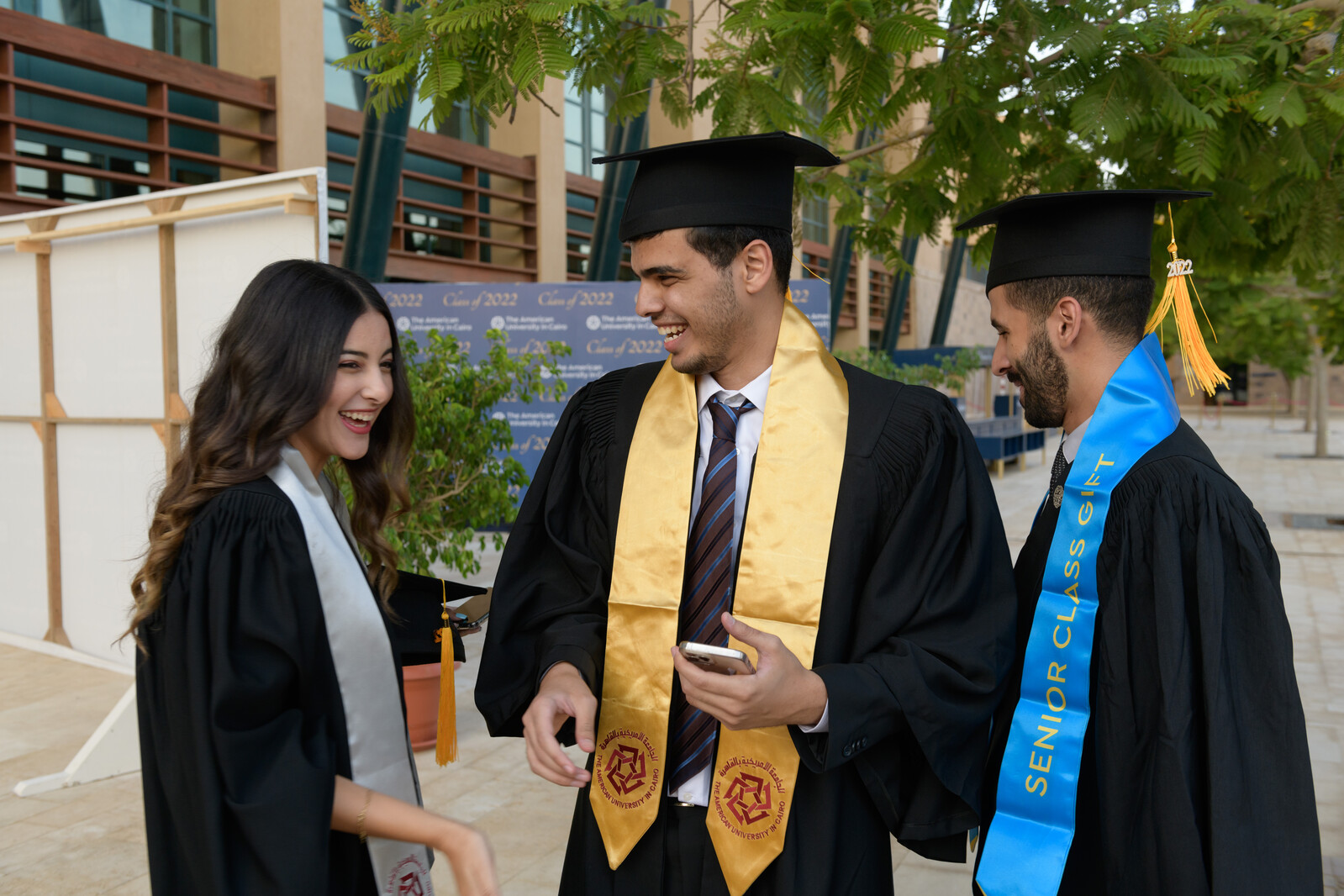 Alumni Services
AUC helps its alumni connect across the globe. AUC alumni can share their successes, engage with other excellent alumni, and make key connections that will influence their future.
Admission and Registration
AUC admits the top five undergraduate applicants who are children of alumni and are within five percent below the cut-off score for the academic semester they are applying to. To know more about the admission process and requirements, visit the AUC admissions page.
AUC Email Account
Create an AUC email account by filling in the Alumni Email Creation form. It is free and for life!
Alumni Endowed Scholarship
Established in 1983 by the International Alumni Council, the Alumni Endowed Scholarship Fund receives contributions from AUC alumni worldwide to provide partial support for the education of sons and daughters of fellow alumni. For more information, visit the AUC scholarships page.
Alumni Engagement/Wedding Photo Session
From Campus to Forever
The Alumni Engagement Office offers AUC couples the opportunity to have an engagement or wedding photo session at AUC New Cairo campus venues.
To reserve your photo session, follow the guidelines below:
A maximum of 30 guests are allowed

to accompany the couple during the photo session.

University venue reservations are subject to availability and will be granted on a first-come, first-served basis.

The couples must inform the Alumni Engagement Office at least two months in advance.
Alumni ID Cards
To continue to have access to the AUC New Cairo and Tahrir Square campuses after graduation, you need to issue an AUC alumni ID card. You will update your contact information, pay a fee of EGP 300, and then proceed to the ID center to be photographed and receive your card. We accept cash and credit card payments, but as a cashless community, we encourage you to pay by card at our office since cash payments need to be done at the Commercial International Bank of Egypt's (CIB) branch on campus.
By issuing your ID, you help support scholarships through the AUC Fund.
Alumni Lounge
A forever home for you on campus. Click here for more details.
Alumni Merchandise
Visit our online store for a great range of AUC Alumni branded merchandise, a lovely keepsake for you, or a great present for a fellow alum.
Alumni Trips
Previous destinations have included the Far East, Switzerland, Belgium, Italy, and the Netherlands. Trips are announced on the alumni website and e-newsletter. To know about our upcoming events, send us an email.
Class Rings
Showcase your pride, and order your AUC class ring. It embodies both your academic achievement and your precious memories made at AUC. The ring is custom-made and comes in two variations: pure silver for EGP 1,500 or silver with gold for EGP 2,900. On one side, your graduation year is engraved, and on the other side, your degree, whether it is BA, BSc, MA, MSc, or PhD. Visit our office to purchase a class ring and other jewelry items from AUC. We accept cash and credit card payments, but as a cashless community, we encourage you to pay by card.
Career Services
The AUC Career Center works with alumni to polish their desired careers and aspirations and get acquainted with the current market needs. The team works intensively to maintain its purpose by providing career guidance and job search tools to help alumni identify their career goals and paths and make wise career transition decisions. For more information, visit the Career Center website.
Counseling
The Psychological Counseling Services and Training Center at the psychology department offers free and confidential services to AUC alumni (based on availability and match). Counselors-in-training, who members of the psychology faculty professionally supervise, can help you deal with a wide variety of stress, anger problems, anxiety, time management difficulties, concentration problems, lack of motivation, interpersonal or family difficulties, and self-esteem issues. Counseling sessions occur on the ground floor in the Humanities and Social Services (HUSS) building. For more information regarding these services or to reserve an appointment, call +2.012.0277.0301 or send an email.
Library Membership
All AUC alumni can apply for membership in the AUC Libraries. Apply in person at the circulation desk at the AUC New Cairo campus.
Issue your alumni ID card through the Alumni office.
Fill in the Library membership form.
The Library services team will review the application within one working day in case of pending documents or overdue payments. (If you already have an AUC alumni ID, check Library records with the Library services team to be cleared for renewal. To be eligible for Library membership renewal, alumni with previous library memberships must return any overdue borrowed Library items or pay any overdue fines or replacement charges).
Once the application is complete for eligibility, the Library services team will guide the applicant through the payment process.
The Library membership fee for alumni is EGP 80 for a one-year membership from the payment date.
Once payment is processed, the Library services team will activate the alumni ID card for Library access within one working day.
Alumni Membership Benefits
Borrowing privileges following the Library circulation policy.
Access to the AUC Library through seating reservation using an AUC email account (maximum 24 hours in advance).
On-site access to the Library facilities and collections.
Reference support through subject librarians.
Research assistance through 24/7 Chat.
Usage of document delivery and printing services on a fee basis.
Important Note: Off-campus access to AUC Library electronic databases is unavailable for alumni due to licensing restrictions. Alternatively, open-access resources are available here and for Egyptian citizens through the Egyptian Knowledge Bank.
Request a Graduate Certificate or Transcript
AUC alumni who wish to request a graduation certificate or a transcript should fill out this form.
Sports Complex Membership
The Office of Athletics at the AUC New Cairo campus offers a wide variety of quality athletic activities and programs to AUC alumni. To apply for membership, use this link and send an email after payment. An individual membership costs EGP 1,000 per semester. Memberships for spouses and children above 16 are currently on hold due to pandemic restrictions. Children under 16 are not issued any memberships. For more information, visit the Office of Athletics website.