Meet the Associates
Meet the Associates

Sarah Wylie
Office of the Provost

Raised in State College, Pennsylvania, Wylie graduated from Colgate University with a major in Middle Eastern and Islamic Studies and a minor in geography. During her time at Colgate, Wylie volunteered as an SAT prep teacher, worked as an Arabic tutor and a peer writing consultant, and performed in student-led activist theater productions. She also spent a summer working as a health access intern at the Mohawk Valley Resource Center for Refugees in Utica, New York. Wylie's passion for travel and foreign language led her to spend a semester in Rabat, Morocco studying migration and transnational identity. In her free time, Wylie likes to run, do yoga, hike, and practice Arabic and French.

Grant Smith
Office for the Vice President of Management and Transformation
Smith is a graduate of The George Washington University where he obtained a degree in economics and political science. While at GW, Smith leads the No Lost Generation Student Initiative where he oversaw the development of chapters across the United States and the world. His academic focus was mainly on how economics can be used in areas such as counterterrorism or understanding refugee and migration issues. Additionally, Smith studied at the American University in Dubai for seven weeks where he traveled to Lebanon as well.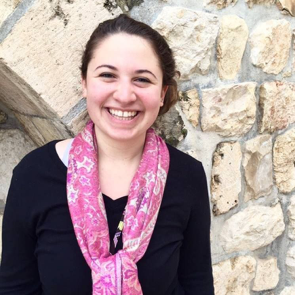 Talya Stanke
Office of Libraries and Learning Technologies -- Rare Books and Special Collections
Born and raised in Arlington, Virginia, Talya recently graduated from the College of William & Mary with a degree in International Relations and a concentration in Middle Eastern Studies. While at William & Mary, she was a Resident Assistant for the Arabic House and studied abroad in Amman, Jordan for a semester with the distinction of Gates Scholar, named for Secretary of Defense Robert M. Gates. Outside of school, she interned in the African and Middle Eastern Division at the Library of Congress and worked for INTO Oregon State University as a Special Programs Assistant. She loves learning languages, particularly Arabic and French, which she is excited to continue in Cairo. In her free time, she can be found reading, planning a dream trip, or hanging out with her two 115+ pound dogs.

Meredith Sullivan
Office of the Dean of Graduate Studies
Born and raised in Massachusetts, Sullivan spent the past four years between the Côte d'Azur and New York City as a student in the dual BA program between Columbia University and Institut d'Études Politiques de Paris (SciencesPo). She graduated magna cum laude from Columbia with a bachelor's in political science and earned a degree in Middle Eastern studies and social sciences at SciencesPo's Middle Eastern-focused campus in Menton, France. At SciencesPo, Sullivan was a member of the Secretariat for the campus's student-led, quadrilingual MUN conference and swam for a local swim team, in addition to enjoying plenty of wine, baguette, and comté at the beach. At Columbia, she worked on campus as a French tutor in the Academic Resource Center, helped with the French translation for the African Services Committee in Harlem, and was a member of the triathlon club. Sullivan has spent two summers in Amman, Jordan – one studying Arabic and the other interning at the King Hussein Foundation – and another summer in Bahrain working at the International Peace Institute's MENA office. Outside of the classroom or office, she enjoys reading, yoga, cooking, and watching German television series.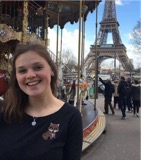 Marley Dizney Swanson
Office of the Dean of Students
Born and raised in Oregon, Swanson graduated with honors from Gettysburg College with a degree in political science and public policy. A critical language scholarship in Turkish sparked her interest in the Middle East and reinforced her interest in immigration and refugee policy. When she returned to campus, Swanson began taking Arabic, founded the Model Arab League team at Gettysburg, and served as a Joseph J. Malone Fellow in Arab and Islamic Studies at the National Council on US-Arab Relations. An interest in law has led her to internships with Frohman Law, LLC and the US  Supreme Court. In her free time, Swanson likes to hike, read, and drink coffee.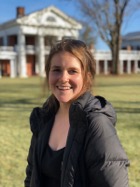 Alexandra Hall
Office of Advancement and Communications
Originally from St. Louis, Missouri, Hall graduated from the University of Virginia with a double major in Middle Eastern studies and Foreign Affairs and a minor in Russian and Eastern European studies. Hall worked throughout her undergraduate career, both at Cavalier Connect, the fundraising branch of the University of Virginia, as well as restaurants in Charlottesville. She was the outreach coordinator of the Global Inquirer, an international relations podcast at UVA, and an ESL Tutor for the International Rescue Committee. As an introductory Arabic student in 2016, she became involved with Banaat Connect, an online language exchange program connecting American and Canadian female Arabic students with Palestinian refugee women residing in Jerash Camp, Jordan. Moved by their mission, she interned with the program during her final semester as an undergraduate.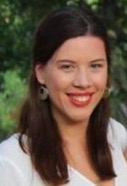 Claire Davenport
Office of Advancement and Communications

Raised in New Jersey, Davenport graduated from Tulane University with degrees in international relations and English. In addition to her editorial internship with New Orleans Family Magazine, a local parenting resource, she spent her time at Tulane writing and editing stories for the university's online newsletter, New Wave. Davenport's interest in the Middle East was sparked when she attended the Mandel Palagye Program for Middle East Peace, a study abroad program in Israel and Jordan that focuses on refugee and human rights issues related to the Israeli-Palestinian conflict. She wrote her honors thesis on the topics she studied there, focusing on the settler crisis in the contested territories between Israel and Palestine. Her other experiences abroad include studying at Charles University in the Czech Republic and working as an au pair in Italy.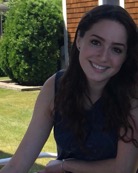 Tess Santorelli
Office of Advancement and Communications
Raised in Boston, Santorelli graduated from Boston University's College of Communications, where she majored in journalism with a concentration in Spanish. While at BU, she represented the University as a dean's host and worked in the university's full-service marketing agency. Fueled by her passion for travel, Santorelli studied abroad twice and spent her junior and senior year as an international program coordinator supporting study abroad opportunities for high school students. During college, Santorelli began studying American sign language and deaf culture and has become an involved ally in Boston's deaf community. When she's not writing or working on a story, you can find Santorelli reading, doing yoga, and going on adventures with friends.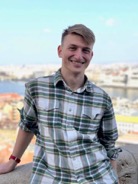 Aaron Blinderman
Office of Data Analytics and Institutional Research
Born and raised in Connecticut, Blinderman moved to study in Colorado, where he graduated Phi Beta Kappa from Colorado College. During his four years, Blinderman majored in history and political science, with a focus on the Middle East and North Africa. His research mostly centered on Palestinian liberation theology and Palestinian refugees in Lebanon, both of which constituted a thesis style paper his senior year. During his time at Colorado College, Blinderman spent his days as the vice president for internal affairs in student government, as an admissions fellow interviewing and recruiting prospective students, and as a founder and leader for a joint Colorado College and Air Force Academy debate and discussion group. Additionally, Blinderman spent four months in Jordan as part of a diplomacy and policy studies program with CIEE.

Brandon Rothrock
Office of Sustainability
Originally from Stewartsville, New Jersey, Rothrock is a graduate of the Pennsylvania State University with a Bachelor of Science in Geography and minors in climatology and sustainability leadership. Throughout his undergraduate career, Rothrock served on a plethora of sustainability committees including the student sustainability advisory council and the sustainable operations council and interned at the Sustainability Institute at Penn State. Here, he focused on recycling and composting education and helped implement campus-wide sustainability campaigns. Aside from his internship, Rothrock was also the student programming coordinator of Penn State Eco-Reps, the largest student-run sustainability initiative within student residence halls in the United States. He is deeply invested in fostering responsible consumption habits and advocates for both sustainability leadership and education on an international level.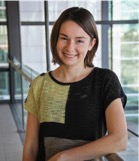 Kara Hoving
Research Institute for a Sustainable Environment
Hoving was raised near Chicago and graduated with the highest distinction from the University of Iowa, where she earned a bachelor's in environmental science, a minor in biology and a certificate in sustainability. As an undergraduate, she served as co-president of the UI environmental coalition and studied and wrote about environmental justice and women's issues for the Iowa climate narrative project. She also spent a semester studying in Tasmania, Australia, volunteering with several conservation organizations and learning about sustainable urban food production. In her free time, Hoving enjoys running, hiking, reading, and gardening.

Erin Hayes
Career Center
A native of the Rochester, New York area, Hayes graduated from the University of Notre Dame with a double major in political science and Arabic and a certificate in international security studies. Her interest in Arabic led her to spend a summer in Oman and a semester in Morocco studying the language. Hayes has served as an intern at the office of the US Trade Representative and the Department of State, where she focused on human rights in the Middle East and North Africa. While at Notre Dame, Hayes worked in the Center for Career Development, tutored Arabic, and was the president of the Arabic club and a co-founder of Notre Dame's branch of women In international security. In her free time, she enjoys exploring new areas, riding horses, and drinking coffee.