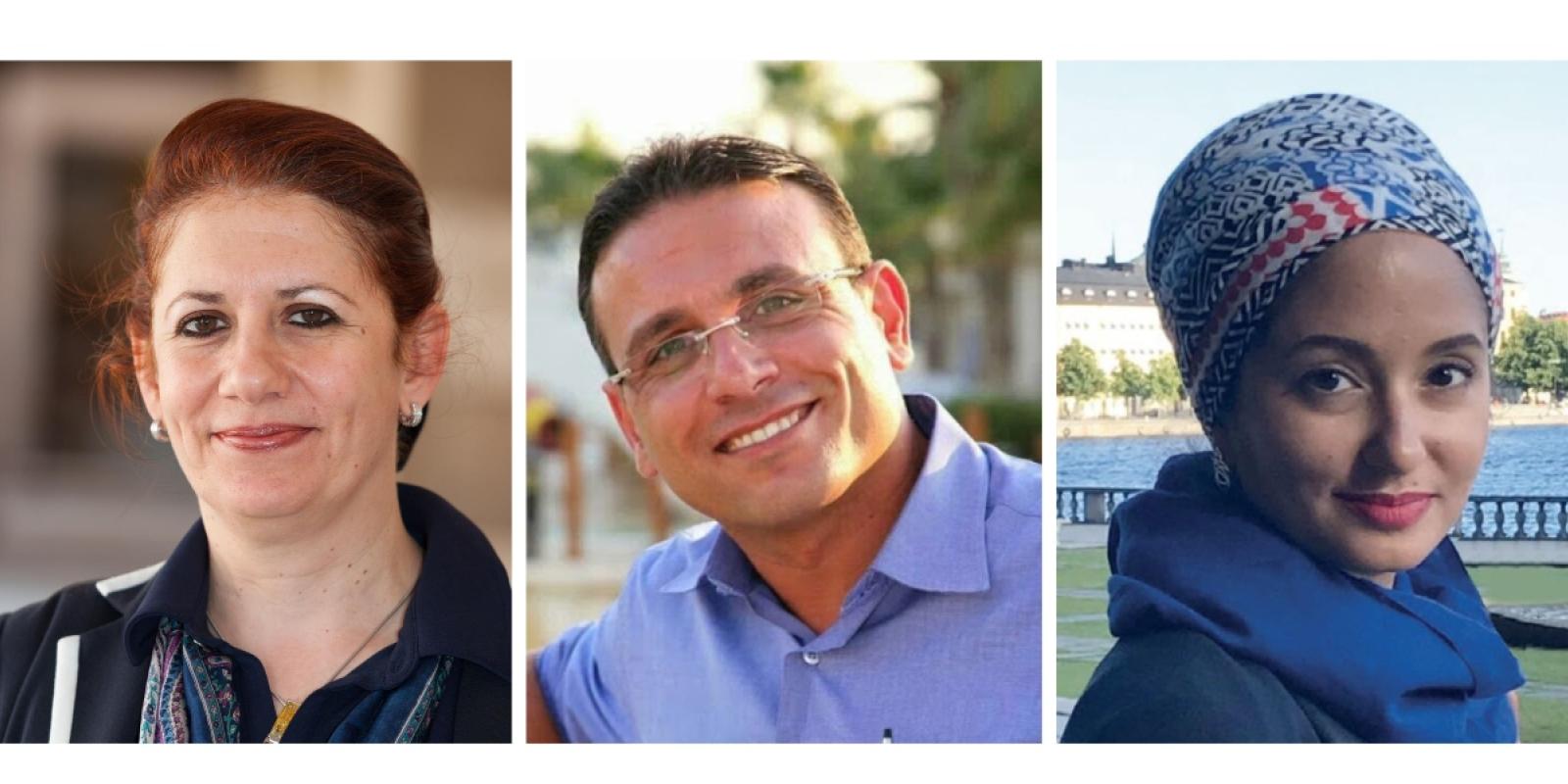 Faculty Merit Award Recipients Create Lasting Impact Across University
Faculty Merit Award Recipients Create Lasting Impact Across University
AUC honored three faculty members for their outstanding contributions to teaching, service and research at the University during commencement this spring.
This year's winners are:
Excellence in Teaching: Hakim Meshreki (MBA '05),

assistant professor and CEMS-MIM academic director,

Department of Management, School of Business
Excellence in Academic Service: Laila El Baradei '83, '85, professor and director of the Master of Public Administration program, Department of Public Policy and Public Administration, School of Global Affairs and Public Policy
Excellence in Research and Creative Endeavors: Yasmine Motawy '01, '03, senior instructor II, Department of Rhetoric and Composition, Academy of Liberal Arts
"This award is a perfect fit with my lifelong career and interest in public service," said El Baradei. "It means a lot to me."
El Baradei has nearly two decades of service at AUC under her belt. Joining the University full time in 2006, she has worn numerous hats, from acting and associate dean of the School of Global Affairs and Public Policy to founder and leader of the school's Public Policy Hub and MPA program director.
"For the past 16 years, I have been intrinsically motivated to academically serve at all levels," she explained. "I am especially proud of my service to students through managing and fundraising for fellowships, organizing and leading study tours and linking theory to practice through the hub."
Equally proud of his support for AUC's students, Meshreki recalls his efforts to not let his grief after losing two family members last year affect his teaching habits.
"The moment I knew that I won this award was a great one; I felt that I was given true encouragement to continue my path."
Meshreki's love for teaching is made evident the moment he is asked about it. "Teaching is one of those jobs where you see the results of your efforts immediately," he explained. "When you deliver true value to students, you can directly see it in their eyes, shining with interest and curiosity."
For Meshreki, who has been with AUC's School of Business since 2012, shaping the world's future decision makers is the best legacy one can leave behind. "Building responsible leaders is the best contribution a person can have," he said.
Echoing this belief, Motawy has dedicated herself to the tremendous task of researching children's literature in the Arab world, in hopes of increasing the quality of children's books and educational policy across the region.
"Children's literature is a young academic field all over the world, but in the Arab world, until very recently, scholarship was rare — lacking international visibility and having little impact on policymaking in educational and cultural spheres," she said. "In my work, I have consistently been determined to change that."
Motawy is the author of Silence Between the Waves: Children's Picturebooks and Contemporary Egyptian Society, a book on ideology in picture books written in Egypt over the last 20 years. She has taken on a myriad of roles in the field, including critic, translator, editor and writing mentor, leaving lasting impressions across the board.
Lately, Motawy has been exploring the question of friendship in children's literature and contemporary youth culture. She piloted a course at AUC this spring titled, On Friendship. "During the course, I learned a great deal from discussing the readings and issues that I am researching with my students," she reported, adding that she will begin sharing initial findings this fall.
Overall, Motawy is hopeful about the award bringing much-needed visibility to what she deems an integral part of education.
"It is very meaningful that the committee chose to recognize the importance of children's literature as a soft power," she explained "There is so much work to be done in this field and so much opportunity for growth. I hope that AUC continues to be part of what is to come."