Class of 2020: The Future Awaits
Class of 2020: The Future Awaits
If you were on campus last Wednesday and Thursday, you would've seen crowds of new students eager to begin their lives at AUC wandering among a sea of caps and gowns, graduates ready to start their journeys beyond this campus.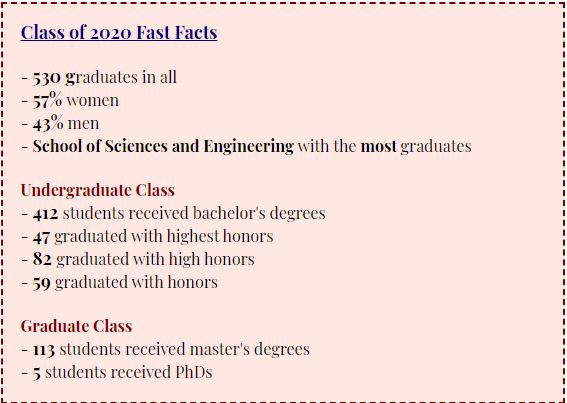 There were a total of 530 graduates from five schools at the midyear school-based commencements last week, with five PhD students, 113 master's and 412 bachelor's in all. The graduating class was 57% women and 43% men. Fifty-nine students graduated with honors, 82 with high honors and 47 with highest honors. The School of Sciences and Engineering had the greatest number of graduates.
The ceremonies featured inspiring speeches from the deans of the different schools as well as from students. The speeches emphasized the importance of being flexible with career opportunities and life changes and advised graduates to make impactful and responsible decisions. Parents and families were thanked for their support, as were the faculty and staff for their "behind -the -scenes" work.
School of Sciences and Engineering
Dean Hassan El-Fawal recognized the importance of having a liberal arts and sciences education, noting that it is "the education of leaders, not followers."
"We have asked much of you as students. Now we ask of you, as graduates, to accept the responsibilities of leadership, and to exemplify the kind of courage, compassion and creativity we foster in our students and celebrate in our alumni," El-Fawal added.
Mohamed Mahmoud Abd El Sattar '20, the graduating class representative who received a bachelor's in petroleum engineering, opened his speech with a few jokes, then got serious about how important it is to keep moving forward. He closed his speech by highlighting AUC's role in fostering proactive mindsets.
"Here at AUC, we learn beyond academics," he said. "We learn how to formulate our equation of life, and thanks to all of the liberal arts courses, not only do we get to formulate our equation of life, but we also get to doubt, critique and test our equations to build a better and stronger foundation for our lives to be built on. AUC served as a real-life simulation period for all of us, where mistakes are allowed, identified and corrected. Mistakes at AUC makes us better and stronger."
The school gave out five awards to graduates for their research projects and academic performance.
The Fadel Assabghy Award for "outstanding master's thesis work" was given to Amal Abouel-Fetouh Badr for her thesis titled, "In-Depth Analysis of Culturable Microalgae Diversity in the River Nile at Different Locations," under the supervision of Walid Fouad, associate professor in the Department of Biology. Badr completed her thesis in Fall 2019.
The Medhat Haroun Award for "outstanding master's thesis work" was given to Tamima Sherif Elbashbishy for her thesis titled, "An Ontology Framework for Addressing Cost Overrun Through Risk Modeling: A Risk Path Approach," conducted under the supervision of Ossama Hosny, professor in the Department of Construction Engineering.
Lotfy Hussein Abdel Khaliq and Nour Mohamed Abdelhamed, both computer engineering graduates, were awarded the Abdel Rahman El Sawy award, which is presented to Public School Scholarship recipients with the highest grade point averages in an engineering department.
Established in 2017 to provide a bi-annual cash award to the highest performing graduate and undergraduate students, the Mohamed Bin Abdulkarim A. Allehedan Award was presented to Sarah Omar Youssef, who earned a master's mechanical engineering, and Rania Mohamed El-Shenety, who received a bachelor's in actuarial science.
School of Business
"Make your life a quest for continuous improvement. Learning is always a lifelong journey, and never a destination," Dean Sherif Kamel '88, '90, '13 told the graduating class. "Always seek the next challenge, the next mission, the next endeavor. Be ambitious and be confident that anything you are passionate about and work hard for will be achieved."
Youssef Sabek '20, who received a bachelor's in business administration, asked for a favor from his fellow graduates.
"I ask that you become ethical decision makers," he said. "I ask that you seek out responsible and climate-friendly decisions, and I ask that you treat future colleagues with dignity and compassion. This country and this region really need it."
Two awards were given out: the Student Recognition Award and the Academic Club Award.
Nour Beshir '20, who graduated with a bachelor's in economics and business administration with a finance concentration, received the Student Recognition Award for demonstrating "outstanding services and achievements to the school since declaration to graduation." The Entrepreneur's Society won the Academic Club Award.
School of Humanities and Social Sciences
Class representative Malak El-Shorbagy '20, who received a bachelor's in political science, expressed the importance of getting an education from a school as diverse as HUSS.
"Being enrolled in this school will pay off because it is rich in diversity," she said. "Diversity is a non-detachable element of our HUSS institute. Diversity is what taught each and every one of us to be truly tolerant."
School of Global Affairs and Public Policy
Founding Dean Nabil Fahmy praised the graduates for their common goal, the reason they decided to pursue a career in this field.
"You have been focused not only on your personal interest, but on the common good, with implications far beyond your immediate needs," he said.
Mariam Fawzy '20, who graduated with a bachelor's in journalism and mass communication, said that a GAPP education equipped students with the tools to form "proper, educated opinions about matters around us" that they will take outside the classroom.
Graduate School of Education
Heba el-Deghaidy, the school's interim dean, noted, "This is the beginning of what we hope will be an exciting and rewarding journey where you can make a difference and make us proud at AUC."
For commencement photo albums click here.