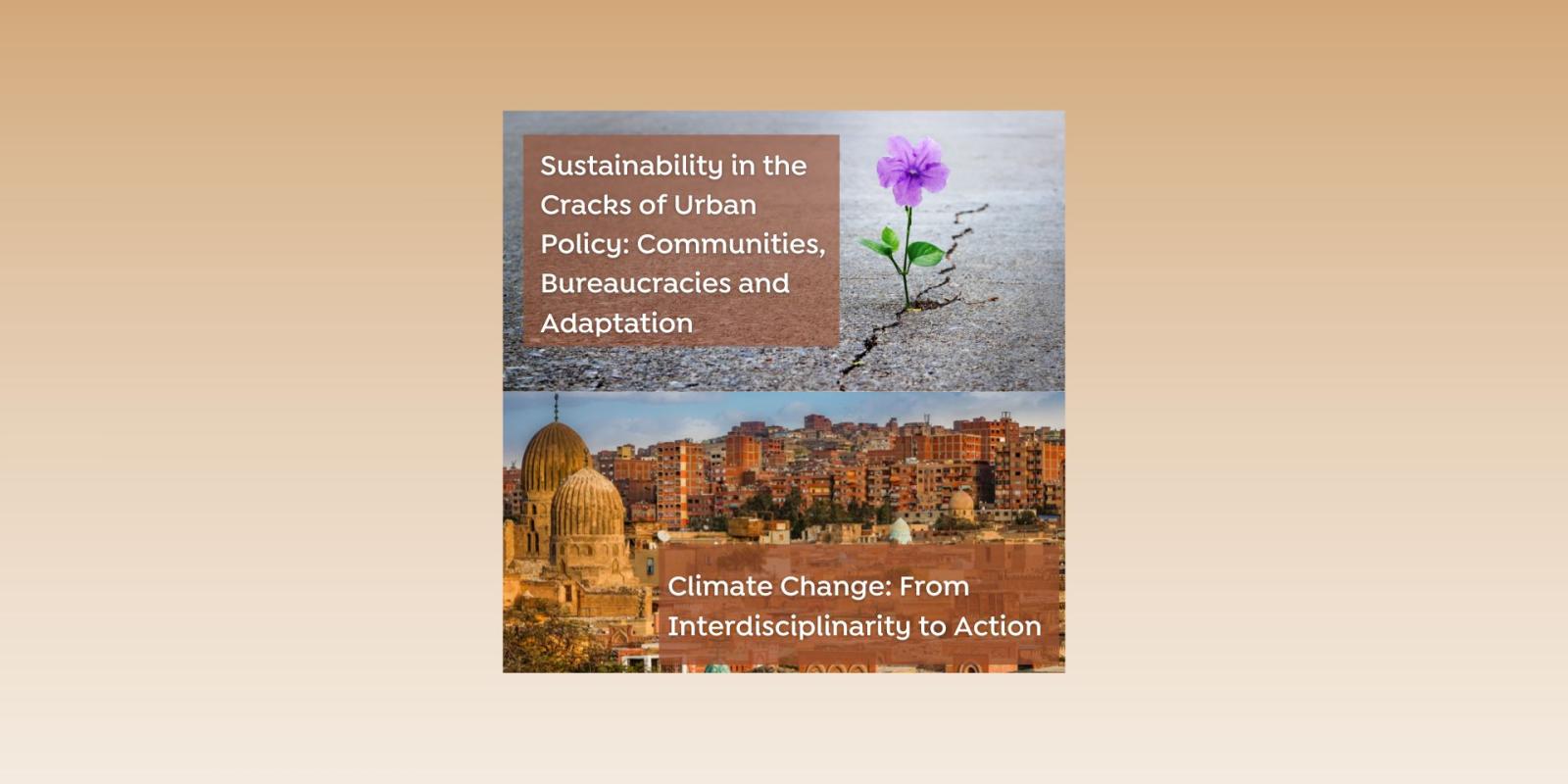 AUC Faculty Develop New Courses on Climate Change, Sustainability During 2023 Research and Creativity Convention
AUC Faculty Develop New Courses on Climate Change, Sustainability During 2023 Research and Creativity Convention
Two courses aimed at informing and empowering AUC students to lead the charge against climate change won this year's Core Curriculum Course Competition during AUC's 2023 Research and Creativity Convention (RCC).
"Climate change is certainly one of the most pressing concerns which urgently requires raising a new generation of educated, responsible and proactive youth who are willing to make a real change and aspire for a promising future," explained Amina Saleh, assistant professor in AUC's Department of Chemistry, who co-wrote one of the winning courses, Climate Change: From Interdisciplinarity to Action, with Tamer Shoeib, professor and chair of the department and Noha Omar, assistant professor in the Department of Economics. "Ultimately, we want to inspire students to conscientiously contribute to the betterment of their communities by solving problems of both global and local concern."
Taking place at AUC's New Cairo campus this week, RCC is a weeklong convention that showcases research from faculty and students across disciplines, in addition to hosting competitions, performances and discussions.
"The competition is an important opportunity for faculty to engage in the process of curricular innovation to provide our students with high impact learning experiences," explained Ghada Elshimi (MA '93), dean of undergraduate studies and The Academy of Liberal Arts. "In line with AUC's liberal arts mission, the competition promotes examination of human issues from the perspective of multiple disciplines and encourages faculty to employ project-based learning teaching styles and inquiry."
Alongside Saleh and Shoeib, Noura Wahby, assistant professor at the Department of Public Policy and Administration, and Sherif Goubran '14, assistant professor in the Department of Architecture, co-wrote the other winning course, Sustainability in the Cracks of Urban Policy: Communities, Bureaucracies and Adaptation.
"We hope that the course will inspire both us and our students to dig into the reasons behind our relationships to our surrounding built environment and understand how socio-technical factors shape our attitudes, practices and beliefs of the environment," the duo wrote.
Arab World Studies/Egypt Category
Winning Course: Climate Change: From Interdisciplinarity to Action
Developed by: Tamer Shoeib, Amina Saleh and Noha Omar
With the aim of creating and empowering more environmentally conscious students, this course will explore climate change from multiple disciplines, focusing on filling information gaps about the crisis in addition to the specific context of Egypt. "Filling these gaps would allow for a better understanding of the climate change crisis in Egypt and therefore a better management of it," the course description reads.
A major part of this course is centered around community-based learning; students will work with different organizations and groups of people around Egypt, gaining real-life experience while leaving a lasting impact on their communities. Projects will span the industries of wastewater treatment, fish farming, recycling and waste management, among others.
"In this course, we leverage the connections that AUC has forged over the years with communities and NGOs across Egypt to provide relevant, intriguing and challenging real-life based learning opportunities for our students," Saleh said. "Through field trips and literature-based research, students will tackle real-world issues that are of great relevance to the environment, the local economy and human health."
Global Studies Category
Winning Course: Sustainability in the Cracks of Urban Policy: Communities, Bureaucracies and Adaptation
Developed by: Noura Wahby and Sherif Goubran '14
This course explores and challenges the norms, regulations, policies and laws that inform unsustainable behaviors, from the overuse of plastic at AUC and in Egypt to the pricing of water in urban areas.
"For example, although we are constantly reminded of the importance of recycling, the fact remains that not many people do," Wahby and Goubran explained, pointing to both individual behavioral and systemic issues contributing to this problem.
"By tackling these underlying notions, we hope that we will build active citizens who better understand how sustainability works, the larger obstacles hindering more progressive policy-making, and what we can do ourselves to contribute to climate justice in Egypt," they wrote.
Focusing on solutions as well as problems, the course will also take into account how policy loopholes can be used for good. "It is this sense of critical reflection and activism-driven learning that we hope to explore in this AUC course," they concluded.
The Core Curriculum Course Competition is responsible for a growing number of innovative courses offered at AUC, including a few new classes introduced last fall and this spring: The World of Naguib Mahfouz, Social Problems of the Middle East and Building for Underdeveloped Egyptian Communities.
With COP27 taking place in Sharm El Sheikh just months ago, AUC's Climate Change Initiative is still going strong, producing new research, projects and initiatives at a steady pace.
Explore all RCC competitions and winners here.