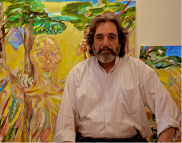 Shems
Friedlander
Position
Professor Emeritus
Department
Department of Journalism and Mass Communication
Profile
Brief Biography
Friedlander graduated from the Massachusetts College of Art in 1963 and since then has been prominent in the art world as a photographer, graphic designer, documentary filmmaker and painter, as well as an educator. He is the author of nine books and his work has been exhibited worldwide. He has written two monodramas that were performed at the Howard Theater at The American University in Cairo. His documentary films have been shown at film festivals in the United States, the Musee de l'Homme in Paris and The American University in Cairo. They have also been released as DVD's in both PAL and NTSC formats. 
As a professor of practice in the Department of Journalism and Mass Communication since 1994, Friedlander teaches visual communications. He also teaches a drawing class in the Department of the Arts. In 2005 he was awarded Teacher of Excellence by the School of Business, Economics and Communications, for a three year period.
Friedlander's paintings, drawings and photographs have been exhibited at the Gezira Art Centre in Cairo and most recently his paintings were exhibited at the Mohamed Mahmoud Cultural Centre in Cairo. His photographs have also been exhibited at the Sony Gallery at The American University in Cairo and The Empty Quarter Gallery in Dubai. He has been interviewed by Islamica Magazine and has written for Parabola Magazine. He recently conceived and published Zawiyah, a journal of Occasional Sufi Papers.