Meet our Alumni

Aisha Altubuly
Libya
Through the African Graduate fellowship, Aisha Altubuly started pursuing a master's in gender studies at The American University in Cairo (AUC) in the spring of 2021. She has actively been highlighting gender-based violence (GBV) through her work with Together We Build It (TWBI), a Non-Governmental Organization (NGO) based in Tripoli. Under the title She's Libya, Altubuly co-led the campaign, which aimed at raising awareness of displacement and the struggles faced by women on the national level to highlight gender-based violence, especially during armed conflicts and displacement. Launched on International Women's Day 2020, the online national campaign addressed the situation of displaced women in Libya, showcasing a true story of a displaced young Libyan woman's family and the painful conditions accompanying their displacement process.

Alia Eshaq
Yemen
Alia Eshaq is a political researcher and analyst based in London. After spending years in peacebuilding and community development, Eshaq co-founded Mashora to help organizations gain industry-leading insights from a network of experts that knows sustainability and profitability go hand in hand. Mashora helps its clients tap into the deep knowledge of regional and sector-specific challenges and unlock opportunities in the market without compromising social, environmental, or business prosperity. She used to work as a project manager at the Berghof Foundation, where her work focused on strengthening inclusive local governance in Yemen. Her previous work experience includes working as a journalist for the Yemen Times. Eshaq holds a master's degree in public policy from the University of Oxford and a bachelor's degree in political science from The American University in Cairo (AUC), specializing in international relations and international law. She is a recipient of the Al-Jazeera Award for Youth Researchers and is the founder and first president of the Women Empowerment Club at AUC.

Belquis Haidar
Yemen
Belquis Haidar, a Yemini young lady who pioneered the way with her medical products that aim at balancing the forces between the hand and splints worn by patients suffering from osteoarthritis, a condition that affects millions of people worldwide. Haidar graduated from the school of mechanical engineering at The American University in Cairo (AUC). ​She is currently enrolled in the Erasmus Mobility program in Europhotonics (MSc). She can reflect on how AUC fostered her research abilities and enabled her to pursue a career she would have never been able to pursue had she remained in Yemen.

Chada El Islam Manel Benmahcene
Algeria
Chada Benmahcene is a senior product manager at BakerHughes, and the co-founder and managing director of ENTROGX Startup incubator. With over 13 years of youth activism and community engagement, six years of professional experience at energy multinational companies, and over five years of experience with startups, she works hard to empower and enable the communities around her by mentoring young entrepreneurs, women in Science, Technology, Engineering, and Mathematics (STEM), and aspiring tech enthusiasts around the Arab world. Benmahcene has recently been named among the 100 Arab female heroes in volunteering by the British Broadcasting Corporation (BBC), named a Distinguished Alumni of the year in the Arab world by the Middle East-US Partnership Initiative (MEPI), and the most influential young personality in Algeria for 2020 by Supernova Magazine. She graduated top of the class from The American University in Cairo (AUC) with a Bachelor of Science in computer science and business administration. Along with several other academics and professional certificates in leadership, business and community development from Colorado University Boulder, Indiana University, University of Nevada Reno, The American University of Beirut, and Duke University. Benmahcene is serving on the board of several organizations, empowering young women and girls in technology and energy to shine on their path forward. Starting from within her company, she empowers over 1,000 female employees while serving as the regional leader for the Corporate Women Network of Baker Hughes Company. Moreover, she sits on the Industry Advisory Council for Higher Colleges of Technology board in the United Arab Emirates (UAE) as an industry consultant. She also serves on the Society of Petroleum Engineers (SPE) board in Algeria and UAE, as well as the Arab Women in Computing organization and the corporate Connecting Women in Technology (CWIT) group. She is also the co-leader of LeanIN Dubai Women in Technology, a global Women in Product Society member, and a Stanford University ambassador for women in data science.

Iyed Hamadi
Tunisia
Iyed Hamadi is an aspiring civil society activist in Tunisia with a business administration and finance degree from The American University in Cairo (AUC), with the Tomorrow's Leaders Undergraduate program. After graduation in 2019, he started his professional life in Tunisian civil society. He first joined the I WATCH Organization as the regional coordinator for Tunis' campaign finance monitoring project. This position allowed him to hone his reporting skills as he got heavily involved in monitoring the political campaigns of parties for the legislative elections. It also allowed him to get familiar with the country's electoral laws. Afterward, Hamadi started working with the International Institute of Debate team as the fundraising and reporting officer and the finance officer of the Ma3an project. Juggling his duties with these two positions created a unique learning opportunity through which he developed project proposal writing and finance skills. Still, he also got the chance to understand Tunisian civil society with its complicated dynamics. To further expand his scope of work, he joined the Fredrich Ebert Stiftung Political School (FES-EP) to be equipped with enough knowledge to understand the political dynamics as well in Tunisia. Hamadi later joined the International Rescue Committee's Libya program to experience the budgeting and reporting experience with more donors and later became a grants manager.

Maha Abdallah
Palestine
Maha Abdallah is currently a legal researcher and international advocacy officer at Cairo Institute for Human Rights Studies, Brussels Office. She is a holder of an LLM in international human rights law from the National University of Ireland, Galway (Irish Centre for Human Rights). Abdallah is an eager researcher. Her publications include but are not limited to: Violations Set in Stone: HeidelbergCement in the Occupied Palestinian Territory (2020), Engineering Community: Family Unification, Entry Restrictions, and other Israeli Policies of Fragmenting Palestinians (2019) and Security, Business and Human Rights in the Occupied Palestinian Territory (2018). Abdallah is a board member of the International Network for Economic, Social and Cultural Rights (ESCR-Net), representing the Middle East and North Africa region's (MENA) members of human rights organizations and social movements. Her daily work influences policy and foreign policy on human rights and international law in key MENA countries such as Palestine, Syria and Yemen.

Mai Nasrallah
Jordan
Mai Nasrallah is working as a technical youth coordinator at Norwegian Refugee Council and as a regional program manager at Mosaik Education. Nasrallah has a master's degree in human rights from the London School of Economics and Political Science. She has become the youngest person in a management position in two organizations focused on working with and for young people. She got her BA in political science and sociology in 2015.

Mansour Kheffache
Algeria
Mansour Kheffache is currently enrolled in the Erasmus Mundus Joint Master's Degree (EMJMD) in Pervasive Computing and Communications for Sustainable Development (PERCCOM) at Université de Lorraine, Lappeenranta University of Technology, ITMO University, and Luleå University of Technology. He has been active in Algeria, France, Finland, and Sweden through community service initiatives in the local community, organizing events and representing the Erasmus Mundus student and alumni program. While studying and being an active member wherever he is based, he also managed to land a job as an IT consultant at Netlight Consulting in Sweden. Kheffache also got first place at an IT sustainability hackathon, leading to his attending Semaine numériQC 2019 in Québec City, Canada. He is about to publish a scientific paper in a peer-reviewed journal IEEE Transactions on Neural Networks and Learning Systems. The Invictus poem by William Ernest Henley, Ishmael by Daniel Quinn, Guns, Germs, and Steel by Jared Diamon and How to win friends and influence people, by Dale Carnegie have helped Mansour overcome some personal and professional challenges throughout his journey.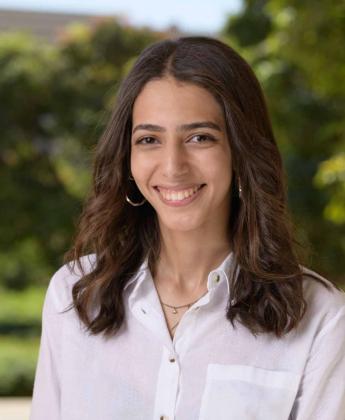 Mariam Moussa '23
Egypt
TLS alumna Mariam Moussa, received the Doria Shafik Award at her commencement. "Receiving this award fills my heart with gratitude and reminds me of the strength that women possess as agents of change. I'm grateful for AUC's liberal arts system, which allowed me to study numerous disciplines from feminist perspectives, providing me with the insight needed to understand how gender is deeply rooted in many social, economic, and political structures. The Doria Shafik award recognition humbles me, inspires me to remain committed to the cause, and reaffirms my determination to help amplify marginalized voices in Egypt and the rest of the region." commented Moussa.

Nataly Nasr el-Din
Lebanon
Nataly Nasr el-Din is one of Forbes Middle East's 30 Under 30 Young Innovators of 2020 and founder of Pink Steps for breast cancer survivors in Lebanon. She graduated from The American University in Cairo (AUC) in June 2013 with a Bachelor of Science in biology, following the pre-medical track, and a minor in chemistry and in psychology as a Tomorrow's Leaders Undergraduate Scholarship Program (TLU). After she graduated from AUC, she was awarded the prestigious Fulbright Foreign Student scholarship in 2014 and studied at Georgetown University Medical Center in Washington, DC. She successfully finished her master's degree in tumor biology at the Department of Oncology in 2015. Nasr el-Din got her PhD from The American University of Beirut (AUB) in cell and molecular biology with a focus on early breast cancer at the Department of Biology. She is currently a postdoctoral fellow at the University of California.

Nouran Ghannam
Egypt
Nouran Ghannam, also known as Nono, is the founder and Cheif Executive Officer (CEO) of Stllr, matching vetted marketing experts. She generates teams for companies through quality talent in Search Engine Optimization (SEO), performance ads, copywriters and graphic designers. Stllr is used in more than 17 countries worldwide. Ghannam started her entrepreneurial journey by building Startups Galaxy, a platform listing and connecting startups to exposure and deals. They also launched their flagship event Techila Co. Her mission is growing underdogs and regularly mentoring startups on marketing with regional accelerators. When Ghannam is out of the office, she is probably camping in Sinai.

Nourlyna Boulgamh
Algeria
Nourlyna Boulgamh is pursuing a master's in design studies (MDes) (Publics) at Harvard University. She has successfully managed to collect funds to pay for her studies by implementing a rigorous fund-raising campaign. Boulgamh has exhibited a great passion for architecture by engaging in conversations about how architecture can promote social change. She has actively participated in research projects for designing learning spaces for individuals with special needs and has researched how virtual reality can better meet users' needs and empower them to be part of the decision-making process. Boulgamh wants to create designs that are people-centered. She is always out and about searching for projects and activities that aim to prioritize people's needs. Along these lines, Boulgamh has started an exciting professional internship with the UN-Habitat in January 2021 and is expected to continue till July. Earlier in the fall of 2019, while on her study abroad at Arizona University, she co-authored a research paper on Coupling Haptic Learning with Technology to Advance Informal STEM Pedagogies with her professor at the University of Arizona and managed to present it at a virtual conference at the 24th World Multi-Conference on Systemics, Cybernetics and Informatics: WMSCI 2020©in September 2020.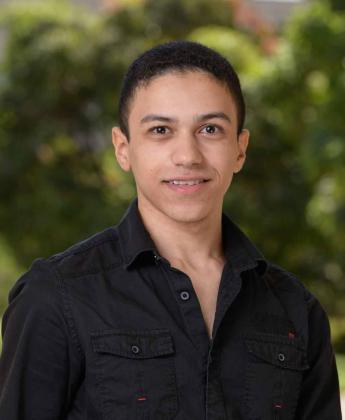 Omar Basyouny '23
Egypt
TLS alumnus, Omar Basyouny, got his research paper published at Intersect: The Stanford University Journal of Science, Technology and Society!
His published paper Climate Change and Gender Inequality, aims to find innovative and non-ordinary solutions to climate change, mainly through addressing gender inequality and interconnecting it to the climate catastrophe.

Sally Elfishawy
Egypt
Sally Elfishawy graduated with a Bachelor of Arts in political science from The American University in Cairo (AUC). She is currently working as a public policy analyst at Moharram and Partners. Previously, she was a researcher at the Ministry of Foreign Affairs in Egypt and an international Cooperation Officer at the Ministry of Local Development. And before that, she was selected as the first Egyptian female to intern at the Political Section-Press and Information at the Delegation of the European Union to Egypt. Elfishawy has also worked at governmental entities such as the Ministry of Social Solidarity and the National Council for Women. As a self-taught photographer, she is always keen on experimenting with the process of connecting the mediums of arts and politics. Her background has influenced her vision a great deal. She has also been working as a freelance social media specialist and photographer. In 2017, she was selected to be a delegate representative at the United Nations premises in New York, discussing the topic of fashion, sustainability, and recycling. Additionally, her photography work has been displayed at various national and international platforms and exhibitions, including Egypt, New York, and Finland.

Serage Amatory
Lebanon
Serage Amatory has just completed his master's degree in international policy at Stanford School of Humanities and Sciences as a Knight Hennessy scholar. He is currently pursuing a second master's degree in public policy at the same university. At The American University in Cairo (AUC), he earned a bachelor's degree with a double major in political science and multimedia journalism, focusing on Middle East politics. He was a news editor at Al-Jadeed, a leading Lebanese television station in Beirut, and interned at the Lebanese Ministry of Foreign Affairs. Amatory received two President's Outstanding Academic Achievement awards at AUC and was a world finalist in the Intel International Science and Engineering Fair. He is passionate about filmmaking and has directed/produced two human rights-themed films thus far. He is a very talented speaker.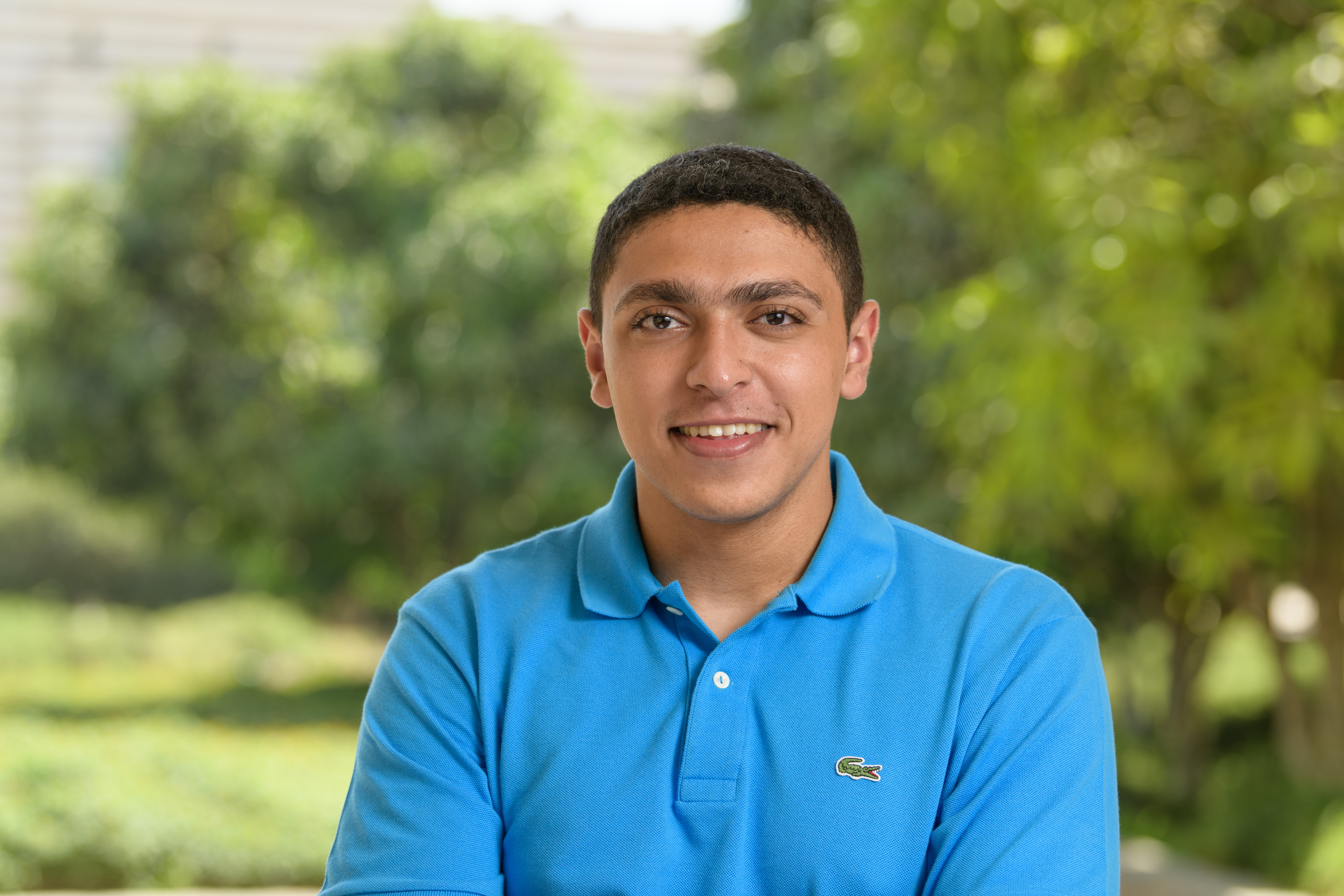 Tamer Osman '22 - TLS Cohort 1
In the fall of 2021, alumnus Tamer Osman won third place with his team in the Engineering and Commerce Case Competition, which focuses on fostering interdisciplinary communication and collaboration before students start their professional careers. Illuminators, Osman's team, received a case about launching a new product for an air conditioning company in Montreal, Canada. "The interdisciplinary nature of this competition made us see the bigger picture. We're never going to work only with people from our own field. The engineer has to work with the businessperson to achieve strong results and have impact," commented Osman.
Osman and his team won first place at the Shorooq Partners Venture Capital (VC) Case Competition. Students got the chance to act as VCs and invest $100k in a real business. "I learned so much in this competition and enjoyed working in a field that's outside my studies at AUC. For me, winning this competition is a testament to the significance of hard work especially when the odds are not in one's favor. Everything is possible '' reflected Osman.


Walid El Hashidy
Yemen
Walid Hashidy has been working in the humanitarian response to the Yemen crisis shortly after the war broke out. For the past two years, his job has been coordinating humanitarian programs for 1.2 million people displaced by the war in camps and camp-like settings. He does this through what is known as the cluster system. A cluster is a structure that coordinates the work of humanitarian actors within a specific sector, basically like a ministry in a government structure. At the Global Camp Coordination and Camp Management (CCCM) Cluster, El Hashidy's work focuses on improving the dire conditions of such spontaneous camps and working towards more sustainable solutions such as integration, supported return, and relocation. He earned his MS from the UK in 2015 through the Chevening Scholarship. In the long term, El Hashidy aspires to return to academia and research housing discrimination.

Zeina Shalaby
Egypt
Zeina Shalaby is a Tomorrow's Leaders Gender Scholar studying economics at The American University in Cairo (AUC). She was active at the Model United Nations (MUN) since early high school, presiding over six conferences through which she trained more than 100 delegates on foreign policy and diplomacy on topics of civil wars, human rights, women's health, gender equality, and more. She attended the Yale Young Global Scholars (YYGS) program at Yale University, where she worked on capstone research mentored by Yale PhD students studying how different parliamentarian structures affect inclusivity within societies. Shalaby joined Tomorrow's Leaders Gender Scholars (TLS) in its 2021 pilot batch, where she took two gender courses discussing the anthropology of women and Islam and gender social constructions. Her first-course paper was approved for publishing in URJe, and her second won Soraya Al Torki Award for ethnography. She was her cohort's valedictorian and was awarded second-place leadership recognition.