Dialog Series Advisory Board Members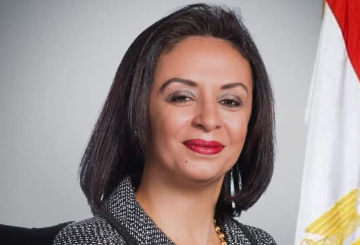 Maya Morsy '95
President, Egypt's National Council for Women
An AUC political science graduate, Maya Morsy serves as the president of Egypt's National Council for Women. Morsy has helped shape innovative policies as a champion of women's empowerment in Egypt and created global impact through positions with leading organizations such as the United Nations Fund for Women. She has received numerous accolades throughout her career promoting women's rights, including the Woman of the Decade at the Women Economic Forum in India in 2018, as well as being named one of Egypt's 100 most influential women in 2016. Morsy earned her PhD in public policy with a focus on the human security of Arab women from the Institute of Arab Research and Studies.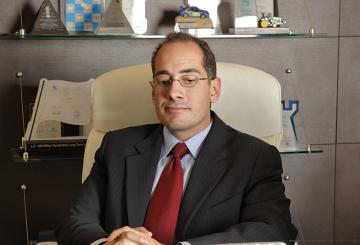 Hesham El Khazindar
Co-Founder and Managing Director, Qalaa Holdings; AUC Trustee
Hisham El-Khazindar is the co-founder and managing director of Qalaa Holdings, a leading investment company in Africa and the Middle East. Established in 2004, Qalaa Holdings (formerly known as Citadel Capital) is an African leader in energy and infrastructure. Prior to co-founding Qalaa Holdings, El-Khazindar was executive director of investment banking at EFG Hermes where he advised on landmark M&A and IPO transactions in the region, and where he started his career in 1996. During 1999-2000, he was on secondment to Goldman Sachs in London. El-Khazindar serves on the boards of several leading regional companies including El Sewedy Electric and Magrabi Retail. He also serves as a trustee of The American University in Cairo, and as a fellow of the Aspen Institute's Middle East Leadership Initiative. In 2013, El-Khazindar was selected as a Young Global Leader by the World Economic Forum and in 2014 he was chosen among the top 100 Young African Leaders by the Paris-based Think Tank, Institut Choiseul. He holds a BA in economics from The American University in Cairo (1996) and an MBA from Harvard Business School (2003).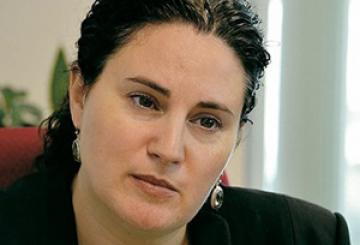 Christine Arab
UN Women Egypt Country Representative
UN Women Egypt Country Representative Christine Arab has over 20 years of experience in developing, leading and monitoring gender equality and human rights programs, primarily working for the UN. More recently, she has been providing technical expertise to UN agencies, UN country teams and the Canadian government as an independent consultant. For more than 15 years, Arab designed and conducted research on child and gender-responsive social protection, violence against women and children, perceptions of women's and girls' rights and gender equality and leadership. Arab has twice served as country representative for UN Women and has held numerous posts at UN Women HQ, including programme specialist for the Arab States and Afghanistan. She holds a Master of Arts in political science from Dalhousie University.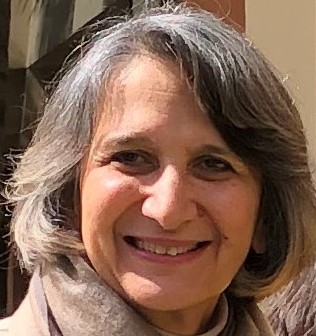 Hoda Elsadda
Professor of English and Comparative Literature, Cairo University
Hoda Elsadda is Professor of English and Comparative Literature at Cairo University, a feminist and an activist for women's rights, and a member of the board of the university's Anti-Sexual Harassment unit. She is co-founder and currently Chair of the Board of the Women and Memory Forum, a research organization that focuses on the production and dissemination of alternative knowledge on women and gender studies. Elsadda previously held a Chair in the Study of the Contemporary Arab World at Manchester University and was co-director of the Centre for the Advanced Study of the Arab World in the United Kingdom. She is also a former visiting scholar at Georgetown University. Elsadda co-founded and co-edited Hagar in 1992, an interdisciplinary journal in women's studies published in Arabic. She was President of the Association of Middle East Women's Studies in 2012. She is member of the editorial board of the Journal of Middle East Women's Studies and Hawwa: Journal of Women of the Middle East and the Islamic World and a former member of the Board of Directors of The Global Fund for Women.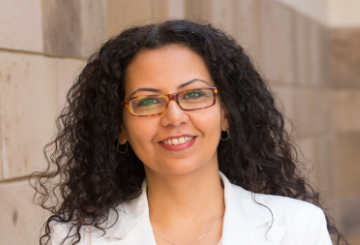 Rabab El Mahdi '96, '98
Associate Professor and Chair, AUC's Department of Political Science
Rabab El Mahdi is an associate professor and the chair of AUC's political science department. Her field of specialization is comparative political economy and development, with a focus on Latin America and the Middle East. She leads Alternative Policy Solutions, a public policy research project at AUC that is working on drafting alternative policy solutions in the fields of economic development, resource management and institutional reform. El Mahdi previously taught at Yale University and was a recipient of a number of fellowships at Columbia University, the University of Chicago and the Rockefeller Foundation Bellagio Center Residency Program. She has received several research grants from the Carnegie Corporation of New York and the Rockefeller Brothers Fund. El Mahdi is a frequent commentator on AJE, BBC, CNN and ABC and writes op-eds for both Egyptian and international newspapers. She serves on the boards of a number of civil society and professional organizations, including the Arab Political Science Network.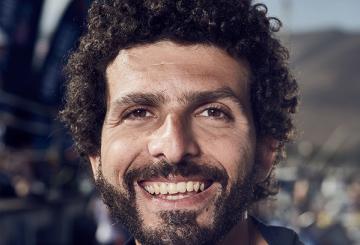 Omar Samra '00
Adventurer, Entrepreneur and Motivational Speaker
AUC alumnus, UN Goodwill Ambassador and acclaimed adventurer Omar Samra is the first Egyptian and youngest Arab to climb Mount Everest. Samra is also the first worldwide to climb three different peaks in the Ellsworth Mountains, the highest range in Antarctica, and was given the honor of naming all three mountains. He is the founder of Wild Guanabana, the first carbon-neutral travel company in the MENA region, which organizes and leads adventure trips. He is among 23 winners from more than two million applicants across 60 countries who participated in the AXE Apollo Space Academy competition, which will potentially make him the first Egyptian in space. Samra founded Marwa Fayed's Toy Run, a nongovernmental organization providing toys to underprivileged children in Egyptian orphanages. The initiative was named MBC's Humanitarian Project of the Year in 2013. He recently developed and shared highly influential social media content to raise awareness on the issue of sexual harassment. Samra's public posts, in the form of a series of videos, aimed to tackle the topic from various angles as well as educate girls and women about their rights.
Nadeen Ashraf
AUC Student and Founder of @assaultpolice
Nadeen Ashraf is a philosophy senior at AUC and founder of the Instagram account @assaultpolice, which exposes sexual harassment crimes and aims to prompt authorities to take action against sexual predators. Ashraf initially created the Instagram page to shed light on allegations against one particular individual, but it ended up starting a movement that took all of Egypt by storm. @assaultpolice has become a platform that gives voices to victims of sexual harassment and a tool for legal and political action. Ashraf's story gained international attention and was covered by the likes of The New York Times.