Trustees Celebrate Inauguration, Engage with Campus Community
Trustees Celebrate Inauguration, Engage with Campus Community
The inauguration of AUC's 13th President Ahmad Dallal was the highlight of the Board of Trustees October meeting in Cairo. Board members and President Dallal had the chance to engage with the AUC community during the first-ever campus inauguration parade and reception that followed the official ceremony. They also engaged with faculty experts during academic panels held the day before, addressing some of the most pressing issues of our time: sustainability, health and human ecology; migration and refugees; and data science and artificial intelligence.

At the meeting, the board elected a new member: Ehab AbouOaf '89, vice president for the Middle East and Africa at Kimberly-Clark in Singapore. AbouOaf graduated from AUC with a Bachelor of Science in mechanical engineering.
The board discussed with President Dallal his priorities going forward and met with senior leaders on "Charting a Course for the Future." During their sessions, AUC trustees reviewed progress and updates on the reopening of campus, academic affairs, financials and general audit, the Office of Institutional Equity and University Senate.
Among the board's packed agenda were campus engagement sessions, where AUC trustees visited classes, including dual delivery ones; the AUC Venture Lab; Paleontology Lab; and Center for Applied Research on the Environment and Sustainability. They also met with students, deans, faculty and staff from AUC's academic schools as well as newly retired faculty; watched dress rehearsals at The Gerhart Theater for the upcoming student play, The Skin of Our Teeth; and attended a presentation on AUC's role in Egypt's entrepreneurship ecosystem, led by Ayman Ismail '95, '97, the Abdul Latif Jameel Chair in Entrepreneurship, associate professor in the Department of Management and founding director of the AUC Venture Lab.
The board meeting was a chance to recognize the Bartletts, who have a lasting legacy at the University. AUC's advisory trustee and former President Thomas Bartlett and his wife Molly Bartlett's service to the University was recognized at a special dinner in their honor, which included an exhibition and video. Thomas Bartlett served as AUC president from 1963 to 1969 when he was in his mid-30s, the youngest president to lead AUC at the time, and as interim president from 2002 to 2003. He is a longtime member of AUC's Board of Trustees, and he and his wife Molly are dedicated supporters of the University. Their family has a long tradition of giving to AUC, and both their sons, Richard and Paul, are AUC trustees. In addition, the Rare Books and Special Collections Library exhibition room was inaugurated and named as the Richard and Kerri Bartlett Exhibition Hall in honor of the former Board chair. Richard Bartlett served as three-time chair of the Board of Trustees and is the first and only chair emeritus in the University's history.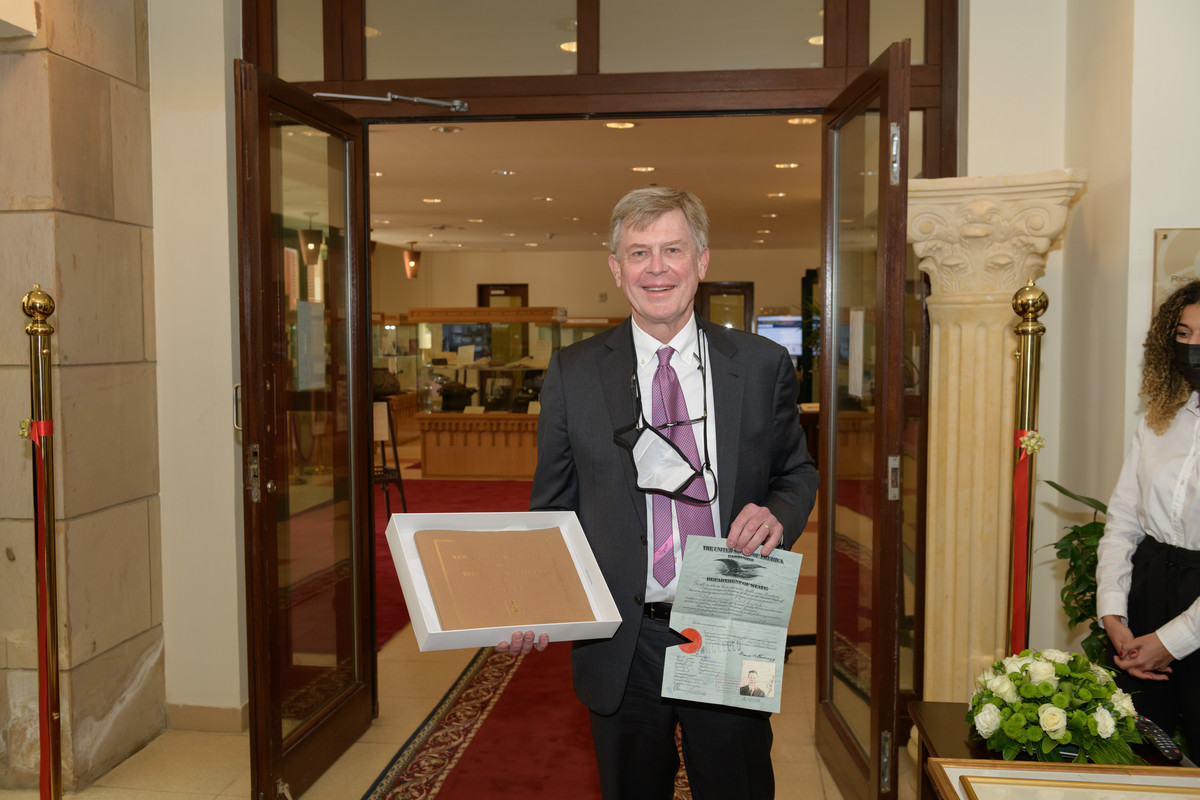 "Together, Richard and Kerri have given consistently and generously to the University," said Mark Turnage (ALU '82), chair of AUC's Board of Trustees, highlighting some examples of their support to AUC, including the establishment of the Bartlett Fund for Critical Challenges and the Molly Bartlett Endowed Scholarship, as well as supporting the Center for Arabic Study Abroad endowed fund, AUC Annual Fund and Access to Knowledge for Development Center. "And I am told that Richard and Kerri have also quietly donated books to the AUC rare books library, which is one reason why we thought that this particular recognition was appropriate," added Turnage. "While Richard and Kerri's commitment, support and generosity to AUC is unmatched, perhaps their greatest gift to the board and the University is their genuine care, welcoming hospitality and unweaving integrity. Their warmth is felt by each and every individual they encounter."
Off campus, AUC trustees visited student and faculty housing, where they had dinner with faculty members at their residences, and toured the GrEEK Campus and New Administrative Capital. They met with the U.S. ambassador to Egypt, Jonathan R. Cohen, who attended President Dallal's inauguration ceremony, to discuss AUC's role in U.S.-Egypt relations. The board also met with the president of the Alumni Council, Ahmed El Bakry '87, '90, at his residence.
In addition, board members had a chance to visit different parts of Cairo, including Ibn Tulun, Cairo's oldest mosque; the Imam al-Shafi'i Mausoleum, where May al-Ibrashy, adjunct professor at AUC's Department of Architecture, gave a tour of the place that she recently helped restore; the renovated Museum of Islamic Art with Ellen Kenney, associate professor in the Department of Arab and Islamic Civilizations; Bab Zuwayla, one of the oldest Fatimid era gates to the Old City; Khayamia market; and Athar Lina initiative.
The Cairo meeting was a chance for many of the trustees to reconvene in person after more than a year of virtual meetings due to the COVID-19 pandemic. As Turnage put it during President Dallal's inauguration ceremony, "I would like to thank my fellow trustees, on the stage behind me, many of whom made the international trip to Cairo for the first time in almost two years. After several board meetings via Zoom, we too are eager to experience again for all of the interaction that can only come when you are not behind a screen." Watch Turnage's full speech here.
Distinguished for their professional accomplishments in the areas of business, law, education, philanthropy and scholarship, members of AUC's Board of Trustees are all volunteers who dedicate their time and resources to supporting the University. Primarily Egyptians and Americans, the trustees do not receive any compensation. They provide generous financial support to the University in addition to their fiduciary responsibilities. To see a complete list of AUC's trustees, click here.