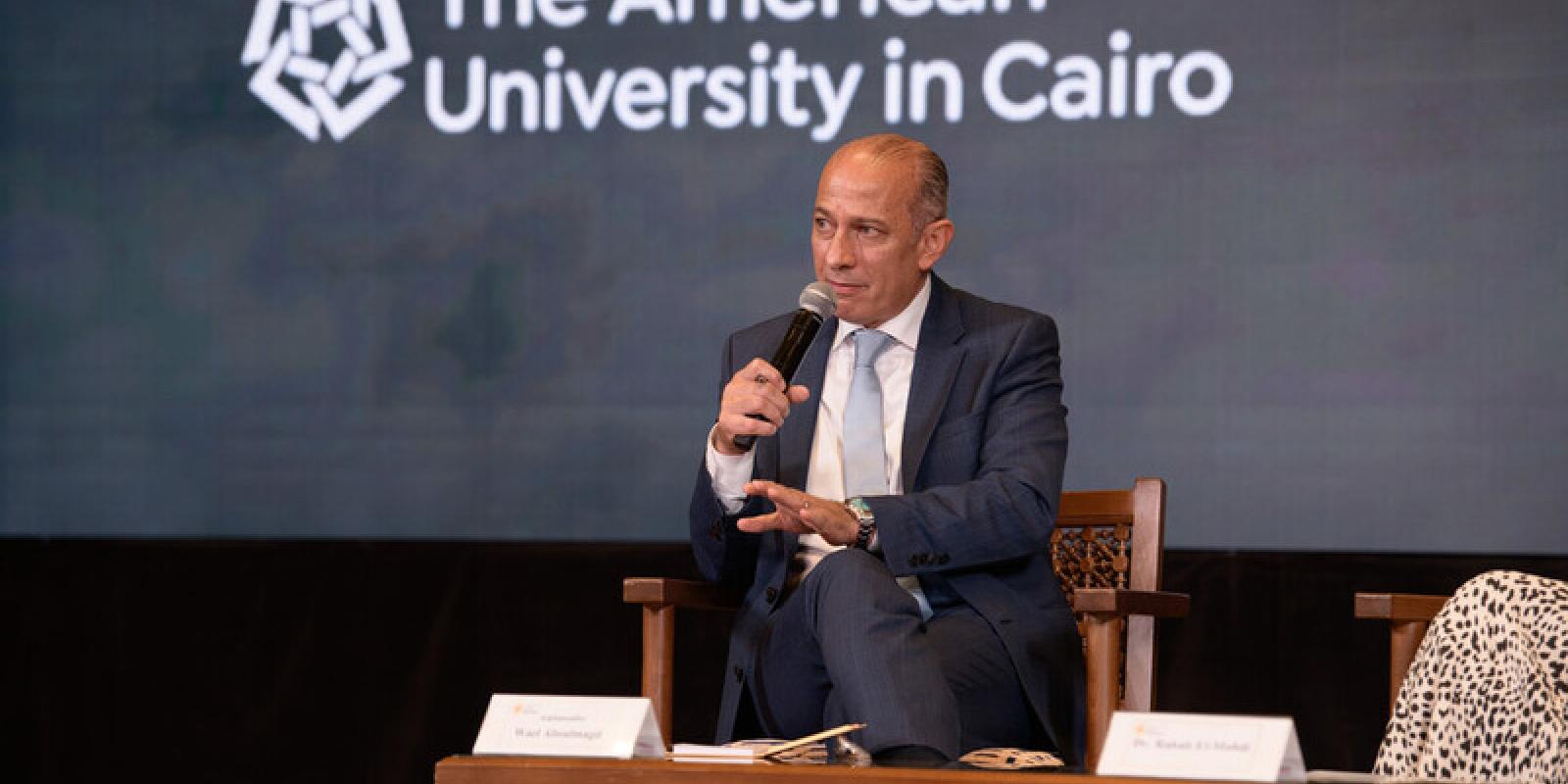 Special Representative of COP27 President-Designate Discusses COP27, Climate Solutions
Special Representative of COP27 President-Designate Discusses COP27, Climate Solutions
Special Representative of COP27 President-Designate Wael Aboulmagd took the stage at AUC Tahrir Square this week to discuss the significance of the upcoming COP27 conference, which will be hosted by Egypt in Sharm El Sheikh this November. Watch the full talk here.
Rabab El Mahdi '96, '98, associate professor of political science and executive director at Alternative Policy Solutions, moderated the discussion.
"The climate issue is the topic of the hour and the main existential challenge nowadays," Aboulmagd said.
COP27, which takes place in alternating continents each year, aims to address climate change through emission mitigation. This year's conference will focus on economic problems and solutions related to climate change.
"Climate change is certainly an environmental phenomenon, but what we are dealing with locally, regionally and internationally are mainly the economic consequences," Aboulmagd stated. "Humanity has to change the pattern of development that has been followed since the Industrial Revolution after it proved to be solely based on growth, regardless of its consequences on the planet, which is unsustainable."
The consequences of this unchecked growth have already been severe. "All the world disasters we are facing now because of climate change are due to a 1.1°C increase [in global temperature] compared to the pre-Industrial Revolution, so a 1°C change resulted in 30 million homeless people. Each 0.1°C [increase] is impactful," Aboulmagd explained.
In terms of economic solutions, Aboulmagd stressed the need for innovative solutions, such as considering carbon markets along with carbon credits and clean development mechanisms. According to Aboulmagd, large companies with high carbon emissions have noticed that consumers are beginning to prefer sustainable products, which has negatively affected their business. This may encourage these companies to improve their emission mitigation strategies.
COP27 has been called the "implementation COP" and is focused on integrating businesses, local communities and international financial institutions. The Egyptian government has spread the word about COP27 to their embassies in African countries to encourage African countries' participation. As host of the conference, Egypt was able to add 20 African organizations and 36 Egyptian organizations to COP27.