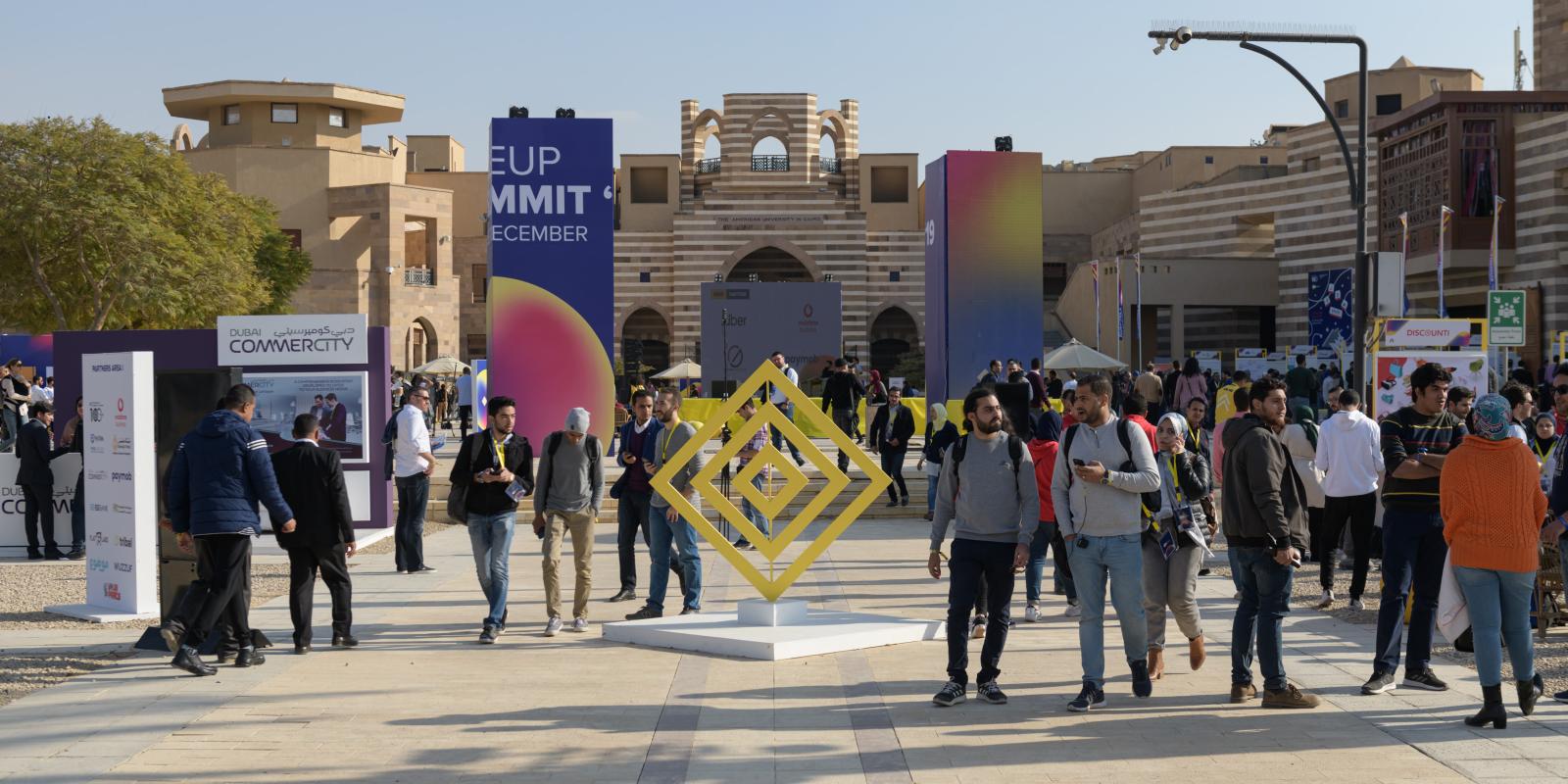 RiseUpAtAUC 2019 Recap
RiseUpAtAUC 2019 Recap
For the first time, AUC was the main partner and host of #RiseUpAtAUC, the one-stop-shop event connecting startups in the Middle East and Africa, with more than 20 of AUC's faculty and alumni as guest speakers.
In his speech at the opening of RiseUp '19, AUC President Francis Ricciardone emphasized the University's role in inspiring its students to utilize their education to better serve Egypt and the communities around them. "At AUC, Egypt's global University, we bring the world back to Egypt and we bring Egypt to the world — and not only for tourism, which is a wonderful thing, but for learning, creating, researching and developing projects and products that will improve lives. That's what AUC is about. This is the right place for RiseUp Summit 2019," said Ricciardone.
In its seventh edition, the summit bustled with the region's top entrepreneurs, startups, investors, creative masterminds and Fortune 500 companies. This year's summit built on past ones, focusing on the Journey to Growth as its main theme, as well as drawing the line between the past, present and future. The three-day summit included talks, panels and chats; in-depth workshops and boot camps; networking sessions with hundreds of investors; talent matchmaking events; and exclusive satellite events.
AUC alumni speakers included Mohamed Aboul Naga '09, co-founder and CCO of Halan; Yaseen Abdel Ghaffar '10, managing director of SolarizEgypt; and Karim Fahmy '17, CEO and co-founder of Inploy, who all stood on RiseUp's stage to tackle different entrepreneurial topics together with international figures in various fields, including Brian Collins, chief creative officer at COLLINS; Gerardo Mazzeo, global innovation director at Nestlé; Karen Cheng, head of social at 9GAG; Marcel Muenster, founder and director of the Gritti Fund; Raya Abirached, TV presenter; and Samih Sawiris, founder of Orascom Holding AD.
"It feels very nostalgic to be back on campus for the RiseUp summit this year," said Islam Shawky, CEO and co-founder of PayMob, an infrastructure technology enabler providing payment solutions company. "I started school in 2008, so AUC New Cairo is the only campus I know. We started our company on this campus, as the six members of the founding team are AUC graduates, so we are extremely nostalgic."
Among the workshops that took place throughout the three-day entrepreneurial marathon was one held by Kim Fox, professor of practice in the Department of Journalism and Mass Communication, titled What You Need to Know About Starting Your Own Podcast.
"I'm such a fan of RiseUp Summit because it brings together the vibrant community of thought leaders, creatives and more; the energy is contagious and inspiring," said Fox. The ability to reach out to other attendees and speakers for potential collaborations and knowledge sharing is achievable and encouraging. It was nice to see so many of my former students and colleagues there."
Ramez Youssef, co-founder of Tayarah, a creative production agency, also held a workshop titled From Trendsetters to Trend-Seekers. "RiseUp Summit feels so different this year, being at AUC New Cairo. The content is also different, as different people are delivering different messages," he said.
Startups from AUC Venture Lab (V-Lab), Egypt's first University-based startup accelerator and a leading accelerator in the Middle East and Africa, also participated in the summit. In a special booth for the V-Lab, graduates of this year's cycle shared their experiences with the attendees and highlighted the impact of their ideas and businesses on the Egyptian economy.
"The AUC Venture Lab had a strong presence in RiseUp Summit this year, with more than 24 startups presenting their innovations to the summit participants, investors and international partners," said Ayman Ismail '95, '97, Abdul Latif Jameel Endowed Chair of Entrepreneurship; associate professor at School of Business and the founding director of the AUC Venture Lab. AUC also announced the launch of the new Innovation Hub, focusing on attracting corporate innovation labs to be based on campus and expand their collaboration with AUC faculty and students. Our end goal is to create a collaborative community of entrepreneurship and innovation at AUC and Egypt."
RiseUp Summit 2019 held a competition for the best educational applications at the event, where AGORA, a V-Lab startup, ranked first and won the African App Launchpad Cup and a monetary prize. AGORA is an ed-tech app that empowers children to explore the world around them and learn from it through Augmented Reality.
The summit also included a Creative Marketplace featuring some of Cairo's creative startups that displayed their products, including Doodle Factory and Babyfist.
As AUC turns 100, the University is not only celebrating its century-long achievements, but also looking to the future, ushering in a new centennial of innovation and service to the community.
Checkout AUC' centennial website to know more about the upcoming centennial events.
Watch here some of AUC President Francis Ricciardone's insights about the event.
#RiseUpAtAUC #AUCFutureMakers