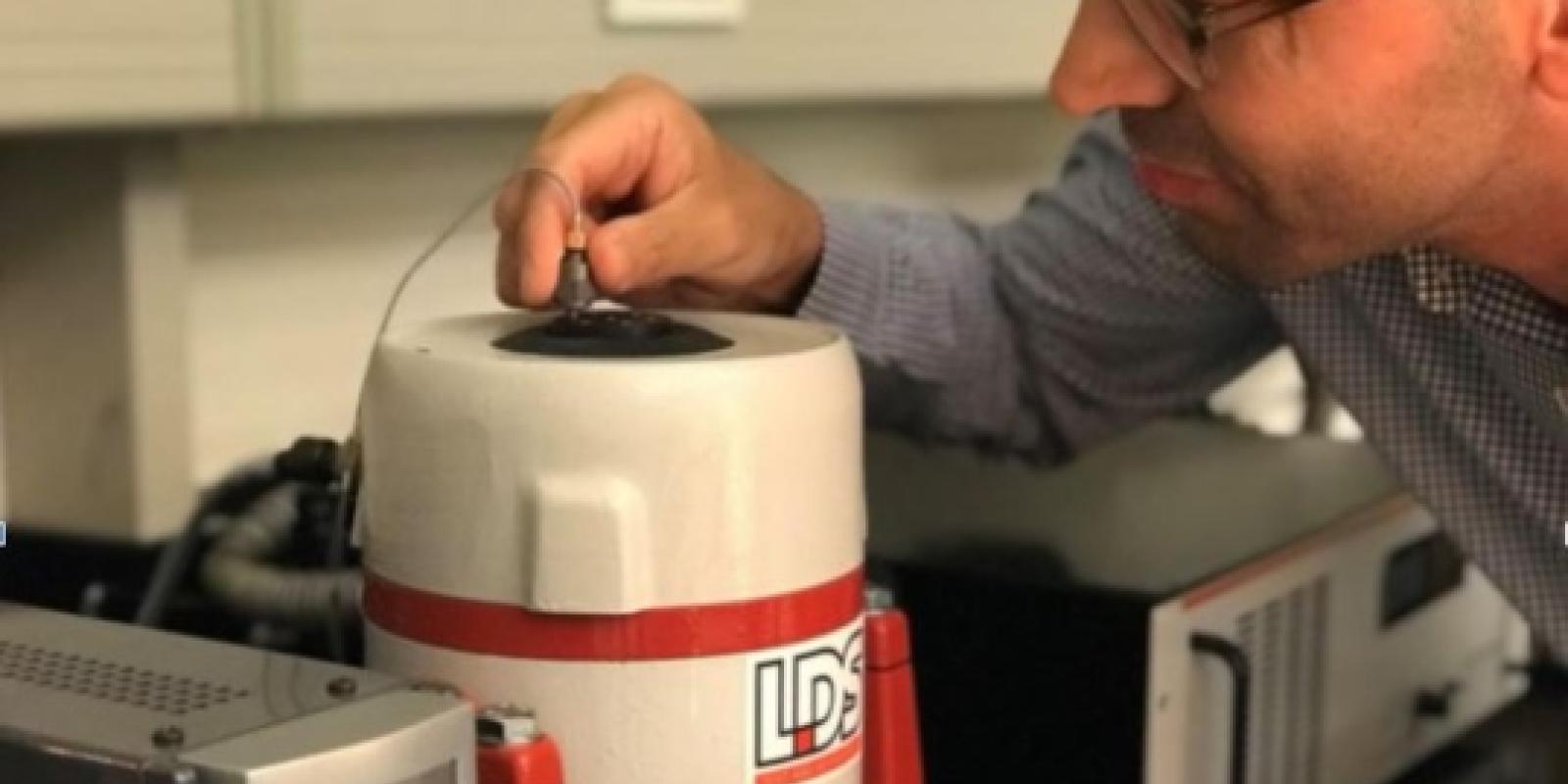 Professor Mustafa Arafa Awarded for Years of Research on Sustainable Energy Harvesting
Professor Mustafa Arafa Awarded for Years of Research on Sustainable Energy Harvesting
As the need for renewable energy sources becomes more dire, AUC Professor Mustafa Arafa's research in low-cost, sustainable energy harvesting has become all the more crucial.
That's why AUC awarded Professor Arafa the Merit Award for Research and Creative Endeavors this year, a prestigious honor that recognizes high-achieving faculty members in three categories. Arafa, who has spent 15 years at AUC teaching mechanical engineering, took second place for his work researching ways to convert mechanical vibration into usable electrical energy.
"Being recognized by my peers, my people [and] my family is such a privilege and a genuine honor," Arafa said. "It is a recognition that pushes me even more to do better for our community in the best way I can."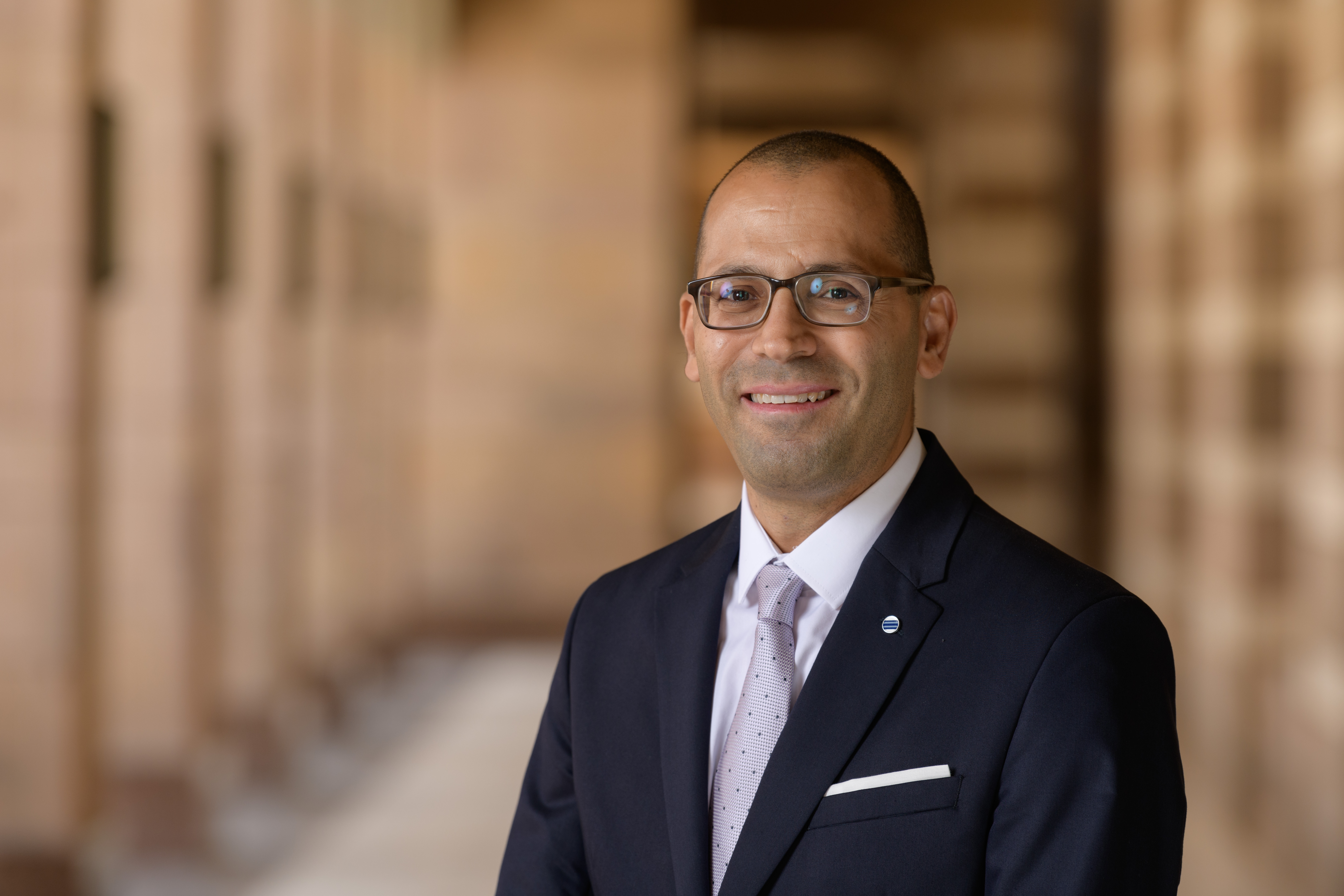 Arafa's research has a broad social impact. His goal is to help move low-income countries away from their reliance on disposable energy sources like batteries by developing cheaper, more sustainable technology for use in the biomedical field, in the monitoring of civil engineering structures including bridges and railways and for sustainable development projects, such as water purification.
Arafa's research findings have been published at numerous conferences and in scientific journals. One of his past projects had to do with pyroelectric energy harvesting, which involves the conversion of thermal energy to electricity. In a 2016 paper published in the journal "Smart Materials and Structures," Arafa and his colleagues came up with an energy harvester that uses the power of wind to slide pyroelectric material across hot and cold zones, generating excess energy. The system is novel because, unlike standard wind turbines, it can operate at low wind speeds.
The Merit Award team specifically recognized Arafa's collaborative mindset. Through his work, he has established cross-disciplinary partnerships with professors and researchers around the globe and with leading Egyptian and international institutions.
"By reinforcing such strategic alliances in areas of mutual interest, greater benefits can accrue for the whole team, and a greater impact will be made on the broader scientific community," he said.
Research runs in the family, said Arafa. He grew up around academics and revered the mechanical engineering field even as a child, because of the good he saw it could do.
"What intrigues me most about mechanical engineering is its application in all our lives, day to day," he said. "It is found everywhere and contains so many sub-specialties, which make this field so intertwined with others."
Staying true to his childhood goals, Arafa received his bachelors and master's degrees, both in mechanical engineering, from Cairo University in 1994 and 1997. He went on to get a PhD in mechanical engineering from the University of Maryland in 2002.
Though this is his first award from AUC, Arafa is no stranger to recognition for his valuable work. He has twice received the Egyptian National Award in Engineering Sciences, granted by the Egyptian Academy of Scientific Research and Technology in recognition of outstanding research achievements nationwide.
Despite the accolades, Arafa said his proudest moments come from his students.
"It always makes me proud to see my students achieving higher after they graduate," he said. "The moment of success for our alumni is the moment of our [collective] success and pride."