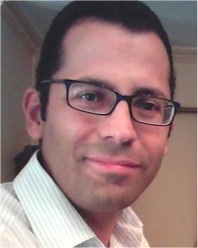 Mustafa
Arafa
Department
Department of Mechanical Engineering
Profile
Brief Biography
Professor Mustafa Arafa is a professor of mechanical engineering at The American University in Cairo. He received his BSc and MSc, both in mechanical engineering, from Cairo University in 1994 and 1997, respectively. He obtained his PhD in mechanical engineering from the University of Maryland in 2002. Dr. Arafa's research interests lie in the broad fields of design and dynamics, including energy harvesting, vibration-based damage identification and liquid sloshing. In addition to his academic activities, Dr. Arafa is engaged in several industrial projects and consultations in the areas of vibration analysis and control. Dr. Arafa received the Egyptian National Award in Engineering Sciences in 2008 and 2015. This award is granted annually by the Egyptian Academy of Scientific Research and Technology in recognition of outstanding research achievements nationwide.
Publications
Harris, P., Arafa, M., Litak, G., Bowen, C.R. and Iwaniec, J., "Output Response Identification in a Multistable System for Piezoelectric Energy Harvesting," European Physical Journal B 90 (1) (2017).
Xie, M., Zabek, D., Bowen, C., Abdelmageed, M. and Arafa, M., "A Wind-Driven Pyroelectric Energy Harvesting Device," Smart Materials and Structures 25 (12) (2016) 125023.
Abdelnaby, M.A. and Arafa, M, "Energy Harvesting using a Flextensional Compliant Mechanism," Journal of Intelligent Material Systems and Structures (2016) 1-12, DOI: 10.1177/1045389X16641220.
Bowen, C.R. and Arafa, M.H., "Energy Harvesting Technologies for Tire Pressure Monitoring Systems," Advanced Energy Materials 5 (7) (2015) 1401787.
Aboulfotoh, N.A., Arafa, M.H. and Megahed, S.M., "A Self-Tuning Resonator for Vibration Energy Harvesting," Sensors and Actuators A: Physical, 201 (2013) 328-334.
Courses Taught 
ENGR 101/1001: Introduction to Engineering
ENGR 214/2104: Engineering Mechanics II (Dynamics)
MENG 372/32502: Mechanical Systems
MENG 475/4555: Applied Vibration Measurement, Analysis and Control
Research Interests
·    Energy harvesting
·    Vibration-based damage identification
·    Fluid—structure interaction
·    Sloshing of liquids