Past, Present and Future: Egypt's Top-Scoring Students Call AUC Home
Past, Present and Future: Egypt's Top-Scoring Students Call AUC Home
One year ago, Sandy Moaaz and her father passed by AUC on the way to a friend's home. Looking out the window at the vast campus, Sandy turned to her father and asked him, "Dad, do you ever think I'll get into this place?"
Moaaz had wanted to attend AUC since she was a child. As a high schooler, she spent hours studying each day to turn her dream into reality. The result? She ranked second among the country's thanawiya amma arts students last year.
"When I got the acceptance letter from AUC, I almost fainted," she recalled. "Getting into this University has taught me that nothing is impossible."
Thanawiya amma students have a history of excellence at AUC, consistently ranking among the University's top students. Of the more than 200 thanawiya amma students who are currently receiving full and partial scholarships at AUC, 65% are ranking between high and highest honors.
Moaaz is the first recipient of the new Ehab Abou Oaf & Jaylan El-Zoheiry Scholarship. Though previously excelling in political science, she has decided to broaden her horizons and declare economics as her major. "Right now, I am taking microeconomics and intro to music, both of which are very interesting," she said.
Following a similar path, Abdelrhman Omar was amazed to learn that he ranked number six among Egypt's STEM section thanawiya amma students. Not more than two months after receiving the exciting results, he joined AUC as a recipient of the USAID-AUC Merit Award with his eyes set on the University's prestigious mechanical engineering program.
Dreaming of becoming an aerospace engineer since the second grade, the native Alexandrian is eager to start work in AUC's labs. So far, he has decided to join the Mechanical Engineering Association and the AUC student branch of the Institute of Electrical and Electronics Engineers.
"There are lots of engines in the labs — especially jet engines — and I cannot wait to get involved with these projects," he said. "Doing this will help me engage with my new environment and learn from people who are older than me."
Fall semester began in September, but Omar has already had a number of exciting new experiences on campus. "I play basketball and volleyball at the sports complex, and the student residences host a number of movie nights, which fondly remind me of my time in high school."
Similarly, Moaaz has found a warm and welcoming campus community.
"Everyone is friendly and helpful," she said. "I know that not everyone gets the chance to come to AUC, so I am truly grateful to be here."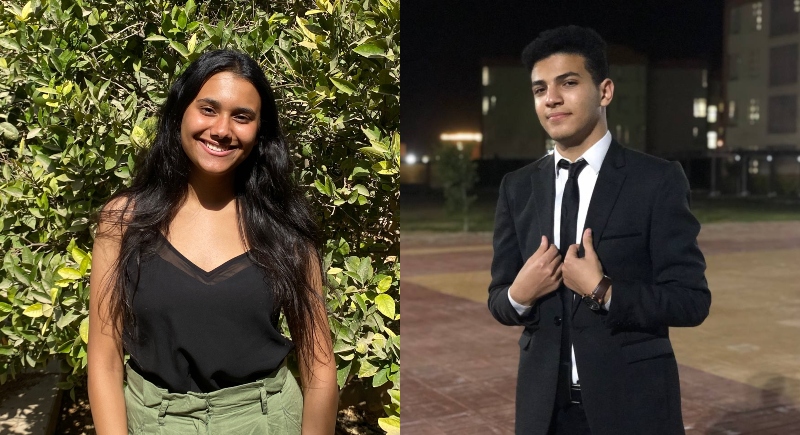 AUC has introduced three new scholarships for thanawiya amma students this fall: the Malcolm Kerr Public School Scholarship, which supports an Egyptian public school graduate from Upper Egypt or the Assiut region; the Ehab Abou Oaf & Jaylan El-Zoheiry Scholarship, and one new fund that will provide partial scholarships.
This is in addition to the 12 full-tuition public school scholarships for thanawiya amma and public school students already offered at AUC. Currently, there are 62 fully-funded scholarship slots available, empowering outstanding and talented public school students to attend the University and create a lasting impact in their communities and beyond.
Looking Back
Mohammed Abuelwafa '22, a computer engineering graduate with a minor in business administration, received a full-tuition scholarship from AUC's Public School Scholarship Fund after ranking third among Egypt's thanawiya amma students (math section) in 2017. Not losing an ounce of momentum, he graduated this spring summa cum laude and received the Dr. Abdel Rahman El Sawy Endowed Award for having the highest grade point average in the School of Sciences and Engineering.
"[At AUC] I was introduced to many interesting topics through the liberal arts education that distinguishes AUC from other universities — such as courses on philosophy, psychology and religious studies. Socially, I expanded my network greatly, [meeting] a lot of AUCians who occupy well-known positions across the globe. I made everlasting friends in addition to making good relationships with my professors."
During his time at AUC, Abuelwafa was an active student — from serving as media head of the AUC Robotics Club and a peer coach at the Center for Student Well-Being to winning first place at the 2021 Cairo ICT AI Hackathon.
"These activities helped me develop soft skills that have assisted me in my career," he said. "I believe that each experience equipped me with a unique toolkit that helped me progress further in life."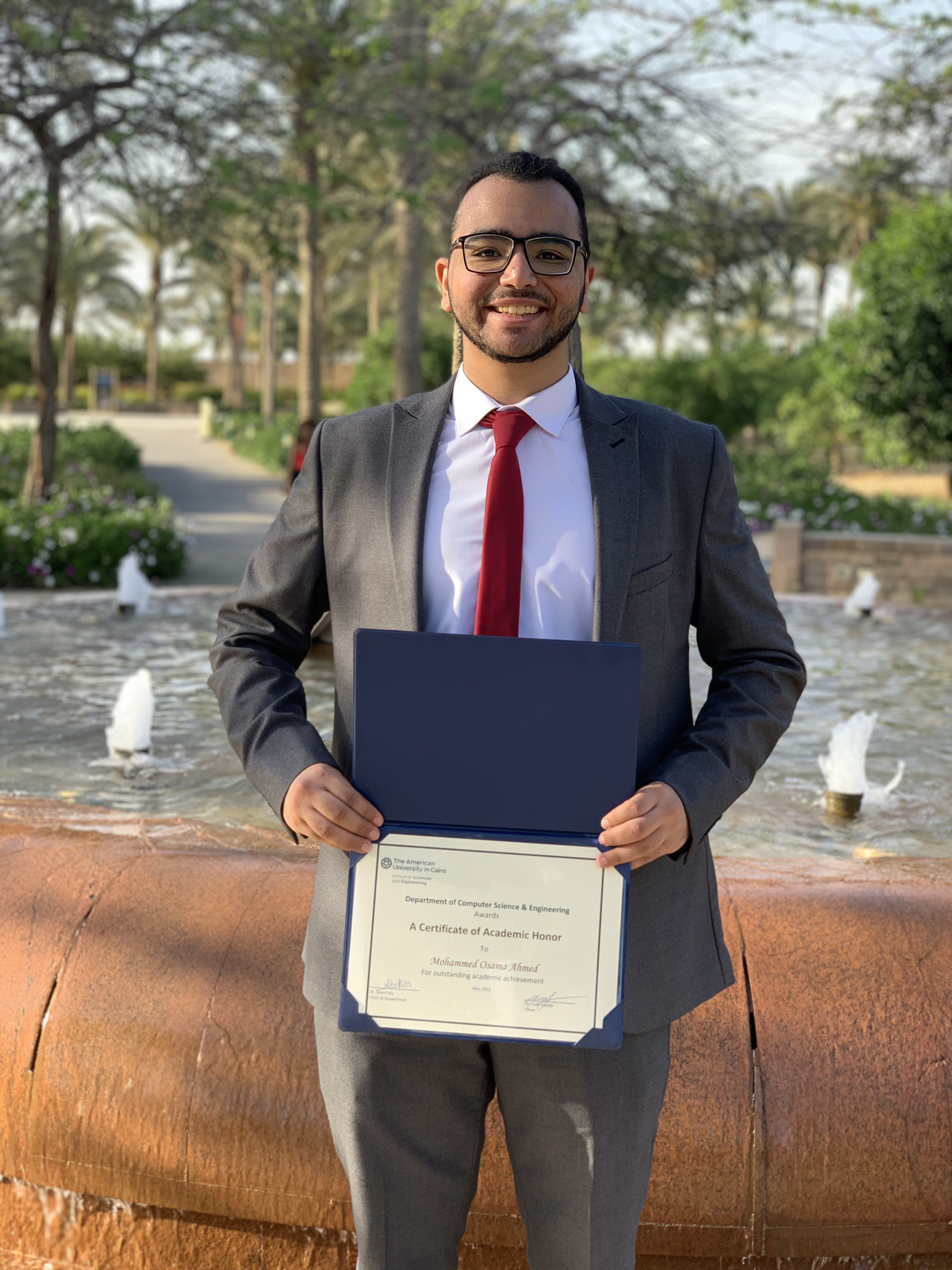 Now a software development engineer at Siemens, Abuelwafa has his sights set on the world of biomedical engineering. "As someone with diabetes, I hope to address current medical problems from an engineering perspective using my computing skills," he said. "Moreover, I'd like to gain more industry experience and pursue a master's and PhD in order to develop and refine these skills."
Above all, Abuelwafa constantly strives to enact positive change in the world.
"At AUC, I was trained to be a changemaker — a leader who starts initiatives and spots inefficiencies to raise the standard of organizational efficiencies," he said. "Most importantly, I try to be the change that I want to see in the world and be an advocate for that change."