A New Century of Impact: AUC Centennial Campaign Launches, Scholarship Students Reflect on AUC Experience
A New Century of Impact: AUC Centennial Campaign Launches, Scholarship Students Reflect on AUC Experience
AUC launched the Centennial Campaign: A New Century of Impact, which has raised 70 percent of its $100 million target. At the launch, President Francis Ricciardone, Board of Trustees Chair Richard Bartlett and scholarship students spoke about AUC's legacy and future.
During the event, Ricciardone emphasized the goals of the campaign, which are to foster the global experience, create centennial scholarships, nurture arts and cultural programs, chart a way forward for the MENA region and build a culture of philanthropy.
Bartlett spoke to the generosity of the trustees and AUC supporters, noting the importance of their loyalty to the University. He compared the last campaign for the New Cairo campus to this campaign, emphasizing that with less necessity for physical structures, there can be more support for academic activities and scholarships. He then stressed that while celebrating the centennial is important, the University must look to the next century of success for AUC.
"What are my hopes for AUC during the next century? To be a private, not-for-profit, liberal arts University, completely dedicated to Egypt," Bartlett said. "Will it have changed and improved as much as we have in this century? Will it be unrecognizable to all of us? I hope so, but that's really up to you."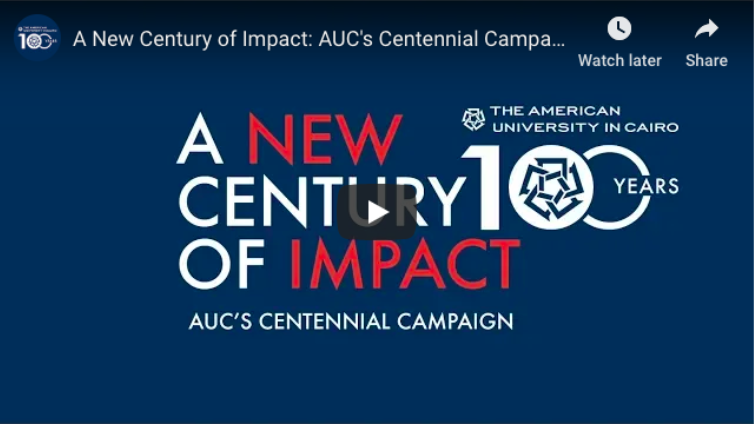 Scholarship students were given the opportunity to describe how AUC has made their academic success possible.
Naela Saleh, a biotechnology graduate student and a recipient of the Fellowship for Refugees, spoke to the impact AUC made on her life since coming to Cairo as a refugee from Yemen.
"I would like to use my education to create a better future for people who have suffered so much in Yemen," Saleh said. "The crisis in Yemen is considered the worst humanitarian disaster. Many people have told me that I am brave, but what is bravery without hope? AUC gave me that hope, and I am forever grateful."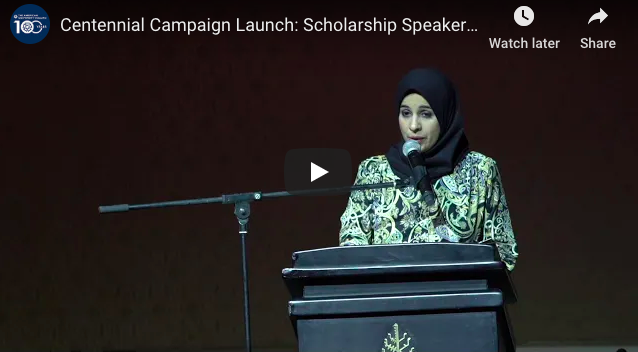 Omar Moawad, a computer engineering undergraduate and Al Ghurair STEM Scholar, described how AUC's liberal arts approach widened his perspective as a thinker beyond the field of computer engineering.
"Every day, I am amazed by the resources and student center support that I am provided to reach my goals," Moawad said. "I have so many aspirations for my future, but I'm confident that no matter the path I choose, I will be prepared because of AUC."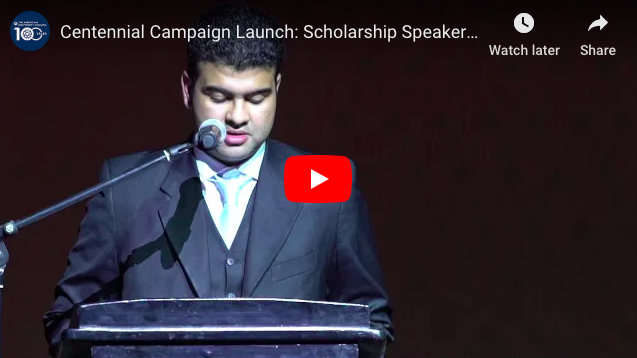 Julia Puglisi, a study-abroad graduate student and Simpson Scholarships for Year Abroad Program in Egyptology recipient, stressed her excitement to be a part of "a new generation of Egyptologists."
"I am deeply grateful and thrilled for the opportunity to contribute to a strong legacy of Egyptology at The American University in Cairo," Puglisi said.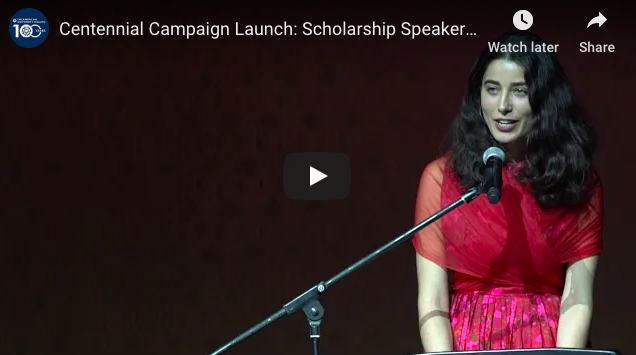 "We have arrived at a transformative moment — for Egypt, for Cairo, and for the Middle East and North Africa," said Ricciardone. "The choices we make today, how we educate our young people to be innovative, to be creative, to take prudent risks, will have a tremendous impact on the world we share tomorrow."
Ricciardone closed the ceremony, thanking the attendees and contributors for their loyalty and dedication to AUC's mission and touching on each campaign pillar.
"Our centennial year marks the renewal of our great promise and fresh energy as we enter our second century with bold anticipation of all that is yet to come," said Ricciardone to the crowd.