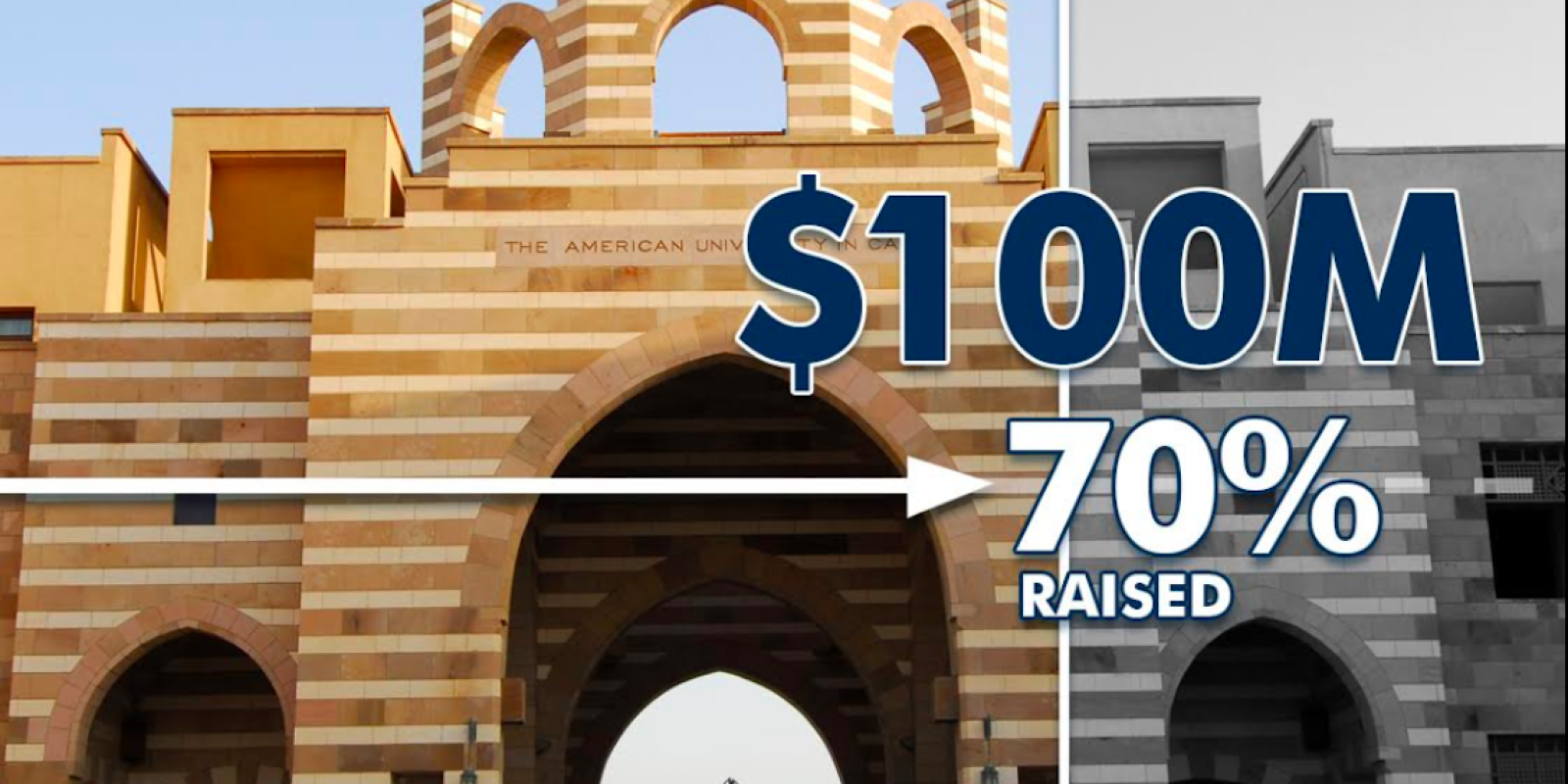 A New Century of Impact: AUC Centennial Campaign Raises 70% of $100M Target
A New Century of Impact: AUC Centennial Campaign Raises 70% of $100M Target
To expand AUC's legacy of excellence for a second century, the University publicly launched the AUC Centennial Campaign: A New Century of Impact, with the goal of raising $100 million. The campaign has currently raised 70 percent of its target.
"We have arrived at a transformative moment — for Egypt, for Cairo, and for the Middle East and North Africa," said AUC President Francis Ricciardone. "The choices we make today, how we educate our young people to be innovative, to be creative, to take prudent risks, will have a tremendous impact on the world we share tomorrow."
Funds raised from the campaign represent generous gifts and grants raised from individuals, corporations and foundations. The campaign is based on five pillars of impact: global experience, centennial scholarships, creative incubator, a vision for MENA and the power of giving.
Global Experience
Bringing the world to Egypt; bringing Egypt to the world.
Through the campaign, the University seeks to provide a global experience not only for Egyptian students, but for international students as well. "AUC has served as a forum for ideas and international crossroads that has welcomed American and other international scholars to this pulsating heart of the Middle East," said Ricciardone. "It is our priority now to refresh and revitalize that experience."
The University recruits top international faculty who bring an array of experience and expertise that enrich the work of every member of the AUC community. It also creates opportunities for students to explore and understand the world through research, internships, service opportunities and studying abroad.
Centennial Scholarships
Creating opportunities for diverse students.
Continuing its legacy of being a beacon for talented students, regardless of their background, AUC has created centennial scholarships, which will give the most deserving students access to an AUC education. This brings more perspectives and more voices to the campus community and allows the University to become a generator of innovative, collaborative solutions.
By creating centennial scholarships, the University ensures that students from all walks of life — refugees, international students, athletes, students from populations that are unrepresented in their field — are able to get the high-quality education they deserve. This builds a new generation of broad-minded, forward-looking citizens and leader
"The moment that I got accepted to this scholarship was a very, very happy moment — not only for me but also for my family," said Nour Beshir, economics and business administration undergraduate and recipient of the Nevine Loutfy Scholarship. "You finally get recognized not only for your academic achievements but also for your cultural achievements, for your hobbies, for your passion. So each and every time I renew the scholarship is the same happy moment as when I heard I got the scholarship."
Creative Incubator
A fountainhead of arts and culture.
AUC will continue to serve as an incubator for arts and creativity through launching the Tahrir Cultural Center at the Tahrir Square campus, revitalizing the University's role as the fountainhead of cultural activity in Cairo's Khedivial-era downtown. Both the Tahrir Square and the New Cairo campus will continue to host debates and performances, workshops and exhibits, public lectures and community programs.
AUC's Neighborhood Initiative has found success in both Tahrir Square and New Cairo. Building on that success, the University will continue to expand collaborations with local residents, businesses and public servants, and develop new programs in civic engagement, social outreach and economic development.
Promoting AUC and Egypt as the region's hub of contemporary art, AUC will form a Centennial Collection, comprised of 100 works of art, from video installations to ancient Egyptian artifacts, from Islamic tiles to modern sculptures, from medieval books to American art. This will allow students and faculty members to conduct research and develop curricular programs around the collection.
"The arts play a very important role in connecting AUC to the larger community," said Shiva Balaghi, senior adviser for arts and cultural programs. "We have top-level facilities. They match any university globally."
Creating a Vision for Tomorrow
El Mostakbal: The Middle East Looking Forward
Embracing new initiatives, the centennial campaign will launch El Mostakbal, The Middle East Looking Forward initiative — a three-year project to examine the paramount socioeconomic, political and security issues in the Arab world and the Middle East region. Through this initiative, the School of Global Affairs and Public Policy will lead a research and policy program that includes a multi-track series of workshops, conferences and publications that assess the challenges and opportunities facing the Arab world and offer concrete policy recommendations that touch every aspect of life in our region.
"[Through] the initiative to talk about the future, which we call El Mostakbal, we want to create a venue and a forum to allow AUC and the community as a whole to discuss their future so we can build it together," said Nabil Fahmy '74, '77, dean of the School of Global Affairs and Public Policy and professor of practice. "The idea is to be constructive and to make specific recommendations, but to make sure they come from within the region."
The Power of Giving
Building a culture of philanthropy.
With the introduction of the centennial campaign, AUC aims to foster a stronger culture of philanthropy among the AUC community with the goal of increasing participation. This can be achieved through the AUC Fund and the Give 100 campaign, giving the AUC community the opportunity to give 100 units of their country's currency to the AUC Fund. All proceeds will count toward the campaign total and will support scholarships for students with financial need.
"When I was at AUC, that's where my dreams were built," said Omar Khalifa '08, CEO and founder of Shaghalni and member of the AUC Alumni Council. "I feel indebted to AUC. That's why I feel it's important to give back — whether it's financial, experience, mentoring new students — everything. I'm very committed to this cause."
As AUC kicks off its centennial year, the University is both reflecting on its last 100 years as a global University and launching major plans for its next century. "AUC's new initiatives will make Egypt's global University more accessible to the country's most promising students, make the world more accessible to our students and allow all of us to imagine tomorrow's Middle East and promote philanthropy at AUC and beyond," said Ricciardone.