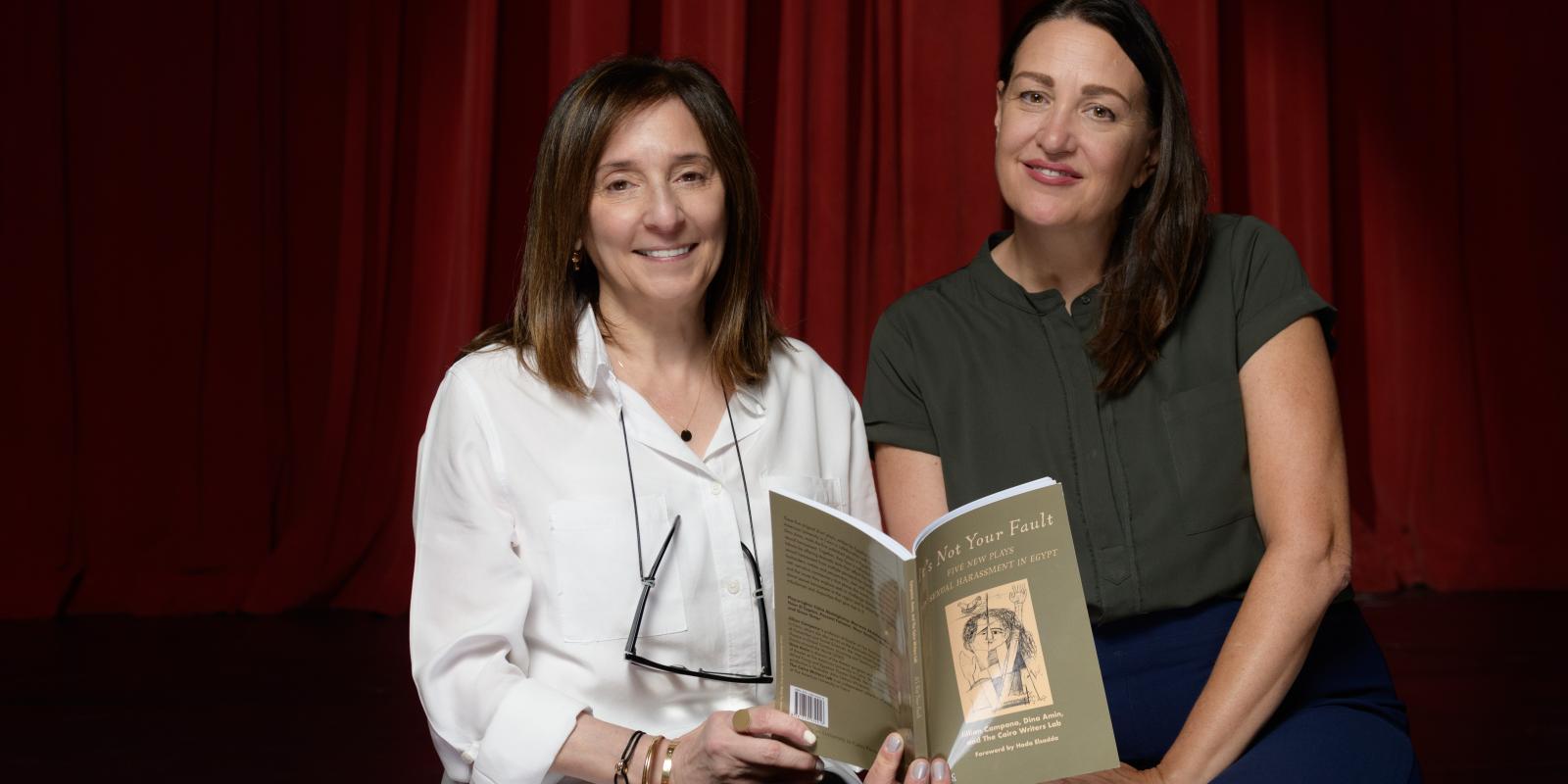 Msh Zanbik Anti-Sexual Harassment Arts Project Awarded by Times Higher Education
Msh Zanbik Anti-Sexual Harassment Arts Project Awarded by Times Higher Education
Photo caption (Banner): Dina Amin and Jillian Campana, principal investigators of the award-winning Msh Zanbik anti-sexual harassment research project
AUC's Msh Zanbik (It's Not Your Fault) initiative to combat and raise awareness of sexual harassment received the Research Project of the Year: Arts, Humanities and Social Sciences award from Times Higher Education.
"This is an inspiring demonstration of the agency of a university to contribute to such an important social topic; produce new, high-quality research and disseminate it to achieve strong impact," commented the judges. "It also highlights the unique value of the arts as a framework to address a complex issue and make it accessible and understandable to many."
Msh Zanbik is a collaborative research project whereby a series of original plays about sexual harassment and assault in Egypt were created in order to understand the issue from the perspective of Egyptian university students and educate people about it.
"The ultimate goal is to change behavior, curb incidents of harassment and encourage reporting," said Jillian Campana, theatre professor; associate dean for undergraduate studies at the School of Humanities and Social Sciences, and principal investigator of the project along with Dina Amin '84, associate professor and director of the theatre program.
Both Campana and Amin worked with more than 60 AUC students and alumni to write, perform and publish the plays, which were turned into an AUC Press book, available in both English and Arabic, along with research commentary and resources –– marking the first published plays in Egypt that deal directly with sexual harassment.
Campana continued this work with Reem El Mograby '09, director of the Office of Institutional Equity (OIE) and AUC's Title IX coordinator.
"We worked with students to research and develop a series of anti-sexual harassment training videos in Arabic," said Campana. "These are being used as part of the First-Year Experience program and in other OIE and Title IX workshops. They are the first Arabic videos in the region that educate university students about sexual harassment."
The team's ethnographic Participatory Action Research model relied on playwriting as the means of collecting and analyzing data as well as sharing the results of the study. Performances of these plays are royalty-free.
"This project has been a true integration between performance and social science research," said Amin. "We are fortunate to have found a forum to articulate creativity and social awareness and to also align with the #AUCSpeakUp initiative."
As Times Higher Education puts it, "The Msh Zanbik: It's Not Your Fault" project at The American University in Cairo exemplifies how a university can achieve big impact in a very important area that affects all of society while demonstrating the unique power of the creative arts to reach people."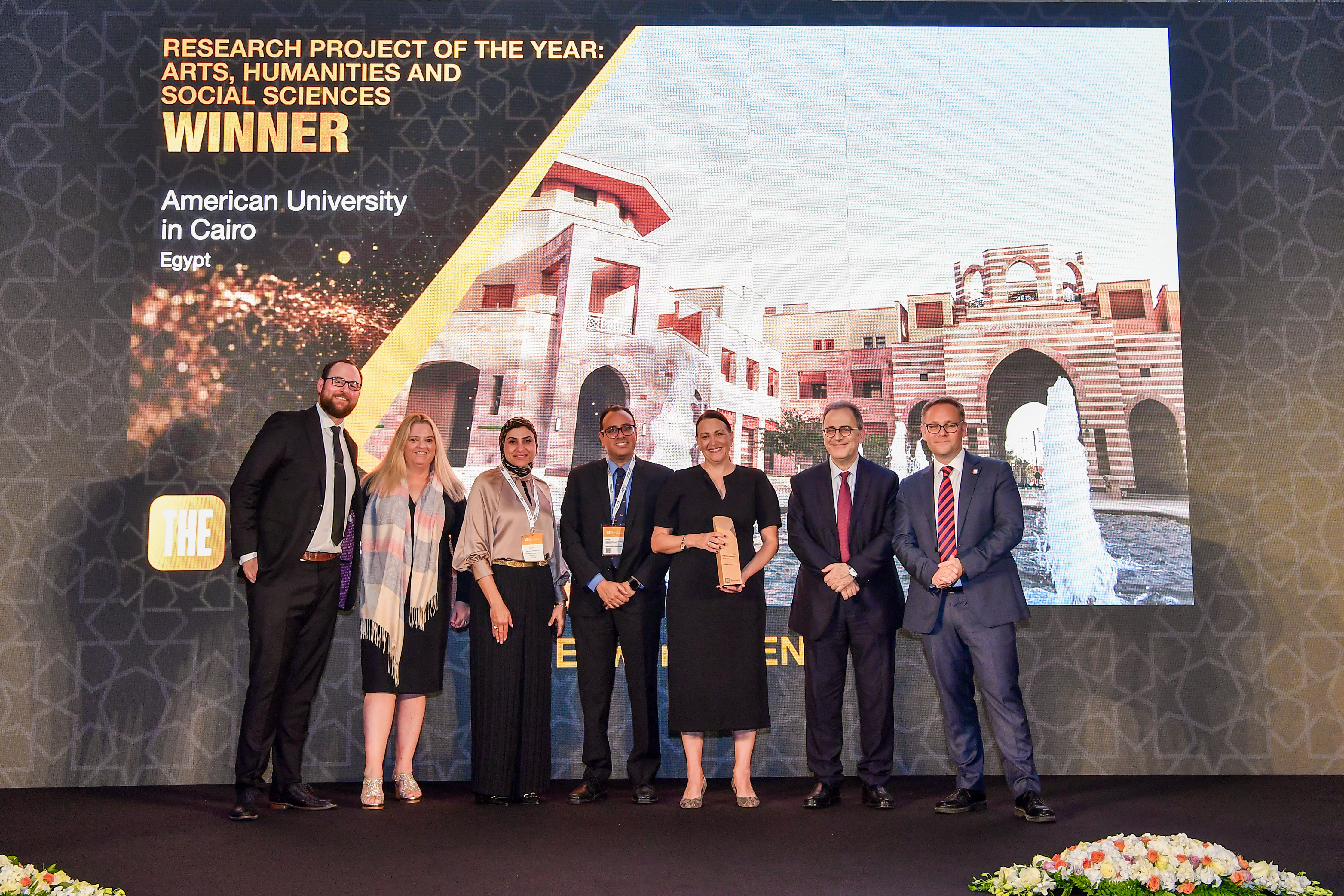 Jillian Campana (third from right) with President Ahmad Dallal, Associate Provost Ahmed Abdel-Meguid and Sustainability DirectorYasmine Mansour at the awards ceremony