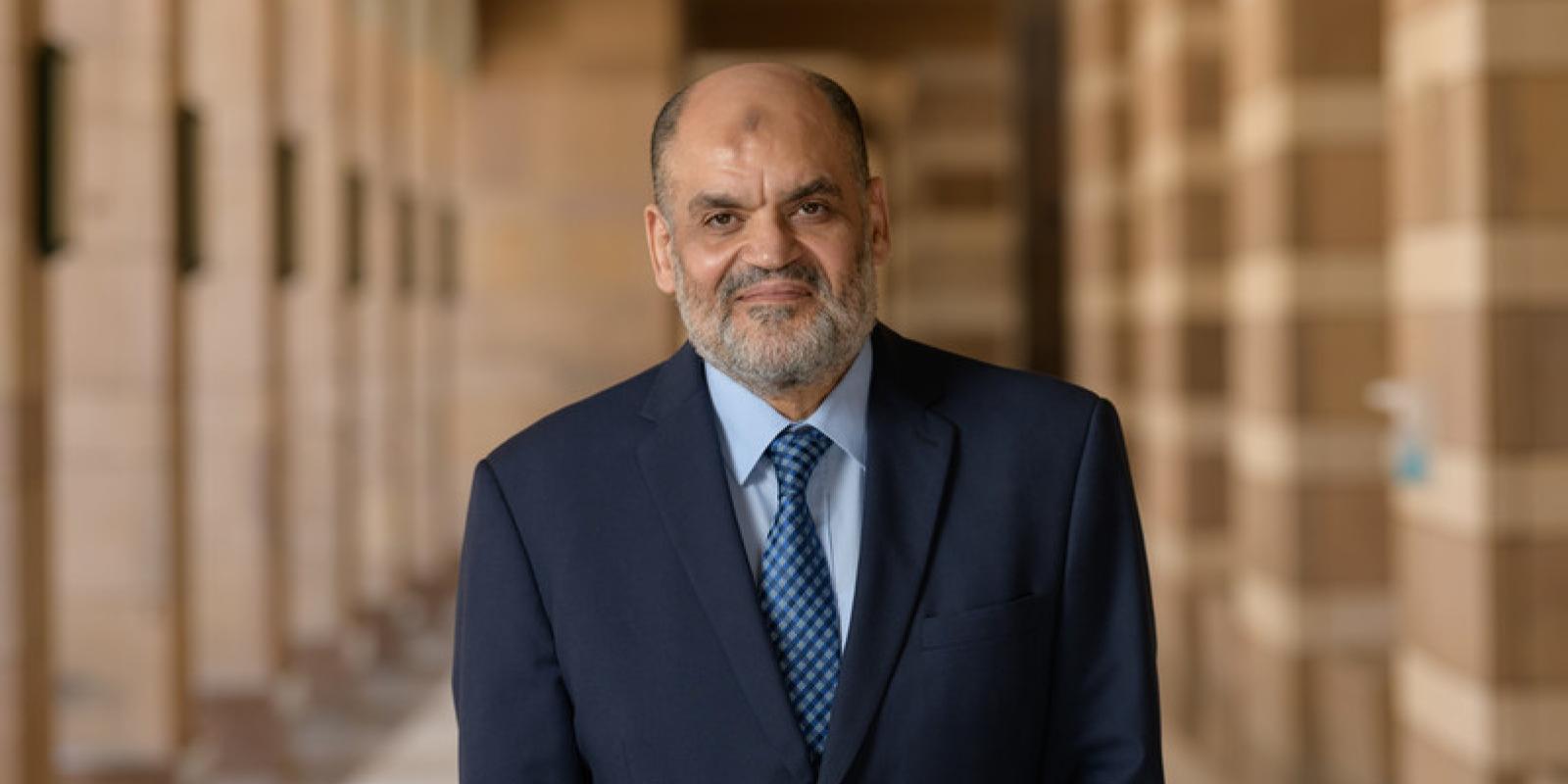 Meet the New Dean of the School of Sciences and Engineering Lotfi Gaafar
Meet the New Dean of the School of Sciences and Engineering Lotfi Gaafar
As Lotfi Gaafar heads into his first semester as dean of the School of Sciences and Engineering — and the first semester back on campus since the start of the pandemic — he has an ambitious vision for the school's continued growth.
"It is a huge responsibility to lead the largest school at AUC and to synergize its activities with the rest of the University," Gaafar said. "We are currently at a point where the school is poised to take a huge leap forward. Coping with COVID-19 has opened new learning and teaching avenues that positively impacted, and will continue to impact, the school."
Enhancing Synergy for Growth
For Gaafar, coordination and integration with other departments across the University are essential for the school to deepen its influence. "Synergy is the key word for the next phase," he said. "I believe that our productivity, on all fronts, can be multiplied through synergy driven by a win/win mentality that is based on sound communication, where people seek first to understand then to be understood. My priorities over the coming years include enhancing the working environment to foster collaborative work in all fields. A key to this environment is trust. Promoting, and in some cases restoring, trust is a key priority."
In addition to bolstering interconnections across the University, Gaafar plans to focus his efforts on improving the school's three core activities: education, research and community service. "International outreach has taken several hits over the past 10 years," he added. "Internationalization will be another priority to maintain our growth and competitiveness."
To address these priorities, Gaafar is confident he can leverage the school's existing strengths and the expertise of its faculty members. "SSE has excellent researchers, and recently, more than 10 of them were cited as part of the top 2% influencers in scientific research worldwide," he explained. "Most of the resources needed to support learning and research are firmly in place. Many teaching and research activities are conducted in collaboration across departments and with other schools at AUC, leading to joint programs and degrees, and multidisciplinary research activities. SSE has significant community service activities through several specialized centers and individual faculty efforts."
Gaafar also hopes to draw on the learnings of the past year in remote learning to continue enhancing the school's educational approach. "I expect modalities like blended learning, dual delivery learning and HyFlex learning to become a regular part of the game," he reflected. "This will also have a significant impact on assessment. Resources used to support remote work and the habits we developed will shape our future activities with a positive impact on the way we manage our day-to-day business as well as teaching and research activities. The one area that still needs significant attention is how to achieve a healthy work-life balance in the face of these changes."
Maintaining Student Connections
In his various positions at AUC, including serving as professor and chair of the Department of Mechanical Engineering and associate dean of undergraduate studies in the School of Sciences and Engineering, Gaafar has always enjoyed interacting with students the most and offering support through mentorship. "Students are a key stakeholder," he shared. "As associate dean for undergraduate studies, I always involved students through focus groups and regular meetings. The results of these focus groups informed many changes in processes and policy."
As dean, Gaafar now hopes to maintain and strengthen the school's relationship with its students by continuing to amplify their voices in discussions around the future of the school. Gaafar is even eager to launch an SSE book club and is hopeful that students will engage and help shape its activities.
"This approach of seeking student input and participation in shaping polices and activities will continue," Gaafar explained. "As cocurricular activities are a key part of the student experience, regular meetings with student associations will be used to design and increase such activities. Local competitions will also be used to prepare students for national and international ones."
Building a Career in Science and Engineering
Gaafar comes into his new role with extensive experience, both within AUC and internationally. The dean earned his bachelor's in mechanical engineering from Ain Shams University and his master's and PhD in industrial engineering from Arizona State University. Prior to joining AUC, he taught at Clemson University in the United States and then at Kuwait University.
Ultimately, Gaafar chose to return to Egypt in order to raise his children here. He first joined AUC in 2000 as a professor of mechanical engineering and eventually served as chair of his department between 2017 and 2019, before taking on his most recent role as associate dean of undergraduate studies at SSE. Beyond his work in academia, Gaafar also built experience working in the field as a production engineer and then factory manager of El-Ameen Company for Plastics in Cairo.
As a young boy, Gaafar was first drawn to the field of science and engineering by his love of mathematics, which led him to win a number of speed calculation competitions. He even remembers his favorite childhood toys as being Meccano sets for building. "In high school, I had excellent math teachers who made me enjoy all math topics," he remembered. "Because of them, I viewed working on math-related problems as a source of entertainment. I chose the math branch in high school and then engineering for college. I always wanted to study mechanical engineering because of my love of how things in general, and mechanisms in particular, work."
AUC Pride
As he looks to the future of SSE, Gaafar is also motivated by his pride and confidence in the way AUC and the School of Sciences and Engineering have been able to position themselves within both the global and local arenas. He is committed to supporting the school and University in retaining their reputable status and fueling positive change.
"SSE has a unique talent pool and distinct facilities that are above and beyond our local competitors and most regional ones," he said. "This is significantly strengthened by the liberal arts approach to education and cocurricular activities that are unique to AUC. All these factors put our University in a distinct position locally and regionally. This, of course, places a larger responsibility on our shoulders to maintain that position, while helping others improve their systems as part of our leadership responsibilities."
Favorite movies:

Arabic: العار; English: The Shawshank Redemption

Favorite course to teach at AUC:

MENG 4444--Work Analysis and Design

Favorite books

: "Mistakes Were Made (but not by me)" by Carol Tavris and Elliot Aronson; "The Drunkard's Walk: How Randomness Rules Our Lives" by Leonard Mlodinow; and books on classical Arabic poetry

Favorite activity

: Carpentry

Your hero/role model

: Prophet Muhammad (peace be upon him)

Greatest source of inspiration:

Reciting the Quran

An accomplishment your most proud of

: Yet to happen!

Fun fact

: A strong passion for classical Arabic poetry, with many poems committed to memory

Problem you wish to solve in the world

: Discrimination