#AUCSpeakUp Featured at Arab Forum for Sustainable Development 2023
#AUCSpeakUp Featured at Arab Forum for Sustainable Development 2023
"As the leading University in Egypt, AUC was keen on playing a role in raising awareness of sexual harassment as an important social issue and supporting national and global efforts, in particular as they relate to college campuses," stated Reem El-Mograby '09, director and Title IX coordinator in the Office of Institutional Equity, in her recent speech at the Arab Forum for Sustainable Development 2023, where she represented the AUCSpeakUp campaign.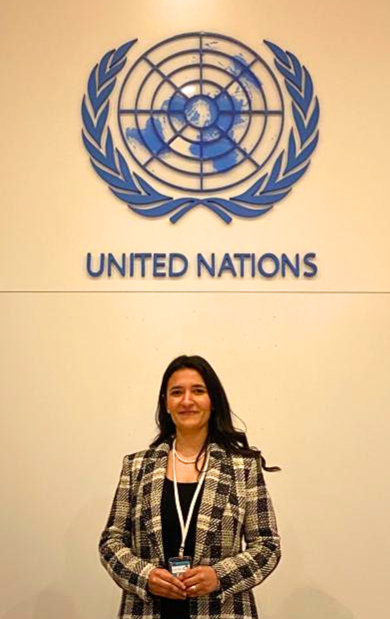 Launched in July 2020 after a nationwide campaign on social media promoted the need to stand up to sexual harrasment, the #AUCSpeakUp initiative aims to reinforce AUC's legacy of equity, inclusiveness and a safe campus by raising awareness of sexual harassment and offering a safe platform for individuals to share their stories.
The campaign follows five pillars, S- Stand, P- Prevent, E- Empower, A- Act, K- Know. These pillars aim to create a collective movement against harassment in discrimination that will hold individuals accountable through reporting misconduct by educating the community on their rights and resources.
El-Mograby was invited to speak at AFSD-2023 due to the campaign's relation to the United Nations Sustainable Development Goal #5, which aims to support gender equality internationally. AFSD-2023 provided a forum for Arab representatives to share their work, learn from one another and develop plans to further their progress toward various SDGs.
#AUCSpeakUp is unique in its multifaceted approach to implementation, as El-Mograby explained: "First, we reviewed our internal university structure, procedure and tools. Second, we introduced an anonymous reporting system to submit complaints. Third, we launched the first mandatory online training for our AUC community and visitors and vendors, and fourth, we created a multi-channel communication plan."
Beyond campus walls, AUC engaged with the wider Egyptian community through an eight-month long public dialog series that addressed topics related to harassment and discrimination. The University also partnered with other educational institutions and international organizations, in addition to being the first university outside of the United States to join the Action Collaborative on Preventing Sexual Harassment in Higher Education.
In her speech, El-Mograby shared updates on the University's progress since the launch. "We have increased awareness on campus and our annual climate surveys show a significant increase in community awareness and general feeling of safety on campus," she stated. "Several national institutions have reached out to us to help in strengthening their awareness efforts."
AUC is committed to providing a safe and inclusive environment free from all forms of harassment and discrimination. The University's strategic pillars aim to protect and serve their large and diverse community while sharing their knowledge at a national and regional level.
"On a personal level, I would like to add that AUC is not only my workplace but also my alma mater, and I am proud to contribute to these efforts that have a broader impact on our Arab community. It is a right for everyone to be safe and to learn how to exercise this right," El-Mograby concluded