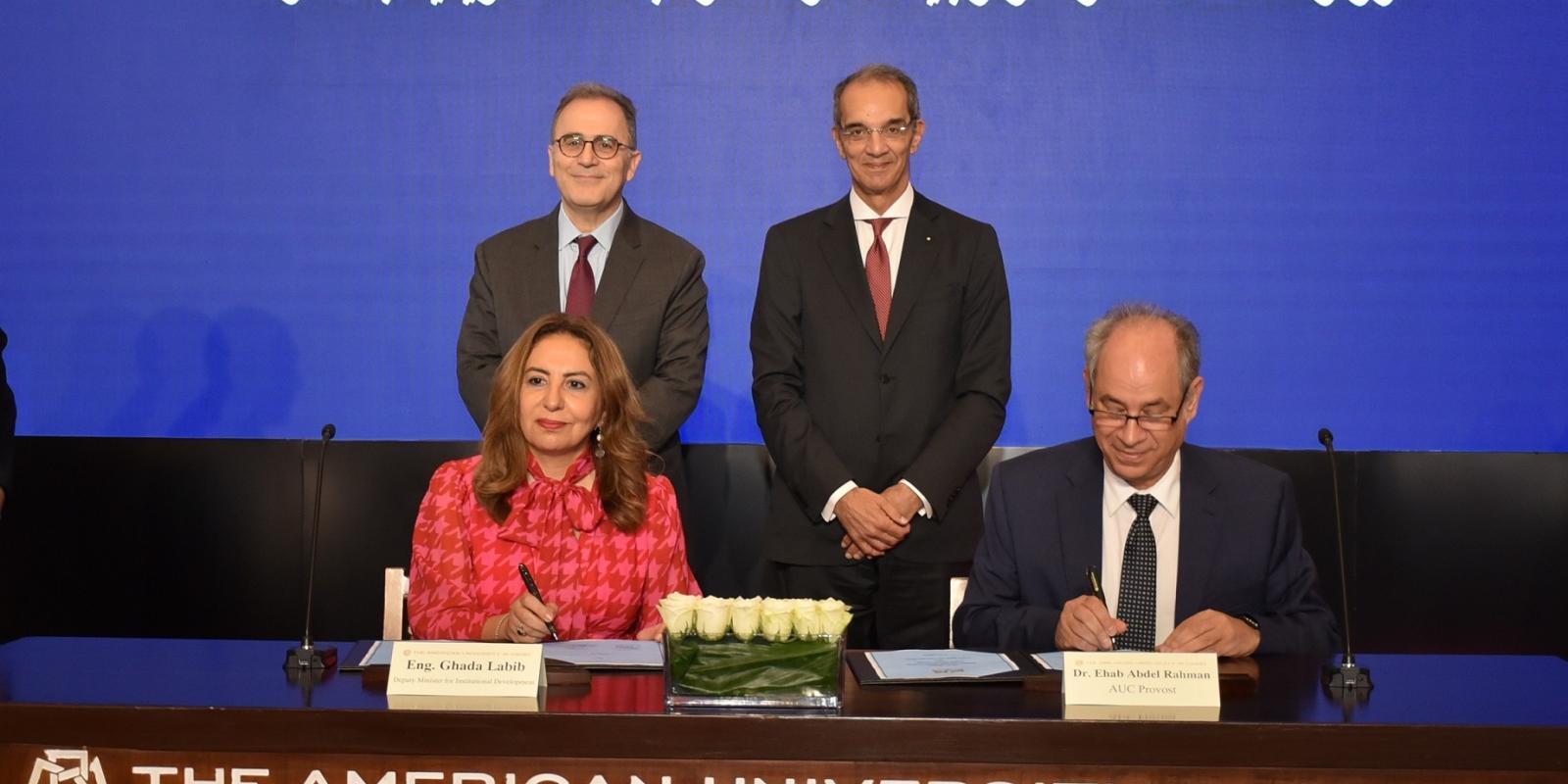 AUC and Ministry of Communication and Information Technology Sign Protocol, Announce Innovative Collaboration
The American University in Cairo (AUC) and the Ministry of Communication and Information Technology (MCIT) signed a protocol this week to collaborate on Egypt's Digital Heritage Portal project. At the signing event, AUC and MCIT also announced their innovative collaboration to provide expert electronics training for engineering students and fresh graduates in Egypt. The ceremony, which took place at AUC's New Cairo campus, was attended by MCIT Minister Amr Talaat and AUC President Ahmad Dallal, the University's senior administration and Ministry officials.
In his speech, Talaat highlighted the endless possibilities within the successful collaboration between the Ministry of Communications and Information Technology and AUC. "This partnership encompasses joint efforts in implementing Egypt Digital Heritage Portal project, a testament to the profound knowledge and academic expertise of The American University in Cairo." Talaat also emphasized the ongoing collaboration with AUC in strengthening youth's digital capabilities through the implementation of a training program that is focused on electronic design and embedded systems software, "this program started with the first batch of trainees comprising 650 students who underwent comprehensive training in designing electronic circuits."
Talaat underlined the ministry's strategy to bolster Egypt's role in the field of electronic design and embedded systems software, with a particular emphasis on electric cars and self-driving vehicles. He added that to achieve this strategy, an all-encompassing program has been crafted, intended to attract companies to establish outsourcing centers in this field. "This endeavor also seeks to expand the pool of specialized professionals and equip the youth with a robust skill set, ensuring they possess the necessary knowledge to excel in these high scientific value specializations," said Talaat.
Ahmad Dallal, AUC President said at the signing ceremony: "We take pride in the Ministry of Communications and Information Technology's confidence and trust in AUC, which has enabled us throughout the years to collaborate on pivotal initiatives for economic and societal development in Egypt. He added that: "at AUC, our strategic priorities encompass a strong commitment to Egyptian youth. We strive to offer support and robust vocational training to equip them with the necessary tools and skills to thrive and compete in the local and international markets, especially in communications and information technology."
Dallal also acknowledged the importance of specialized knowledge, research skills, leadership acumen and adaptability in the rapidly dynamic labor market. "We continue to develop our well-rounded liberal arts education to ensure learners are prepared to navigate the evolving labor market while sharing our vision with our governmental and educational partners as well as the private sector," he added, "Our collaboration with the ministry exemplifies our mission to serve society and drive human and economic development in communications and information technology to serve critical sectors such as healthcare, environmental studies and energy."
Safeguarding Egypt's Heritage
MCIT and AUC Libraries will be collaborating to safeguard and make available Egypt's rich heritage in a digital format to researchers and culture enthusiasts through Egypt's Digital Heritage Portal project. Interim Dean of Libraries and Learning Technologies Lamia Eid said: "AUC Libraries has a long and distinguished history of collecting, digitizing, and safeguarding cultural heritage while also playing a pivotal role in disseminating knowledge and information. We are excited to embark on this journey to share our resources and expertise as Egypt gears up to the launch of Egypt's Digital Heritage Portal project."
Eid added that the library is actively participating in the initiative by dedicating the efforts and expertise of its digitization team. "Additionally, AUC Library is committed to providing comprehensive metadata for the digitized collection, as metadata plays a crucial role in facilitating search and discovery, enabling scholars to navigate and explore Egypt's cultural heritage more effectively," said Eid.
Training Programs for Engineering Students and Fresh Graduates
Through AUC and MCIT's collaboration, engineering students and fresh graduates from all over Egypt will receive world-class expert electronics training conducted in Egypt's seven centers for electronics development, all of which have been created in collaboration with AUC's Center of Nanoelectronics and Devices. The centers across Egypt include AUC, Smart Village, Alexandria, Borg El Arab, Zagazig, Ismailia, and Assiut. So far, more than 650 students, out of 7000 applicants, joined the program's first cohort.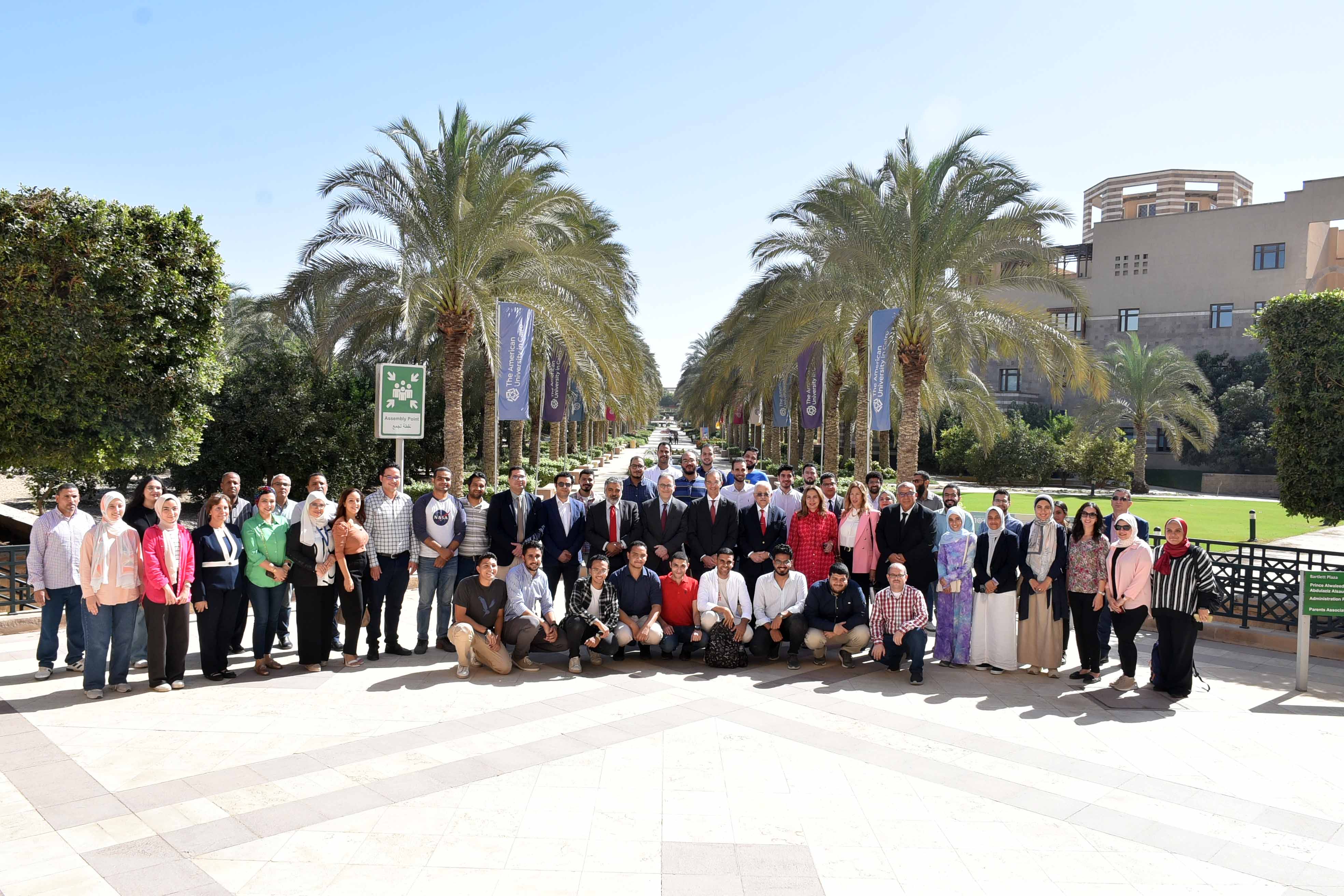 "Providing expert engineering training is not just about acquiring skills, but more about generating opportunities for job creation and economic growth. By developing programs that empower engineers and foster local startups and foreign investment, we can unlock the potential of many talented engineers in Egypt, driving innovation and progress," said Yehea Ismail, professor and chair of the Department of Electronics and Communications Engineering and director of the Center of Nanoelectronics and Devices at AUC, who was recently appointed as adviser to Egypt's MCIT Minister.
In partnership with the ministry, AUC's model of training programs can now be implemented throughout Egypt, including underprivileged areas in the countryside. With the University's support, participants nationwide will receive live and virtual instruction from talented teachers worldwide and hands-on guidance from trained assistants. "Our efforts are focused on coordinating the establishment of design centers in Egypt in collaboration with prominent international companies like Intel, Synopsys, ADI, and Siemens," added Ismail.
For more information about the training, please check this link.