SERVICES CATALOG DESCRIPTIONS
SERVICES CATALOG DESCRIPTIONS
Academic Software Purchase
IT has been successful in negotiating and implementing several advantageous agreements with major software vendors. IT Software licensing programs have so far realized enormous savings for the University and allowed departments and units to purchase software at significantly discounted prices. Some programs, which involve site licensing, will enable the installation of the software free of charge on all PCs campus-wide.PC's Across campus.
Assistantships System
A system for registering teaching assistants, assigning them to courses/sections, counting their working hours, and calculating their stipend and notify the registrar and Banner team to renew their IDs.

www4.aucegypt.edu/assistantship
Assistive Technology
AUC utilizes software and hardware solutions to help students with different types of impairment build up their academic success. Students are provided with full assistance and training in using the software and equipment available. Scanning and printing documents in Braille format is provided for visually impaired students. For assistance, visit the lab located in room P145, Prince Alwaleed Bin Talal Bin Abdulaziz Alsaud building, or room P003, Library building.
Assistive Technology Training
One-to-one training sessions can be requested to familiarize students with visual impairement on software and hardware equipment needed for them to cope with day-to-day activities and course work in class and outside.
AdAstra Administration
Adastra is a tool used by the scheduling departments/ offices to ensure complete visibility into all of AUC events, academics, and resources in one calendaring tool. As academic course schedule is key to a successful and integrated advising, planning, and completion ecosystem, Adastra schedule provides an organized, timely, accurate schedule not only benefits of scheduling staff, but also activates AUC student advising and planning investments. Campus enrollment fluctuations and other challenges are easier to address with reports and clear insight into all available resources.

ADSL Services
The telecommunication office has an agreement with the main ISPs in Egypt to provide special discounts for the AUC community when subscribing to ADSL services for home use.
AUC Conferences
Conferences are one of the ways of reaching beyond the campus in an attempt to boost innovation and internationalization of ideas and experiences. The IT process of conference creation is to separate the marketing website. The marketing website can be developed using WordPress or Google Sites. The management website is done using ConfTool Pro.
AUC Knowledge Fountain
The AUC Knowledge Fountain (FOUNT) is the open-access home to AUC's scholarly communications, including theses, faculty publications, student projects, and departmental records and publications.
Graduate students are required to submit their theses or dissertations to FOUNT, while faculty and students can post their research and creative works in the repository. Content in FOUNT becomes accessible to the whole world, and authors can track the impact of their research worldwide.
AUC Mail
AUC currently hosts its email on Google to provide ease of access and increase storage capacity for faculty, students and staff.
AUC Planning Matrix Application
The planning matrix is a web-based interface that automates the planning and budgeting workflow process. Units submit their planning matrix of the coming year to be represented as new requests to the budget office. An approval cycle is initiated. At the end of the process, the approved planning matrix items are added to the unit's base budget on SAP. The system contains also a reporting tool with sophisticated filtration criteria.
https://planning.aucegypt.edu/
AUC Mobile App
The AUC Mobile App aims to serve the main stakeholders: students, faculty, staff, and alumni. The aim of the application is to increase communication and engagement. It is designed to be an intuitive and easy-to-use platform to encourage stakeholders to use it every day. The main objective is to enhance the students' life experience on and off-campus by giving them access to multiple features and services. The application should help integrate academic and non-academic events and activities beyond the classroom and immerse students in the community.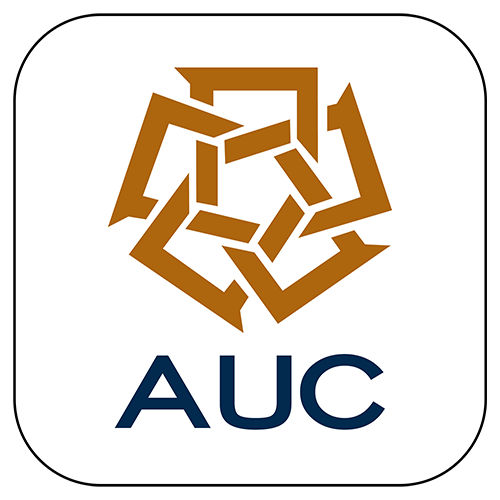 Itunes Apple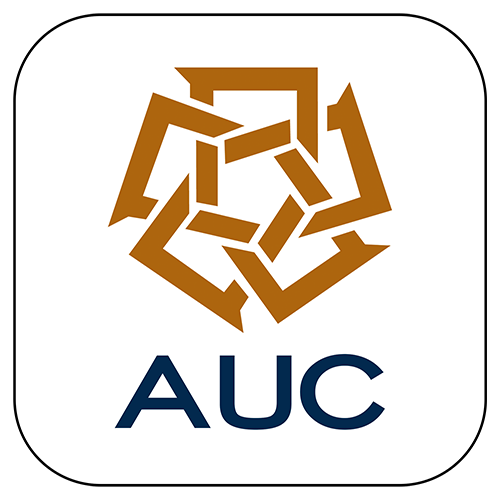 Google Play
AUC Nerdie
AUC Nerdie is a programmed chatbot that is designed to help you with advising-related questions. Nerdie is in a continuous learning process and the more you ask, the more he will learn.
AUC Banner Mobile App
AUC Banner Mobile App helps you stay connected to your Banner system like never before. You'll have access to most features that make your registration experience more effective, more efficient, and more fun. "AUC Banner Mobile App enhances AUC student's life experience by empowering students to access the Banner System anytime anywhere by giving them access to multiple features. More
Banner Self-Service
Banner is the official Student Information System used by the AUC. Banner Self-Service is the online gear for students to look up and register in classes, view holds and financial information, and check their unofficial transcript, whereas Banner INB is used by the administrative offices.
Business Continuity Plan/Disaster Recovery Plan and Emergency Response
Managing plans to protect AUC assets and keep AUC business running with minimal acceptable interruptions.
Blackboard LMS
Blackboard is a web-based Learning Management System (LMS) that enables collaboration between students and faculty and has many features that enhance the learning experience.
https://blackboard.aucegypt.edu/
Braille Notetaker for Checkout
Braillenote Display and Braille Sense U2 machines are available for checkout at the assistive technology lab:
This device runs using Braille and enables visually impaired students to create and read documents in Braille with optional sound feedback. It enables them to access the Internet, submit assignments, and take notes in class.
Braille Printing
Braille printing is used to translate and emboss documents to be compatible with Braille methodology. Requests for Braille embossing service maybe in person or via email forwarding the material needed for print.
Bulk SMS (Departments)
The Unified Communications Unit provides a bulk SMS service for departments to communicate with their stakeholders (students, staff, faculty or alumni) more conveniently and efficiently. With just a few clicks, the user can send SMS messages to thousands of mobile phones.
Business Mobile Lines
The IT office extends reachability by providing business mobile voice lines for the AUC staff and faculty members with lower rates than commercial lines on all mobile service providers. Other packages could be activated on the lines other than basic voice packages such as mobile internet, affordable international call rates, Blackberry service, and others. Data lines are available as well to be used on tablet computers or USB modems for internet connectivity.
Call Center
The Unified Communications Unit hosts a professional call center server which allows the Unified Communications Unit to construct a call center service for departments and schools. The call center facility provides interactive voice response (IVR) service, queue management, comprehensive reporting, increased availability, and fully customized call scenarios to suit the department's needs. The call center facility serves both external and internal callers.
Classroom Technologies
Academic and Campus Technologies Support Services (ACTSS) is responsible for providing up-to-date audio-visual technologies in AUC classrooms, lecture halls and meeting rooms.
Classrooms Equipment Borrowing
Classroom events are generally short-term. Short-term events do not require permanent facilities, services or equipment. IT provides equipment rental in support of these events as well as staff support.
Co-Curricular Transcript
Provide better Experience for Students by enabling them to report their activities via the Co-Curricular Module fully automated and integrated with Banner Self Service.
Computer Labs
Open access computer labs are located in multiple locations across campus. These labs can be reserved for teaching, meetings, or workshops, computer lab equipment are on a lifecycle replacement schedule to ensure providing the latest technology for the AUC community. In some areas, specialized hardware and software are available for department-specific needs.
Curriculum Proposal System (CPS)
An automated workflow system that handles the AUC curriculum and course change process starting from faculty and departmental committee levels of approvals till the provost Level. It incorporates an automatic notification system that serves as a following-up for the administrator and their responses to the proposal submissions. Currently, we are in the process of migrating this in-house developed system to a commercially robust module named Curriculog.
https://www4.aucegypt.edu/cps/
Data Center Services
AUC datacenter services provide a convenient location to host IT assets and services, datacenter includes fully redundant UPS, power distribution, centralized A/C units, and fire suppression systems.
DegreeWorks
DegreeWorks is a comprehensive and friendly academic advising and degree audit tool that helps students and their advisers know their degree requirements and what has been fulfilled and what's left to graduate. DegreeWorks is integrated with Banner giving students meaningful and consistent direction and providing advisers with up-to-date curriculum information. DegreeWorks is available from inside Banner Self-Service under the student/advisor menu.
Drop Forms
Online workflow to automate dropping a course from Banner.
Enterprise Content Management
Documentum is the AUC content management software that is used for digitizing and archiving documents and storing them in centralized locations with predefined privileges of access.
Events Technical Support
Technical support services for events are provided in all spaces equipped with audiovisual devices
Faculty/Staff Telephone Directory
The online telephone directory is a centralized database that holds AUC staff and faculty contact details and makes it available online.
Financial Aid Scholarship Applications
Banner Student Aid is a comprehensive set of processes that provide integrated solutions for handling the daily activities of the financial aid office. The system can enhance the selection process for needy students/ applicants. It also can enhance merit-based awards by defining the eligibility rules. Some of those daily tasks and functions are funds management, processing institutional scholarships, institutional loans, government aid disbursement to accounts receivable award history academic cost of attendance definition student budget assignment, need analysis Web application creation, requirements tracking, and a self-service component
Fund Raising (Salesforce)
Salesforce is the Customer Relationship Management (CRM) software used at AUC. It enables us to better serve our customers, find opportunities, forecast and manage AUC contacts.
Graduates Workshops Online System
The Office of Graduate Student Services offers several training workshops to the AUC graduate students all year through. Reservation takes place through this website.
Grants System
The Grants Application automates the workflow of submitting a grant request (application) by AUC faculty members and graduate students. Each grant application goes through several layers of review. The submission of grant applications is restricted to specific dates and eligibility rules.
https://www4.aucegypt.edu/grants/
Hearing Impairment/Mobility Impairment
Dragon Speach Recognition could help hearing-impaired students and other types of mobility impairment make effective two-way communication. It translates speech to text. where more accurate results are obtained with better training of one's voice on the system.
Internet Services
Internet Services is available for AUC students, staff, faculty and researchers, The internet is provided with high bandwidth fully and redundant links.
IP Telephony and Faxes
The Unified Communications Unit provides desktop telephony services as well as faxes for faculty and staff members at both campuses. Through the use of IP telephony solutions, the users are provided with various telephony features while simplifying their use and unifying the underlying network infrastructure. AUC New Cairo operates with Nortel/Avaya IP phones, and AUC Tahrir Square operates on Cisco IP phones, with seamless interoperability between both systems.
IP TV
AUC IP TV provides streaming satellite TV channels across the campus through wired network service, it offers more than 50 channels that can be viewed through and IP TV receivers, the service is mainly used by students in the dorms in AUC New Cairo Campus and in selected departments and venues.
IRB
Any AUCian/non-AUCian researcher who will conduct human-related research at AUC must secure the approval of the Institutional Review Board committee before conducting the research. This website enables the research to submit this request to be reviewed by the IRB committee.
IT Policies and Procedures
Formulating and establishing AUC policies, procedures, guidelines, benchmarks and metrics.
https://www.aucegypt.edu/digital-innovation/policies-and-procedures
Kaspersky Anti-virus
Kaspersky is an anti-virus software with many features including real-time protection of your device, detection, and removal of viruses, trojans, worms, spyware, adware, keyloggers, malicious tools and auto-dialers, as well as detection and removal of rootkits. It also includes instantaneous automatic updates via the "Kaspersky Security Network" service. Software is available for free to AUC community.
Laptops, PCs and Handheld Devices Support
Personal laptops for AUC community:
Students, faculty and staff can schedule an appointment with the IT technical support representative to help in troubleshooting their personal laptop, desktop applications problems for both Windows and Mac IOS platforms. This service also helps in software installations including Windows.
AUC owned IT equipment for AUC community:
- Provide on-site analysis, identification, and resolution of difficult desktop problems for end-users including windows operating system and application installation
- Test, evaluate and assess new IT equipment in order to ensure the quality of products purchased by AUC
- Inspect the new equipment to ensure that AUC received the right spec of purchased products from vendors
- Support remote installation and give technical support for remote users (limited now)
- Assist limitedly for hardware and technical support advise
- Prepare reports regarding old IT equipment transferred to AUC warehouse before re-distribution to the department for re-function when needed.
LinkedIn Learning (Previously Lynda)
LinkedIn is an online learning platform, that provides the AUC community with full training courses using video (indexed) tutorials taught by experts. It combines the industry-leading content from Lynda.com with LinkedIn's professional data and network. The online library features 10,000 + digital courses taught by industry experts and cover a wide range of business, creative and technical topics from leadership soft skills to design principles to programming languages. LinkedIn Learning is available to AUC community 24/7, on any device, online and offline. Lynda fits in AUC's open data pillar. After acquiring Lynda in 2016, LinkedIn kept the platform as is. In aims to combine all the professional data and network tools from LinkedIn, Lynda has now been migrated to LinkedIn Learning to provide users with the same Lynda content library but with an updated interface and over 25 videos added weekly to stay current and up-to-date with today's fast-paced industry. AUC community has access to LinkedIn Learning using their AUC email credentials and has the option of linking their professional LinkedIn account to showcase their progress and gained skills.
Live Streaming Services
Live streaming services are provided from both at AUC New Cairo and Tahrir Square campuses in the pre-equipped audiovisual spaces where live audio and video streaming is required. That is through streaming links, whereas events can be recorded directly on the cloud or locally on the PC used in the event.
Mailing Lists
Mailing lists are an automated way to communicate with the AUC community. Mailing lists are a collection of names and email addresses and are available for AUC departments for their communications.
Moodle LMS
Moodle is a user-friendly open-source Learning Management System (LMS) with a wide range of functionality covering content creation, communication, collaboration, manipulation and delivery. It also facilitates students' tracking and assessment.
Multimedia Lab
Multimedia lab is dedicated to the production of work in graphics, video and audio, using emergent computing technologies.
Online Payment
TouchNet is used as the formal commercial payment gateway for the university. TouchNet helps institutions streamline business processes, save time and money, protect their sensitive payment data.
Patch Management
Managing vulnerability and patch management activities to ensure the optimum and acceptable level of protection on assets.
Presidential Attendance Request
A system that arranges for the attendance of the president in events and meetings.
Registrar Online Forms
Automating all the registrar papered forms and automating their workflows.
https://registraronlineforms.aucegypt.edu
Reporting (Argos)
Over the past years, AUC was the first to adopt the deployment of Evisions' Transcript Solution. For each college implementation, we build customizable transcripts using Argos's Banded Reports feature, to tailor different aspects of transcripts display based on requested college Evisions Argos delivers the insights that you need in order to make timely, better-informed decisions. Argos helps colleges and universities work better, delivering flexible, powerful, easy-to-use reporting tools developed by higher education experts.
Empowers Timely Decisions: A simpler, quicker way to run reports and visualize data, making your job easier
Reports at Your Convenience: Access reports and dashboards whenever you need them, and on the device that works best for you
Frees Up IT no complex development or lengthy installation
Easy to modify as your needs change
Requesting a transcript or other documents online
The system that handles the eligible requests for transcripts and other documents the associated payments.
Risk Management and Consulting
Providing consultation and assessment to assess AUC assets and solutions in order to provide the best security controls and delivers a clear security state to stakeholders.
Security Awareness
Delivering awareness to AUC community focusing on faculty, staff and students to keep them aware of new attacks, personal defense techniques and how to protect AUC from the growing cyber offenses.
Security Controls Management
Leading information security controls management, tuning and configuring controls to achieve collectively the optimum results.
Security threats Monitoring
Continuous Monitoring and Incident Response: Monitoring threats and attacks on AUC continuously, responding to alerts and incidents.
Scanning and OCR Services
This service is one of the assistive technology services available at AUC. It provides exporting paperback documents as images, adapting the image quality with the OCR accuracy in order to optically recognize all characters of the imported images. It allows for exporting the text outcome to formats such as Word Document, MP3, and Braille.
Screen Magnifiers
Fusion screen magnification provides screen reading functionality with enlarging the data shown on the computer monitor to 16 times the screen size, which helps students with low vision to read what is written on the screen with the best quality and performance.
Screen Readers
Jaws screen reading for Windows enables visually impaired students to output the content of the computer screen into speech. It supports applications such as email, word, spreadsheets, web browsers, project management and research tools, software development tools, database management software, sound editing software, programming languages and much more.
Self-Service Portal
A new IT ticketing system is in place for all IT issues to be reported through it. It is the most flexible, reliable, easy to use, and trusted IT service management system. The reporting is done through the IT help desk team or the self-service portal.
aucegypt.selfservice.vivantio.com
Specialized Voice Recorders for Checkout
Victor Reader Stream (New Generation) is a handheld media player and recorder. It is used by visually impaired students to play different media formats. It records voice and media with a built-in microphone or line-in.
Speech Recognition
Dragon Naturally Speaking is used by hearing and mobility impaired students. It executes voice commands much faster than the users' typing, which enhances the users' experience and increases their productivity.
SPSS Training
SPSS is a statistical analysis package that is highly needed by graduate researchers. Two levels of SPSS training are held each semester; namely, the introductory level and the intermediate level. Reservation takes place through grads.aucegypt.edu
Student Attendance System
AUC uses CodeReadr, which is a barcode scanning software, to track the students' attendance in classes.

Student Evaluation of Instruction
Online Student Evaluation of Instruction is a web-based system that is used by students to evaluate instructors, courses and teaching assistants, The system is active for 14 days before the last week of classes.
Success Factors
Success Factors is the leading cloud-based HR and talent management software, which provides tools that are complete, adjustable, and beautiful, and which can enable you to augment your workforce and prepare them for tomorrow. Success Factors is at the center of the technological progress of today. The market leader when it comes to enterprise application software, the platform aids enterprises address the damaging effects of complexity, open new opportunities for development and innovation, and stay in front of the competition. Using Success Factors, you can build an all-in workforce, and keep the whole team in the same line.
https://login.aucegypt.edu/login/UI/Login
System Application Products (SAP)
SAP ERP is an enterprise resource planning software developed by the German company SAP SE. SAP ERP incorporates the key business functions of an organization. Business processes included in SAP ERP are operations (sales and distribution, materials management, production planning, logistics execution, and quality management), financials (financial accounting, management accounting, financial supply chain management), human capital management (training, payroll, e-recruiting) and corporate services (travel management, environment, health and safety).
Telecommunication System
A system to process invoices received from telecommunication operators and to generate reports.
https://www4.aucegypt.edu/Telecommunication/Telecom/
Undergraduate Students Grant
Eligible undergraduate students apply for one of the available grants and then the application goes through a complicated workflow before it is approved or rejected.
https://uresearchgrants.aucegypt.edu
Video Conferencing
Video conferencing is a communication tool allowing two or more locations to communicate with simultaneous two-way video and audio transmission, allowing for face-to-face interaction with sites virtually anywhere in the world. In short, it helps to bring people at different sites together in a virtual conference room to communicate as if they were sitting in the same room together. It also reduces travel costs and increases productivity.
Virtual Private Network (VPN)
Virtual private networks (VPN) is a networking tool that allows off-campus users to connect remotely to AUC internal resources and systems using a secure connection.
Voicemail
For increased availability on our IP telephony, the Unified Communications Unit provides the voicemail facility for all faculty and staff members of the AUC, with a customizable welcome message for both internal and external callers. Voicemail facility may be provided to individual extensions or as a single mailbox for a team or a department. Voicemail may be reached internally or externally from the comfort of your home.
Wired Network Services
Wired Network Services provides data network connections to AUC community through high-speed networks via physical cables and fiber connections.
Wireless Services
Outdoor wireless coverage is available in the outdoor area and parking lots. It provides 802.11 a/b/g wireless protocol. Access is granted for AUC community using their email credentials. Wireless access is provided to faculty, students and staff using AUC email credentials to access online resources. AUC- WLAN covers all University campuses, including AUC Tahrir Square Campus and outdoor spaces.