Consistently provides Arabic language learners with the most comprehensive and diversified Arabic language instruction
Programs in the ALI cater for a wide range of students with different needs and goals: Arabic language Intensive (ALIN), Arabic Language Intensive for Professionals and Diplomats (ALID), Arabic Language Intensive Summer (ALIS), the Center for Arabic Study Abroad (CASA@AUC) and Arabic Language Courses (ALNG).
More than 5,400 international students studied Arabic at AUC and pursued their study of Arabic at various levels. Many of its Alumni are highly accomplished professionals and diplomats who attest to the difference it has made to their lives.

The most highly qualified instructors, the majority of which have decades of Arabic teaching experience at all levels
ALI instructors hold an MA in TAFL, with a passion for teaching the Arabic language at all levels of proficiency
Top-notch instructors that are all dedicated to the ALI and the students; above and beyond the call of duty
Updated with the world's leading research in teaching methodology and developing world-class teaching materials
Excellent faculty to student ratio
Widely published in Arabic learning resources and textbooks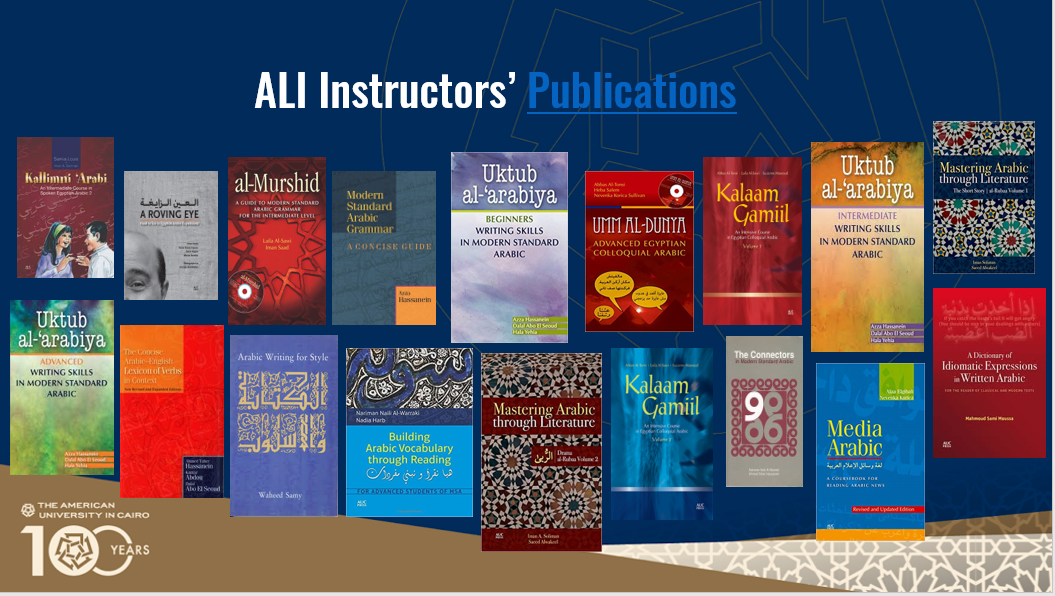 The ALI programs accommodate students at all levels of language proficiency and different programs tailor courses to address learners' specific purposes and learning styles.
Students are taught Arabic in an integrated, proficiency-approach. The courses offered are skill-based, focusing on reading, writing, speaking and listening, as well as content-based, using media, political texts, business and literature among other tools.

A rich integrated component of the program is its cultural dimension
The program includes tours and trips to major Pharaonic, Christian and Islamic monuments inside and outside of Cairo, as well as excursions to local archaeological sites and museums.
The visits supplement the coursework and are led by professional guides.
ALI subsidizes a large portion of the expenses of this component. The program also includes extracurricular activities including calligraphy, music, Quranic studies, community engagement and more.
Experience a real-world community engagement that can transform your life and your vision of the world around you.
Understand about Egyptian daily culture and society values and people.

More advantages for studying at the Department of Arabic Language Instruction
Transferable credit hours
Supportive learning environment
Learn Egyptian dialect your gateway to understanding Arabic movies and the most understood dialect across the Arabic speaking world
Excellent Student exchange and study abroad opportunities