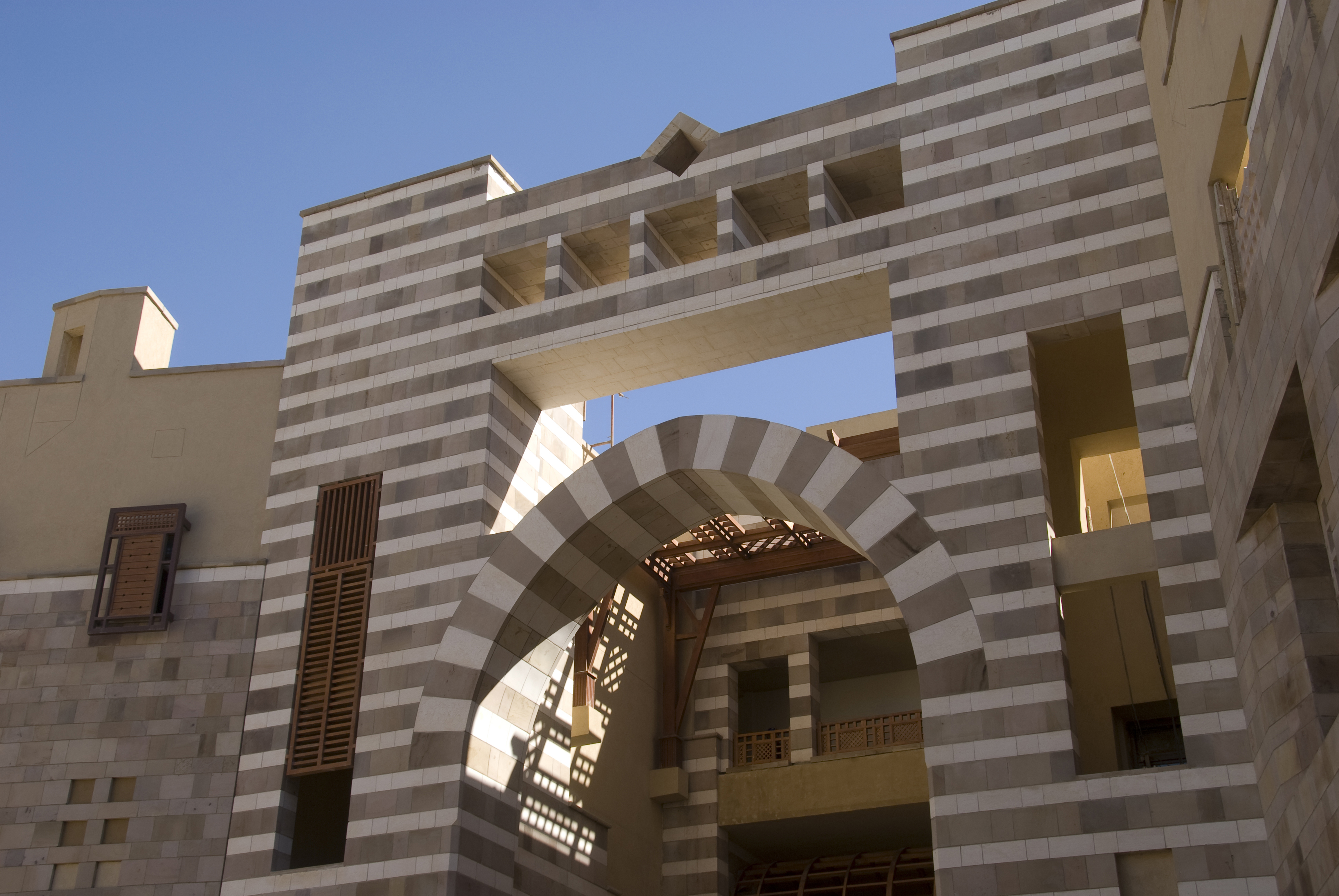 Background
AUC New Cairo was built using 24,000 tons of reinforcing steel, as well as 115,000 square meters of stone, marble, granite cladding and flooring. More than 7,000 workers worked two shifts on the construction site.
Background
Designed to accommodate 6,500+ full-time students and 2,500+ faculty and staff, AUC New Cairo is home to five schools, an active Campus Center, state-of-the-art research centers and one of the most impressive library collections in the region. The $400 million, 260-acre campus truly reflects a city built for learning with 136 smart classrooms, 200 state-of-the-art laboratories, welcoming auditoriums and open courtyards pulsating with fruitful academic debates, research in pursuit of critical discoveries and rich cultural exchange. The campus is technologically advanced, environmentally sensitive, and designed to be accessible to persons with disabilities.
Construction and Landscaping
AUC New Cairo was built using 24,000 tons of reinforcing steel, as well as 115,000 square meters of stone, marble, granite cladding and flooring. More than 7,000 workers worked two shifts on the construction site.
Sandstone for the walls of campus buildings is all from a single quarry in Kom Ombo, 50 kilometers north of Aswan. The stone arrived by truck in giant multi-ton blocks, which were cut and shaped for walls, arches and other uses at a stone-cutting plant built on the site. The walls were constructed according to energy management systems, which reduce campus air conditioning and heating energy use by at least 50 percent as compared to conventional construction methods. More than 75 percent of the stone in the Alumni Wall was recycled from stone that would otherwise have been discarded as waste after cutting.
A 1.6-kilometer service tunnel that runs beneath the central avenue along the spine of AUC's campus is a key element making its overall pedestrian nature possible. Services accessible via the tunnel include all deliveries and pickups from campus buildings, fiber optic and technology-related wiring, major electrical conduits and plumbing for hot water, domestic water and chilled water for air conditioning. All other pipes for sewage, natural gas, irrigation and fire fighting are buried on the campus, outside the tunnel, around buildings as needed for their purposes.
AUC's outdoor landscape demonstrates ecological leadership and best practices in design and operations. Native non-invasive species of vegetation are employed to minimize water usage for irrigation. Over 60 acres of vegetation exist on campus, with all trees and plants, except the date palms, propagated and grown at AUC's nurseries and research stations. The garden's harvested fruits and vegetables benefit the AUC community. One of the great benefits of the campus's green cover is the storage and sequestration of carbon dioxide from the atmosphere, reducing AUC's overall carbon footprint. Landscaping waste, such as pruned tree branches and grass cuttings, is composted to avoid carbon emissions, utilizing a mix of on-campus compost and a small amount of purchased synthetic fertilizer.
Green Campus
During the planning of the New Cairo Campus, the University chose to infuse the landscape with elements of the living environment, adding nearly 150 different species of plants – a mixture of international and native Egyptian – and more than 8,000 trees. The back then, AUC's Desert Development Center was involved in supplying and placing the plants to lay the foundation for the campus landscape with attention to the region's climate.
With environmental sensitivity and technological savvy as two of its core principles, the University built its energy management systems strategically into the campus structure, to reduce its overall energy usage. When AUC moved to New Cairo in 2008, sustainability and efficiency were prioritized in the design of the campus. The architects oriented openings from plazas, courtyards, and gateways between buildings toward the prevailing northeast winds, creating a considerable green buffer to mitigate heat and act as a filter during dust storms. This design reduces long-term energy and maintenance costs while contributing to the social design of open spaces. The campus features a hollow-square building design that maximizes natural light and air circulation in offices, classrooms, and labs. Solar shading is integrated into most buildings, using horizontal and vertical louvers to break the solar radiation and provide more shading, which helps reduce heat gain while providing adequate levels of passive natural daylight. Moreover, the cooling systems are powered by natural gas instead of electricity, improving their efficiency by relieving power stations of energy they would need to produce.
Since the inception of its new campus, AUC has distinguished itself as a prominent institution leading the sustainability movement in the Middle East. Since the founding of AUC in 1919, it has been a distinctly global University. While many of our sustainability efforts are internally focused, throughout all of our work, we maintain an outward, global outlook. Since the Office of Sustainability's establishment in 2011, the University is awarded through multiple international sustainability rating programs and global sustainability initiatives, For the sixth year, AUC has been named in The Princeton Review Guide to Green Colleges.The University is among 420 schools that were chosen for the guide based on an analysis of their institutional commitment to the environment and sustainability. It joins a school in Canada, one in Ecuador and one in Greece as the only non-U.S.-based colleges on the list.
Establishment of the Office of Sustainability
The Office of Sustainability at AUC was established in September 2011 to address environmental challenges, such as climate change, resource scarcity, pollution, and waste management. Its objective is to integrate environmental and social sustainability into the culture and structure of the University. By supporting programs in education, research, and operations, the office aims to reduce natural resource use and operating costs and instill a sustainability mindset within the AUC community. Additionally, it seeks to gain international recognition for AUC's sustainability achievements through its commitment to weaving sustainability into the University's culture, mission, and activities. To facilitate University-wide input, the Office of Sustainability engages various committees, including Energy Resource Conservation and Efficiency (ERCE), Water, Food, Plastic and Environmental and Social Management System (ESMS).
AUC tops Egypt, Africa in the 2021 UI GreenMetric World University Rankings for two years in a row, validating its continuous efforts to improve energy efficiency and implement sustainability initiatives on campus.