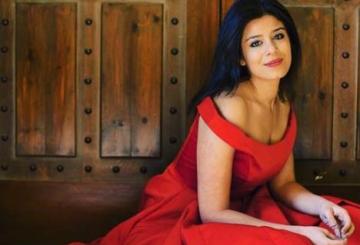 Dalia Farid holds a masters degree in musical theatre from the Royal Academy of Music in London as well as a bachelor's degree in Political Science from the American University in Cairo. Her performances include appearances in the Savonlinna Opera Festival in Finland and Cairo Opera House. Combining her musical and acting skills, Dalia's first opera was AUC's production of "Dido and Aneas", 2009, directed by her vocal coach Dr. Neveen Allouba. In 2013, she played the main role of Fantine in an Arabic version of "Les Miserables", adjusted to depict the Egyptian revolution. That year, she appeared as a guest soloist with the Egyptian Philharmonic Society at Cairo Opera House performing arias and musical theatre repertoire. She also performed in the "Old is Gold" concert series with the distinguished Bibliotheca Alexandrina Orchestra at the Alexandria Library and appeared as soloist in al Gomhoureya theatre.
At the Royal Academy of Music, she played "Meg March" and "Clarissa"in Little Women directed by Paul Warrick Griffen and choreographed by Drew McOnie. She also played "Alison Du Bois" and "Barbara" in Lady in the Dark directed by Matt Ryan. Dalia appeared as a soloist in cabarets including the World War I 100th anniversary cabaret and "Till the Clouds Roll by- a Jerome Kern Tribute" in the St James Theatre in London. She participated in master classes with opera instructors Tom Krause, Csilla Boross and Eija Tolpo as well as musical theatre gurus Andrew Lippa and Jeremy Sams.
In April 2015, Dalia made her national theatre debut on El Hanager Theatre, playing the main role of "Mary" in an original Arabic musical, "Badlat Al Barq Wal Saqeea", where she and Egyptian conductor George Kolta wrote the music. In September 2015, Dalia played the leading role of "Amal" in the Arabic Opera "Ayam w Layali al Shagara alQalb", performed by the exceptional blind girls orchestra, El Noor Wal Amal. In 2016, her mother Dr. Mona Zaki, leading Egyptian businesswoman and professor, founded "Soft Power Productions" to help support the arts in Egypt. In 2017, she choreographed and played the leading role of
the witch in the first Arabic rock musical ever written Leila by Ibrahim Maurice. Leila was a joint production between Soft Power Pro and the Egyptian Musical Theatre Company and it was the first musical to be performed in Egypt since the 1950s. Dalia's repertoire includes opera and musical theatre, jazz, pop, folk, French chanson and Arabic music. Her dream is to continue to be part of artistic endeavors all over the world and in particular to see a thriving musical theatre scene revived in Egypt. She is releasing a solo album soon.