Bartlett Linkage Initiative Announcements
Bartlett Linkage Initiative Announcements
Linkage Consultation with the Red Crescent

Linkage consultation session on mental health and gender with psychologists from the Red Crescent. The session aimed to present factor about gender and mental health and to listen to the psychologists' experiences concerning this issue.
Psychologists that attended all have worked and continue to work with people who face mental health challenges both in private clinics and in public hospitals. They shared their experiences and challenges with the gender aspect of mental health practices in Egypt. One of the most common themes is the idea that there is no syndicate for psychologists in Egypt, and that female psychologists are not taken seriously. Topics discussed during the session were the growing state-led services and the increase of hotlines and centers for psychological support. Also, how curriculums, medical training, and gender aspects were discussed during student training and learning years in universities.
Linkage Consultation with Counselling Graduate Students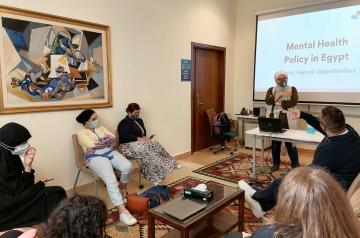 A session was organized with the graduate students of the Counselling Psychology program to discuss the development of the Egyptian mental health law and the recent amendments to it, as well as their professional experiences as counselors as they relate to gender and the accessibility of quality care services in the country.
The student-counselors for the most part worked at private clinics and shared their insight into the struggles that young female professionals face in order to be taken seriously in the field, as well as the difficulty in bridging gender societal gender divides that burden the therapeutic relationship. They also spoke at length about how the lack of official protocols or systemic support for their practice, along with the limitations and failures of existing resources to offer gender-responsive interventions hinder potential progress that can be made in the field while also risking more harm to patients who seek help. The session was incredibly informative as a stepping stone for further collaboration and engagement between mental health professionals at AUC and beyond, grounded in the contexts in which they practice. Most of the participants were not aware of the legislation around their field and expressed great concern over the future of their profession, and an eagerness to collaborate to find ways forward that promote access to safe quality services.
A Tale of Feminist Initiatives: Voices from all over Egypt Open Configuration Options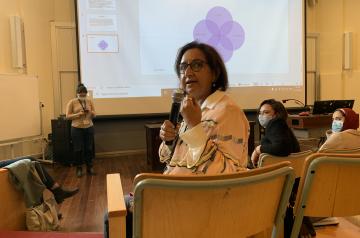 Linkage team attended the event 'Tomorrow Leaders: Gender Scholars Program' and presented the Linkage project to young feminists and founders of women's rights organizations and NGOs, such as Bent el Nile and Super Woman. The event was a stepping stone to present the Linkage initiative to these organizations as well as building communication to make policies, such as the mental health policy, more operational and gender-sensitive.