Healthy Aging in Egypt initiative aims to support Egypt's efforts in securing the welfare of Egypt's older population and their families and harnessing the potentials of its second demographic dividend through promoting and supporting evidence-based and responsive healthy aging policies. In particular, the initiative aims to secure the needed evidence-based studies and information regarding the needs as well as the capacities of older persons to fully engage in the society with the aim of guiding and informing these policies. It aims to open a dialogue between policymakers and civil societies actively working in the area of population aging and researchers and academics towards addressing and investigating older persons' and their families' well-being.
A Longitudinal Study of Egypt Healthy Aging Initiative (Al SEHA)
Al-SEHA is an Egyptian initiative aiming at supporting responsive healthy aging policies through conducting a prospective cohort research study of older persons in Egypt. It aims to monitor the life journey of adult persons with its various dimensions including health, access to health services, income, occupation, environment, and socioeconomic changes over a long period of time.
First Phase: Adapting Share to Egyptian Context (2021 -2022)
This phase is the Egyptian component of a regional initiative EM-age (expand) initiative that covers Egypt, Jordan and Lebanon, (Link to EM-AGE). This phase was implemented by the Social Research Center and the Institute of Global Health and Human Ecology of the American University in Cairo and was supported by the German Academic Exchange Services (DAAD) through the program (Hochschuldialog mit der islamischen Welt) and the Munich Center for the Economics of Aging (MEA) at the Max-Planck-Institute for Social Law and Social Policy, Survey of Health Ageing and Retirement in Europe: (SHARE).
The main objectives of this phase:
Enhancing the capacity for research and policy development concerning population aging in Egypt.

Encouraging Egypt to implement the SHARE Survey, which is an internationally well-acknowledged household survey for evidence-based advocacy and actions.

Developing a network of scholars engaged in ageing-related research and actions.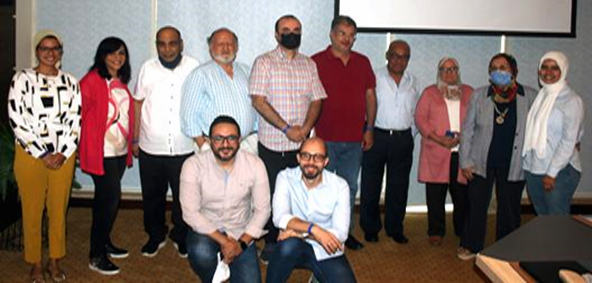 Team members of Al-SEHA study
The main activities of this phase:
Analytical output and publications
El Sayed AEHI, Said MT, Mohsen O, Abozied AM, Salama M. Falls and associated risk factors in a sample of old age population in the Egyptian community. Front Public Health. 2023 Jan 26;11:1068314. doi: 10.3389/fpubh.2023.1068314. PMID: 36778572; PMCID: PMC9909230.

Presentations by trainees in the capacity building workshops.
Second Phase: Piloting The Share in Two Communities in Egypt (2023 -2024)
This phase is a preparatory phase for launching a national representative Al-SEHA survey in Egypt. It focuses on the piloting the SHARE within the Egyptian context. The ultimate goal of this phase is to build the survey fieldwork and data management plans design, logistics and documents through applying the a in two communities in Egypt. The activities of this phase include:
Gaining Regional and National endorsements to health aging studies
This activity incorporated an international and regional expert meeting that aimed to investigate the regional demands to launch an initiative for an aging study modeled on the international and well-acclaimed SHARE experience. Such an experience provided a rich evidence base that successfully contributed to knowledge and influenced policies and actions (e.g. health care, health insurance, pension and social protection, etc.…) in more than 50 Countries in Europe, Asia, and the American Continent.
On February 6-7, 2022, under the auspices of the Egyptian Ministry of Health and Population (MOHP) and Ministry Of Planning and Economic Development (MPED), the meeting was organized, by the Institute of Global Health and Human Ecology(IGHHE) and the Social Research Center (SRC) of American University in Cairo, in collaboration and with support from the World Health Organization Eastern Mediterranean Regional Office (WHO/EMRO), the National Institute of Aging(NIA), the International Health and Retirement Study (HRS), the Harmonized Cognitive Assessment Protocol study (HCAP), the Survey of Health and Retirement in Europe (SHARE), and Global brain Health Institute (GBHI).
Guiding responsive policies for healthy aging in Egypt
This section focuses on assessing the responsiveness of current policies and actions to the well-being and needs of older persons and their families in Egypt.