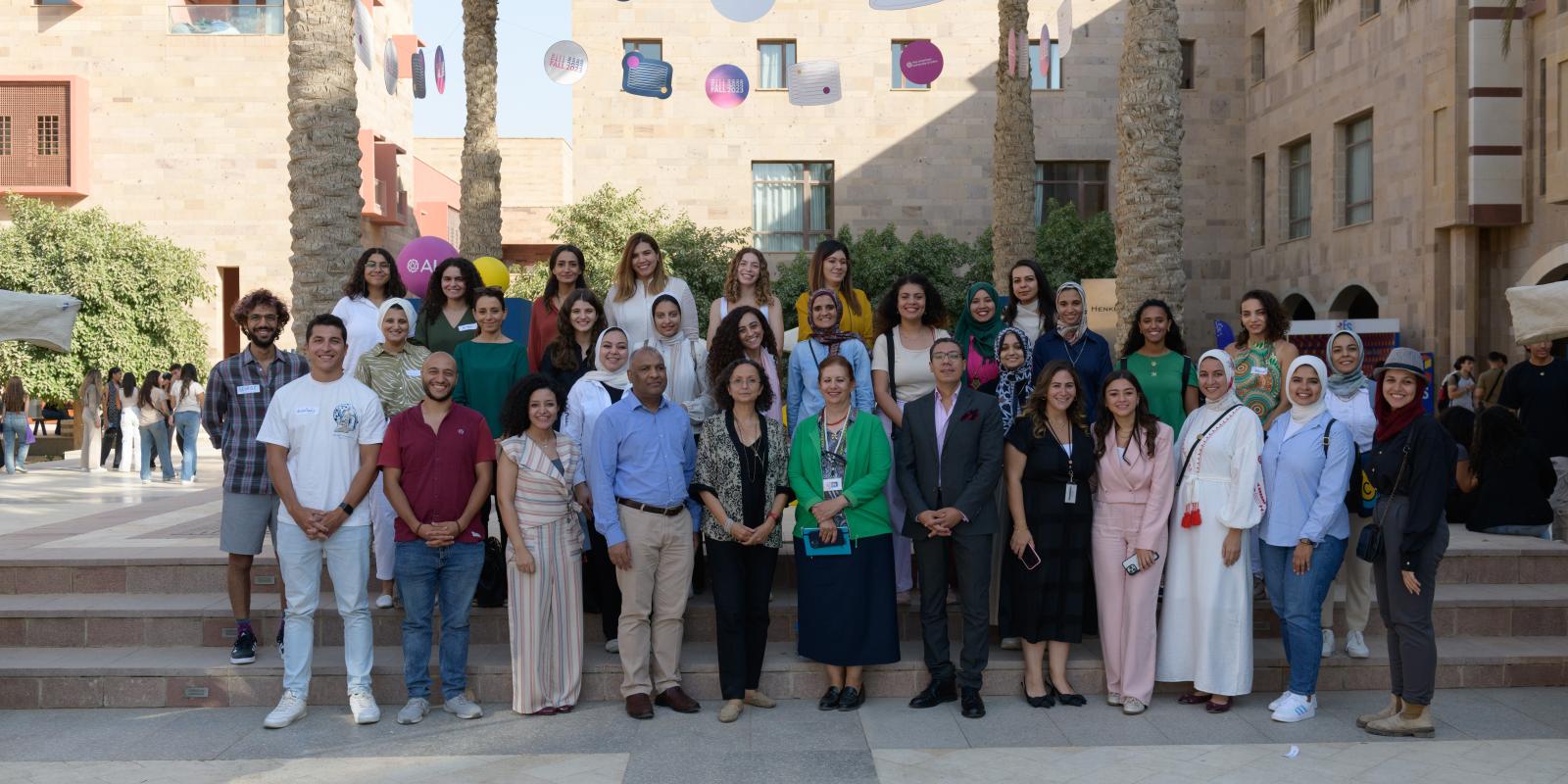 Yousef Jameel GAPP Public Leadership Program Welcomes A New Cohort
Yousef Jameel GAPP Public Leadership Program Welcomes A New Cohort
The Yousef Jameel Public Leadership Program welcomed its 12th cohort of scholars from across Egypt who will pursue a master's degree at AUC, in addition to studying abroad for a semester and working at public, private and nonprofit organizations.
Hailing from Cairo, Alexandria, Qena, Ismailia, Dakahlia, Assiut and North Sinai, the 29 scholars will pursue graduate studies at AUC in a variety of disciplines: public administration, public policy, global affairs, international and comparative law, journalism and mass communication, and Middle East studies. They will also gain professional experience by working with diverse entities such as the Central Bank of Egypt, Egyptian Council of State, Egyptian Red Crescent, Cisco Systems, Ashoka, United States Agency for International Development, Care International, United Nations High Commissioner for Refugees and GIZ.
Mina Ghaly, a pharmacist by education from Assiut who is currently pursuing a Master's of Public Administration, is thrilled to be part of the newest Yousef Jameel cohort. "The memory of receiving my fellowship award notification email jumped right into my happiness jar for 2023," he said. "!That, along with my first day at AUC, class discussions, rich diversity of classmates and professional connections –– these all gave me a sense of belonging. This is the right place for me. Thanks for this generous, empowering opportunity!"
Launched in 2012 and aiming at building the capacity of young, competent Egyptian nationals in the areas of public policy and public administration to prepare them for leadership roles in the country, the Yousef Jameel program has supported 277 fellows over 11 years by providing them with a fully funded fellowship. An average of 25 exceptional candidates receive a complete fellowship every year to pursue a master's degree in one of eight programs at the School of Global Affairs and Public Policy, producing a cadre of well-educated, competent graduates who will create a positive impact in their communities and beyond.
"Ever since the program started, I have been immensely enjoying my work with the Yousef Jameel fellows. They never fail to impress," said Laila El Baradei '83, '88, professor, director of the MPA program and faculty adviser for the Jameel fellowship. "It is very competitive, and we always manage to recruit fellows who are not only top academic achievers but also multi-talented, mission-driven and eager to serve their communities in more ways than one."
In addition to studying abroad for one semester, the Youssef Jameel fellows will also engage in different activities, such as local and international study trips to enhance their knowledge and awareness of diverse cultures and to witness best practices in the fields of public policy and administration in different countries. Earlier cohorts have traveled on study tours to Morocco, South Africa and, China.
In addition, Yousef Jameel fellows participate in networking events to meet other fellows and alumni who act as unofficial mentors and engage in thoughtful book, movie and roundtable discussions tackling an array of multifaceted topics.
Miral Omran '12, an economics AUC graduate from Ismailia, shares her enthusiasm. "I am very excited to start my Youssef Jameel fellowship journey because it is a chance to learn and dive into intellectual discussions with my professors and peers. I am also coming back to AUC with all it has to offer to its students and joining a community that I have been eager to be part of for years –– a community with a purpose."
Visit the Yousef Jameel GAPP Public Leadership Program webpage for more information. For the latest updates, follow the program on Facebook, Instagram and Linkedin.