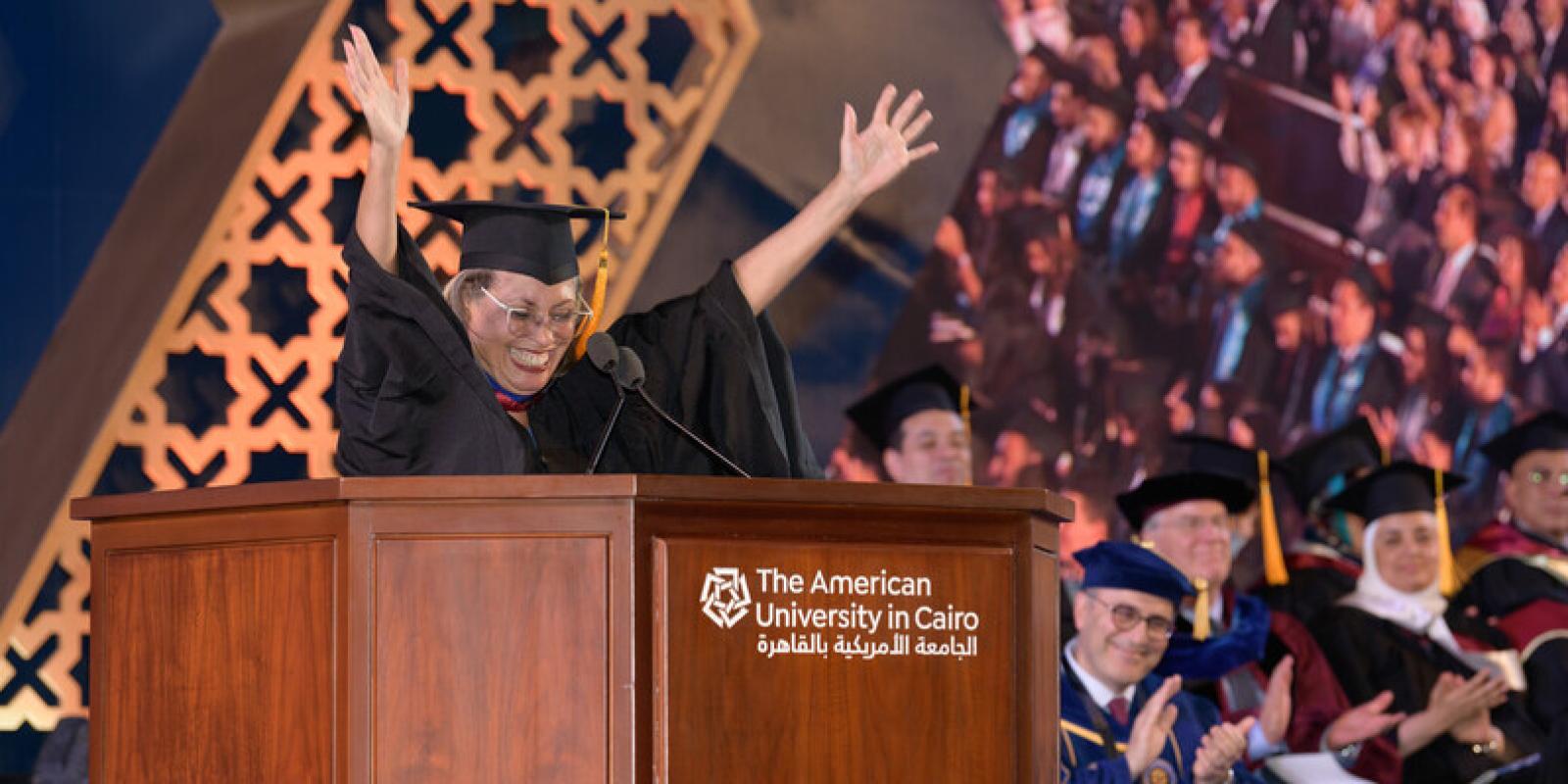 'We Used to Dance Around the Pyramids at Night': Eve Troutt Powell Reflects on Time at AUC, in Cairo
'We Used to Dance Around the Pyramids at Night': Eve Troutt Powell Reflects on Time at AUC, in Cairo
Eve Troutt Powell (CASA '84, '89, '05), the Christopher M. Browne Professor of History and Africana Studies at the University of Pennsylvania, delivered the keynote speech at AUC's undergraduate commencement ceremony on June 22. Read her bio here.
Having been a presidential intern at the University and a student of AUC's Center for Arabic Study Abroad in the 1980s, News@AUC asked Troutt Powell about her experiences at AUC and beyond.
What does it mean for you to return to AUC as the keynote speaker in the Spring 2022 Commencement?
When I was first invited to be the commencement speaker, I found a quiet place to cry. This is such an honor for me –– to speak at the University that completely changed my life and to which I owe so much. I met my husband during my first year at AUC as a presidential intern. I have made other lifelong friends from here because of our mutual connections to AUC, and I am hoping to be able to help cement an exchange program from which Penn students can also come and have their sense of the world completely reoriented.
What originally sparked your interest in Egypt and the region?
I knew nothing about Egypt or the region until I arrived here 39 years ago in 1983. The rhythm and excitement of Cairo in particular, as well as the signs that I then could not read, made me eager to learn more. I'm still eager.
What are the distinct highlights of the year you spent at the University as a presidential intern?
The biggest highlight for me of that beautiful year was that after a few months of adjusting to this city that is three times larger than my hometown of New York City, I fell in love with Cairo and my future husband at the same time. We used to dance around the pyramids at night/ That was so special.
What are your favorite memories from your time at AUC?
The incredible tours of Cairo and Egypt led by AUC, sitting in the garden of the old campus relaxing and working as a very junior editor at AUC Press with Mark Linz. I met Anne Kerr that year, after she lost her husband in Beirut, and I've never forgotten her grace amid her sorrow.
How did that year at AUC change your outlook and career path?
That year in AUC changed my life completely. I still wasn't sure of what to do with my life, but I knew that whatever I chose had to get me back to Cairo on a regular basis. And it has.
You also studied at AUC's Center for Arabic Study Abroad. What's the significance of that experience for you?
I did a full year in CASA, from the summer of 1988 until the late spring of 1989. I had thought that Middlebury's summer school in Arabic was intense, but CASA was differently so because the city became a lesson and language practice. I was able to achieve what had mystified me five years earlier – reading, writing, listening and communicating in Arabic.
You were awarded the prestigious MacArthur Genius Grant in 2003 for your research on Egypt and the Middle East. Tell us more about that research and how you felt about winning the award.
For decades now, my research has focused on the issues of colonialism and nationalism within Egypt and the constructions of race as a legacy of slavery in Egypt and the late Ottoman Empire. I have written about the narratives of enslavement in the Nile Valley as well. Now I am working on a project that is taking as long as the pyramids to build – the history of the visual culture of slavery in the Middle East.
I was honored to win the MacArthur Fellowship Award in 2003 for my first book: A Different Shade of Colonialism: Egypt, Great Britain and the Mastery of the Sudan. This book explored the unique position of Egypt in the years between 1881-1885, when the country experienced its own nationalist rebellion – the Urabi Rebellion of 1881 – and was then itself colonized by the British in 1882. Three years after that, the Mahdi rebellion arose in northern Sudan and achieved independence from Egypt. I looked at how two generations of Nahda intellectuals wrote plays, satires, newspaper articles and novels about losing this colony and being eager to get it back while simultaneously being colonized.
Several of your books are focused on Egypt. How long have you been researching the country, and what interests you the most about it?
All of my books focus on Egypt. I have been conducting research here since the early 1990s. I have always been fascinated by the role that Sudan and Sudanese people have played in the forging of Egyptian nationalism. These are roles that can be documented through their representation in Egyptian literature, cinema, art and music. And in the lived experience of many Sudanese workers and refugees, particularly in the years between the late 1980s to today.
What interests you in your current role?
I work in two departments at the University of Pennsylvania, in history and in Africana studies. In these two departments, I am best able to explore the history of slavery in Africa and the Middle East and the significant legacies those slave trades and practices have borne on ideas of race and blackness.
You taught for 10 years at the University of Georgia and now teach at Penn. As a university professor, what do you want students to get out of their educational experience?
I have now been a professor for 26 years, and I hope over that time that my teaching has matured, now that I am old enough to be my students' mother. I try to teach, through cultural history, how to imagine narrative lives that were so different from my life, or my students'. Somewhere in these narratives, there is always a human link – of joy, sorry and love – that can make us see in each other our true humanity.