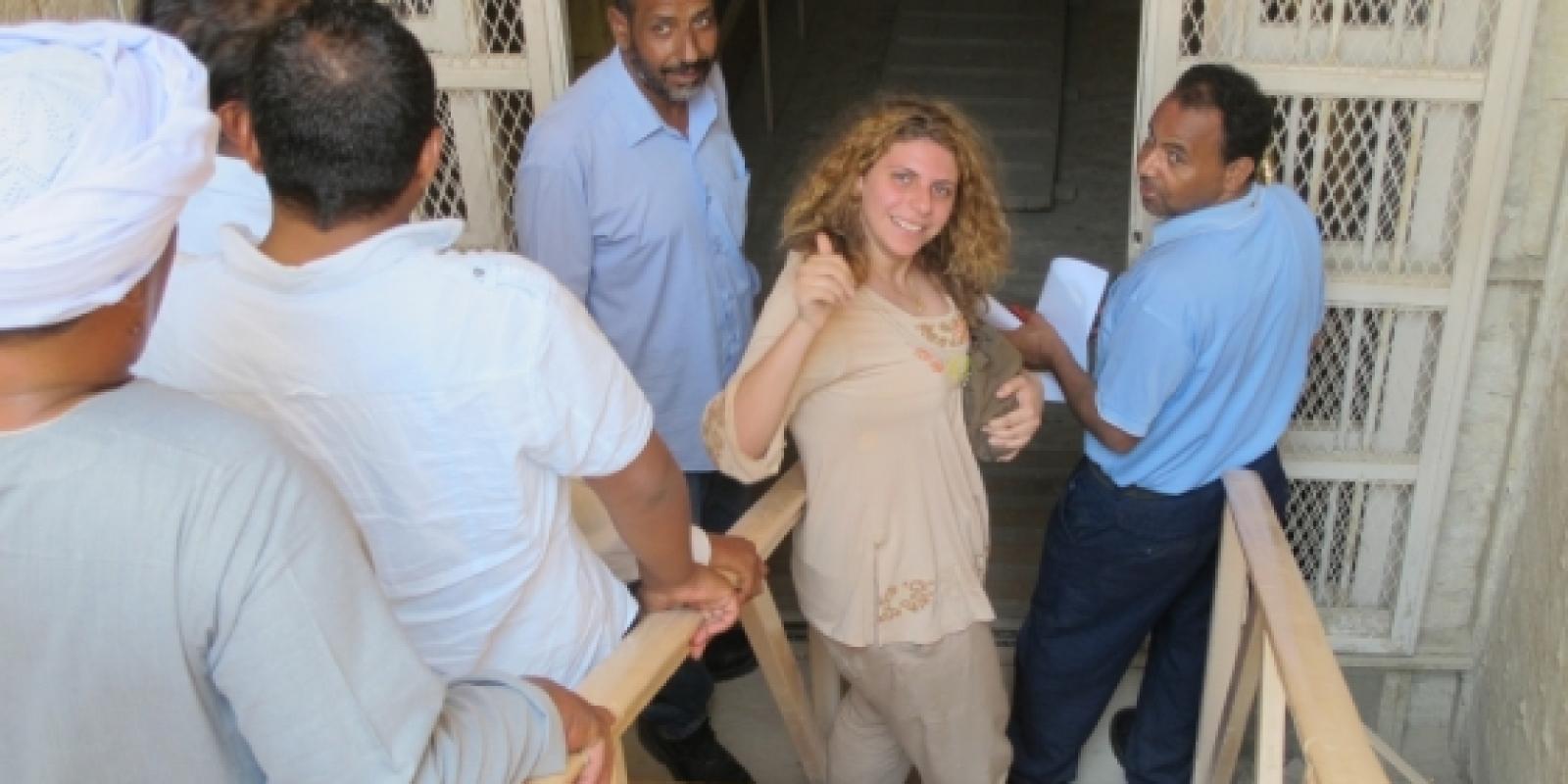 Alum Trains Locals in Luxor on Digital Preservation Technologies
Alum Trains Locals in Luxor on Digital Preservation Technologies
Alumna Aliaa Ismail '14 has spent the last year training local operators in advanced recording technologies as part of the Theban Necropolis Preservation Initiative, which aims to preserve the tombs of the Theban Necropolis by utilizing new digital technologies and creating exact facsimiles of many different tombs.
"The aim of this project is to allow the local community in Luxor to appreciate and protect their heritage," said Ismail, who is currently serving as director of the Stoppeleare House in Luxor, a hub for archeological preservation efforts in Upper Egypt. "Through this project, we will train the local community in different ways to document their heritage. Creating a close relation between the local community and their heritage is the foundation on which this ambitious project was established."
A core component of this initiative is empowering local community members in the field of Egyptology by training them to use a variety of digital preservation and documentation technologies. Funded by the Factum Foundation for Digital Technology, the newly restored Stoppeleare House will serve as a home for this training program. The project is currently focusing on documenting the tomb of Seti I.
Ismail has already trained three local operators--from a variety of backgrounds--in different recording technologies, such as 3d scanning, and plans to train more operators.
While Ismail is now an expert in her field, she attested much of this success to her time at AUC. "Studying two different majors at AUC, architecture engineering and Egyptology, gave me a unique perspective," she noted. "Architecture taught me many skills, the most important of which is the ability to acquire any skill. As for Egyptology, it gave me a different point of view about the world; thinking about your past helps enrich your understanding and appreciation of the present, which translates into building the future. Egyptology has taught me to see the world through all possibilities and to be an intellectual individual. I would recommend that everyone takes an Egyptology course before graduating."
Moreover, she emphasized how AUC's strong focus on extracurricular activities further shaped her career path. "My university experience was a great one because I was also a member of many clubs that gave me an idea on how to run an organization and how things work. It's a much simpler model for real life, for the actual thing that I'm doing now."
"Egyptology might seem like an impractical major, but it can lead to all types of interesting opportunities that put students at the cutting edge of technology and heritage," said Salima Ikram, distinguished university professor and Egyptology unit head in the Department of Sociology, Anthropology, Psychology and Egyptology. "The bachelor's degree in Egyptology at AUC has allowed Aliaa Ismail to have the necessary skills to work in some of the greatest monuments in Egypt, record them, preserve them and share them with the world."