Rana el Kaliouby '98, 00: AI Pioneer Works to Humanize Technology, Reflects on Time at AUC
Rana el Kaliouby '98, 00: AI Pioneer Works to Humanize Technology, Reflects on Time at AUC
"At AUC, I discovered my passion for human-machine interaction, and the phenomenal classes I took in computer science set me up to be a leader in artificial intelligence," said Rana el Kaliouby, '98, '00, AUC trustee and CEO and co-founder of Affectiva, the global leader in emotion AI. El Kaliouby is also author of the forthcoming book, Girl Decoded.
Speaking on "AI: Humanizing Technology" as part of AUC's Centennial Nights, el Kaliouby began her talk by reflecting on the time when she first stepped foot on AUC's campus in 1993 as a 15-year-old freshman. As a computer science major, she recalled how her typical day was to attend classes until around 6 pm and spend all-nighters at the labs to get her work and projects done. However, to her, AUC was also the place where "day in and day out, [she] was inspired by the vibrant community" and where she found "her tribe" — students, faculty and staff — many of whom were there during her talk and "continue to be [her] closest friends."
"I wore many hats at AUC," el Kaliouby added. "I was an undergraduate and master's student, and my first job ever was an assistant analyst in Academic Computing Services. I was also a faculty member for a semester, and my relationship with AUC continues as I serve as a trustee. I am forever an ambassador of AUC and an avid supporter of this community."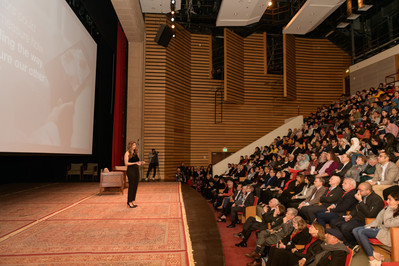 El Kaliouby's education at AUC was not only restricted to her computer science classes. Like all undergraduates, she had to take Core Curriculum courses, such as Scientific Thinking and Philosophic Thinking, and electives that comprised everything from economics to psychology. "What strikes me as truly phenomenal about AUC is its liberal arts education," she added. Back then, like many other students, she actually considered it to be a "colossal waste of time," and she wanted to concentrate more on her computer science courses.
"In hindsight, I was so wrong because in this day and age, we need diversity of thinking and diversity of thought, especially as we consider ethics in technology and as we design, develop and deploy artificial intelligence," said el Kaliouby. ""These early ideas that I learned at AUC continue to influence my thinking as a thought leader in AI. If we just let computer scientists sit in a room and design the technology of the future, I worry that we don't realize its full potential, and even worse, introduce all kinds of biases into these technologies."
El Kaliouby graduated top of her class and received the President's Cup from AUC. She then earned her PhD from the University of Cambridge. "AUC plays this unique role as the bridge between the Middle East and the West," she said. "For me, it was like a portal into the global world."
How It All Started
During her postgraduate studies at Cambridge away from her family, el Kaliouby spent more time with her laptop than she did with any other human being, which made her realize that this computer was "completely oblivious" to her emotional state. "There were days when I was really down and really homesick, and this machine had absolutely no clue despite the amount of time we were spending together. It was also the main portal of communication with my family back home. ... I realized that this computer, or digital communication, was sucking all the nuances of nonverbal communication, and I just felt there is a disconnect. There is the illusion of being connected, but you're not really connected."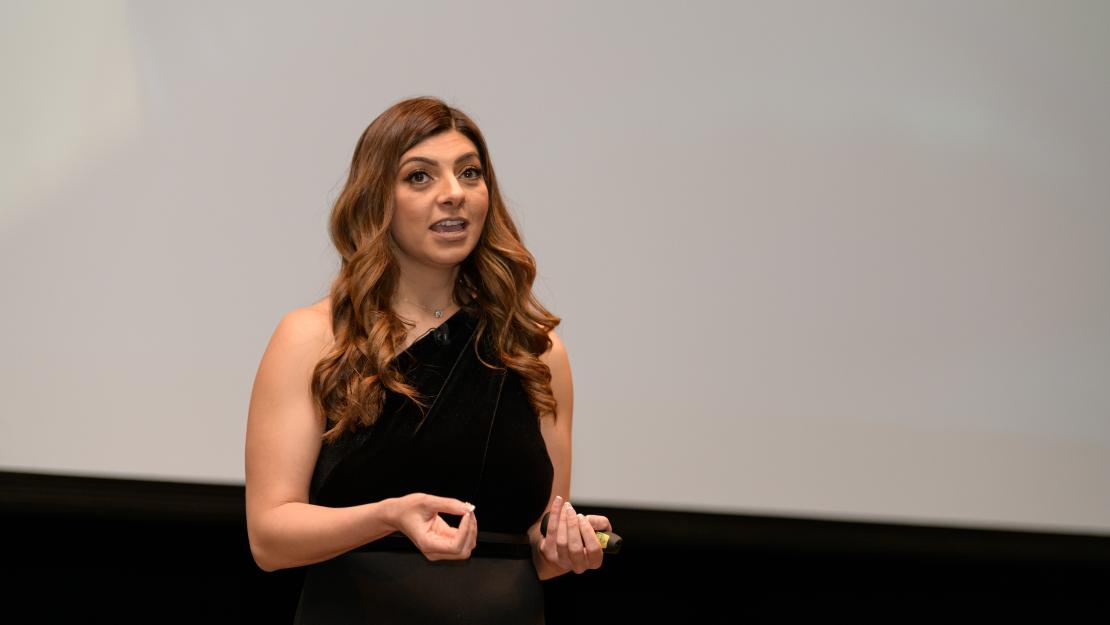 That was the spark that made her wonder if machines, or technology, could ever understand humans the way we do or tell the difference between a smile and a smirk. "Both involve the lower half of the face, but have very different meanings," el Kaliouby said. "Once again, my AUC education kicked in."
"As it turns out, only 10% of how we communicate is an actual choice of words that we use; 90% is nonverbal: facial expressions, gestures, vocal intonations," el Kaliouby noted. "So I used machine learning and computer vision, which I had learned about at AUC, to build the first-ever machine that can translate our facial movements into facial expression codes and then emotional inferences."
El Kaliouby then joined the MIT Media Lab as a postdoctoral fellow and was on track to becoming a faculty member there. But being at MIT made el Kaliouby and her team connected to Fortune 500 companies, who expressed a lot of interest in commercializing the technology. In a couple of years, el Kaliouby co-founded Affectiva, which began as a spinoff of the MIT Media Lab. Headquartered in Boston, Affectiva is now the global leader in emotion AI, particularly the ethical development of AI. "At Affectiva, we deploy things like machine learning, computer vision, tech learning and voice analytics to try to map out how people communicate with one another," el Kaliouby said. "Affectiva is now 100 people strong. We have an amazing team and office in Cairo, several of whom are AUC alumni, so we continue to attract and invest in the AUC community."
The Applications
But what are the practical applications of emotion AI?
"The applications are endless," el Kaliouby noted. One area is the automotive industry: improving road safety by detecting when drivers are falling asleep or getting distracted, what the general sentiment of other passengers in the vehicle are and how to personalize the riding experience for utmost safety and comfort. Other areas of application are autism, health care and mental health.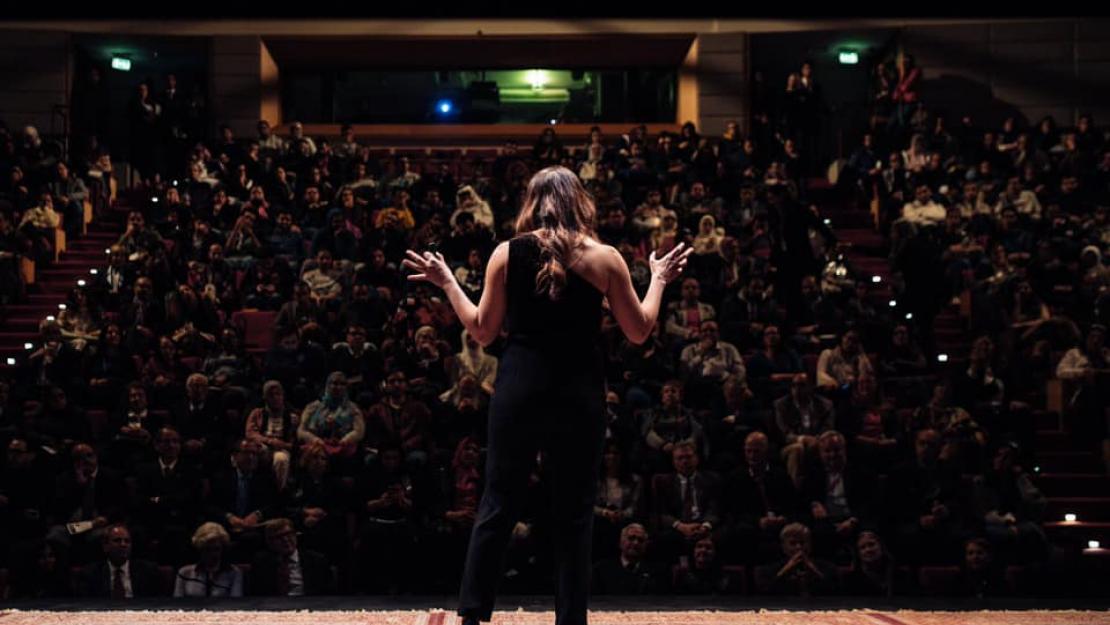 "If you walk into a doctor's office today, they won't ask you about your temperate or blood temperature; they'll just measure them. But in mental health, ... they ask people on a scale of 1 to 10, how much pain are you in? How depressed are you? How suicidal are you? And we know that this data is not objective. We can do much better. So I am very excited about the applications of emotion AI to mental health."
"Our mission is to humanize technology before it dehumanizes us," el Kaliouby affirmed. "AI is becoming engrained in every aspect of our lives — how we connect with one another, how we communicate, how we do business. AI is taking on roles that were traditionally held by humans. It's acting as your personal assistant, helping you hire your next co-worker, making business decisions for you, driving your car and even assisting with your health care. But as we enter this universe of AI, I believe we need to really focus on trust. We need to trust these technologies as they act on our behalf. We also need these technologies to trust in humans. It's a two-way street. We need to define and forge a new partnership between humans and machines, a new social contract. ... Emotional intelligence is just as important as your cognitive intelligence, or IQ. People with higher IQs tend to do better in life: They're more likable, more persuasive, more successful generally as leaders and in their personal lives — and I believe that is true for technology that needs to interface with humans on a daily basis. It needs to have IQ, but also a lot of EQ as well."
The Challenges
The talk was moderated by Abdelhameed Sharara, founder and CEO of RiseUp Summit, who asked el Kaliouby about the challenges she faced as a female entrepreneur, away from the glamorous side that people always see. "As an undergraduate at AUC, ... I think our classes were balanced, and I really enjoyed being an undergraduate here. It's only when I got to Cambridge [that I realized] there were about 100 PhD students at the time — five of whom were females. That's when I started to think, ... 'Maybe I am different.'"
El Kaliouby recalled one of the first major challenges she faced when pitching her company with co-founder Rosalind Picard to investors in a male-dominated environment. "Here we were, two women, both scientists with zero business experience pitching an emotion company. That didn't go very well. It took a lot of trials to find our initial serious investment, and it's been a journey for me to find my voice and embrace it."
When asked by Sharara about what motivates her to persist through these challenges, el Kaliouby said, "I am passionate about what I do. I see good in it, and that's what drives me."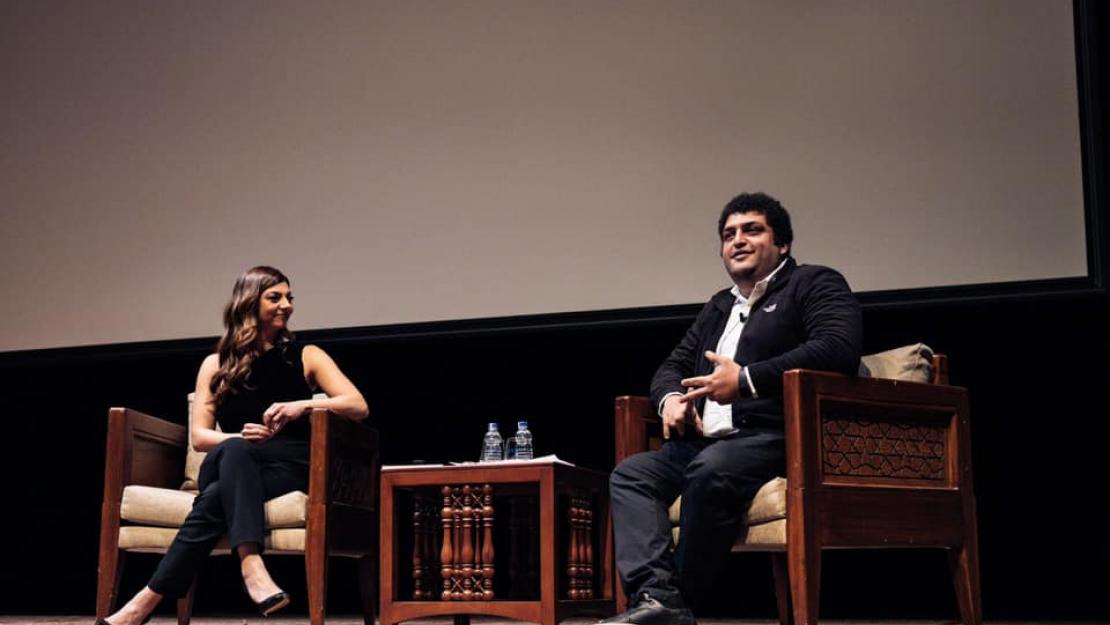 Words of Gratitude
El Kaliouby gave credit to some of her professors at AUC who have influenced her life and to whom she's "forever indebted." They include Amr El-Kadi, professor of computer systems engineering, and Amr Goneid, professor of computer science — who both "inspired [el Kaliouby] to pursue a career in research;" Ashraf El Fiqi, associate professor of physics, "who made physics both fun and fascinating;" and Hoda Hosny, who was the only female faculty member in the computer science department at the time and who "made computer science accessible and quickly became [el Kaliouby's] mentor and role model."
"I wanted to be just like her," el Kaliouby reflected. "She was my #goals, really, and she made me realize the true power of a mentor who believes in you and a role model that you could resonate with."
Paying it forward, el Kaliouby supports young entrepreneurs, especially young women who are interested in pursuing a career in technology and entrepreneurship. "I am especially excited about AUC's internationalization program and about bringing more international students and faculty to AUC's campus and vice versa. ... This cross-combination is really magical, and it's this diversity of thought that drives innovation."
El Kaliouby also expressed her excitement about AUC's investment in entrepreneurship through its new innovation platform, experiential learning and the AUC Venture Lab. "For me, this kind of hands-on experience was really powerful as an undergraduate and helped me set off for success as a leader," she said.
Looking to the future, el Kaliouby noted, "As I look ahead to the next 100 years, I am very excited about the future. I am excited about AUC's role as a liberal arts school and driving this human-centric approach to technology — not just changing the way we interface with our devices but, more importantly, how we connect and communicate with one another. ... AI, if done right, can bring people together and ... democratize access to education in ways that we can't even imagine. I am privileged to be part of this community. AUC has made me the person I am today, but I recognize that not everyone has this opportunity, so I want to see more underprivileged people have access to this education through technology and AI. Let's humanize technology before it dehumanizes us. Let's 'Be the Future. AUC, mabrouk 100 years and looking forward to the next 100."