Mark Turnage: 'I Completely Fell in Love with AUC, Egypt'
Mark Turnage: 'I Completely Fell in Love with AUC, Egypt'
"I am privileged to be chair of the Board of Trustees because it continues my ability to stay engaged with the region and, frankly, to pay back. AUC and the region have given so much to me over the years, and I am honored to be able to try and pay some of that back," said Mark Turnage (ALU '82), CEO of DarkOwl and chair of AUC's Board of Trustees.
Having been away from Egypt for more than a year due to the COVID-19 pandemic, Turnage said during his recent visit that it was "lovely to be back on campus and in Cairo." As the newly elected board chair, he shared his strategic vision for AUC and recounted some of his fond memories as a study-abroad student at the University more than 40 years ago. 
"I came to AUC in 1980 as a junior-abroad student. To be honest, I completely fell in love with AUC and Egypt. I had a wonderful experience," recalled Turnage. "At that time, the campus was on Tahrir Square, and I lived just down Kasr El Aini Street and walked to the University every day. I loved AUC, loved studying Arabic, loved meeting people and loved traveling around Egypt. At the end of my first year, I called my university in the United States and said that I'm not coming back and am staying for a second year to study Arabic. I ended up staying three years."
And Turnage returned to AUC again –– this time as a trustee in 2016. Turnage has served as vice chair of the Board of Trustees, alongside David Tirrell, provost and professor of chemistry and chemical engineering at the California Institute of Technology, for the past year before being elected chair last spring. 
Now at the helm, Turnage has a number of strategic priorities to focus on. First and foremost is the election of AUC's 13thpresident. "My short-term priority is to complete the search for the replacement of President Francis Ricciardone, who is retiring and returning to the United States, and to put in place a transition to a new presidency," Turnage said. 
As board chair, he plans to continue to build on the strengths that AUC acquired during its first 100 years in Egypt. "We have a lot to build on: a beautiful campus, fantastic faculty and a great student body. We want to maintain and grow our pre-eminent position in Egypt and the region," he said. "We face a lot of new competition, and we welcome that. Egypt needs more higher education [institutions] for a growing population, and it's a real tribute that it is able to attract new universities. Competition makes us better."
In the medium term, the board is working with the administration, faculty and students to deliberate on AUC's role in the next 100 years –– not only in Egypt but in the region and the entire continent. "We are both in the Arab Middle East and in Africa, so we should look south and think about what our role should be in those areas. We need to have a strategic conversation taking place over the next several years about where to position AUC –– not just for five or 10 years but for the next century," Turnage affirmed. 
But what does the Board of Trustees do for the University? 
"The Board of Trustees has a number of primary responsibilities; however, it's not to run the University day to day –– that is the job of the president, provost, faculty and staff," explained Turnage. 
The board's primary role is to guarantee the long-term financial stability and sustainability of the University going forward. "We must keep an eye on that 15-year, 25-year or 50-year horizon –– to ensure that we are here [now] and financially stable enough to be here in that time frame," Turnage said, emphasizing that as board chair, he is building on what his predecessors have achieved. 
"I stand on the shoulders of other board chairs who have come before me, some of whom I know and some of whom I have never met, and a lot of work by boards of 20, 30 and 50 years ago who were thinking about the long-term future of the University," he said. "They undertook initiatives, raised money and made sure that the University was financially stable so that I can have this conversation today. I am hoping that 50 years from now, my successors will be interviewed, and they will recognize the fact that we are working to guarantee AUC's long-term financial stability."
Another role of the board is to ensure that the academic mission of the University is appropriately given resources to achieve its goals. "We need to make sure that the faculty and administration have the resources to be able to implement the mission of delivering a liberal arts education," he said. 
The third role is to work with the administration and faculty on developing a strategic vision for AUC. "For example, do we need new majors? Additional labs? Equipment we don't have today? Should we enlarge the student body? Add more faculty? With the advent of new technology, are there things we should be teaching that we're not teaching today?" Turnage questioned. "Those are all part of a strategic conversation, and the board is necessarily involved in those because we ultimately need to make sure that the University has the resources to be able to deliver against those." 
For Turnage, what drew him to AUC four decades ago is the same as what continues to draw him today –– its distinctiveness as a higher education liberal arts institution in Egypt and in Cairo. "There's a lot that is unique about AUC that I truly love. I can't name one thing," he said. "For the past century, Egypt itself has undergone many profound transitions, and through that period, we've continued to be able to deliver on our mission. That's completely unique. We're different from Harvard, Yale and other universities that have delivered an educational mission over the last 100 years. We've done so in Cairo, and we should be proud of that and think about how to continue to do that going forward."  
A melting pot –– That's how Turnage described another unique aspect of the University.  "Because we're AUC, we attract a wide variety of students from different parts of Egyptian society. I can walk around the campus and talk to people from Cairo, Assiut, Alexandria, Suez; they come from all over. I love the fact we're a melting pot of different parts of Egyptian society coming to one place, all to achieve a common goal of getting an education at AUC. I love the fact that there are international students on campus from all over the world –– the Middle East, Africa, Asia and the United States –– one of whom was me 40 years ago when I first came to AUC. I came here to experience that melting pot, and it was a wonderful experience for me to make friends and professional acquaintances –– many of whom [continue that relationship] today. I met them at AUC."

And these treasured days carry unforgettable memories. 
"My favorite memories at AUC are, first of all, the people: the professors I had, the students I met –– many of them are still close friends of mine," recalled Turnage. "My second fondest memory is just Egyptian society as a whole. It's a wonderful, welcoming society. I still feel welcome when I come back, and I love it. I just love it. My third memory is traveling. I was lucky to have the resources to travel all over Egypt. I went to Upper Egypt, the oases in the Western Desert, up and down the Red Sea and Sinai. And to this day, I still like to travel around Egypt. I have really fond memories of that." 
One fond memory of his time at AUC that sticks out to Turnage is when he lobbied for international student representation in the Student Government during his first year as a junior-abroad student. "At the time, the Student Government didn't allow any junior-abroad students to sit in the Student Government, so we lobbied during election time to allow for one [international] student [to have a seat in the Student Government]. I think we were unsuccessful, but the Caravan wrote about us. It's an interesting recount of the fact that we tried to get politically involved in the Student Government while we were here and interacted with the administration, faculty and students to secure representation for American students."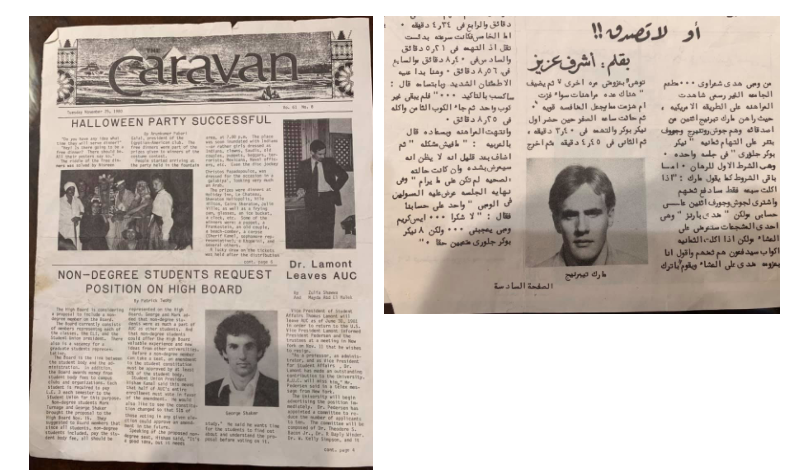 On a professional level, AUC helped establish Turnage's long-term relations with the region. "My time at AUC influenced me profoundly because I spent a good part of my career doing business in the Middle East as a result of that," he said. "I loved to come [to Egypt and the Middle East], to engage and travel in the region. My current company still does business in the region. So AUC introduced me to Egypt and the broader Arab world and really provided a basis for me to want to continue to engage in the Middle East –– and I have stayed involved in the region since."