"I'd Like to Stay for Longer" — George Washington University Students Reflect on their Time at AUC
"I'd Like to Stay for Longer" — George Washington University Students Reflect on their Time at AUC
Working toward its goal of internationalization and fulfilling its mission as a global University not just for Egypt, but for the rest of the world, AUC hosted 20 students from the George Washington (GW) University in Washington, D.C. for the Faculty-Led Program in an effort to expose American students to the University and to Egypt. 
Check out other international student visits to AUC by DePauw University, Westmont College and Sciences Po. 
Over the course of two weeks, both AUC and GW students took the course, State and Society in Modern Egypt, co-taught by AUC Trustee Nathan Brown (CASA '84), professor of political science and international affairs at GW, and Nesrine Badawi, assistant professor in the Department of Political Science. The course focuses on state institutions in Egypt and their engagement with Egyptian society, with a special focus on religious and legal institutions. In looking at Egyptian legal institutions, the course examines the role played by those institutions in shaping and reflecting existing social structures. 
"The program is designed for American and Egyptian students interested in Egypt," said AUC Trustee Nathan Brown (CASA '84), professor of political science and international affairs at the George Washington University, who co-taught the course with Nesrine Badawi, assistant professor of public and international law at AUC's Department of Political Science. "Both AUC and GW are internationally oriented universities. It is critically important for AUC to serve as a bridge between Egypt on the one hand and the region and the world on the other. This is also an opportunity to meet a large pent-up demand from GW students to come to Egypt." 
Brown added that one of the unique aspects of the program are the "real opportunities for interaction between AUC and GW students, where they have an opportunity to go off campus and see some important Egyptian institutions —  they learn not just by reading books or being in a classroom, but by actually talking to people from these institutions." 
GW is the largest higher education institution in Washington, D.C. Located in the heart of the capital, it is just blocks away from the U.S. Department of State and hosts the International Monetary Fund and World Bank on campus. Home to the Elliott School of International Affairs, one of the highest ranking schools in the world, it is known for attracting students interested in international relations.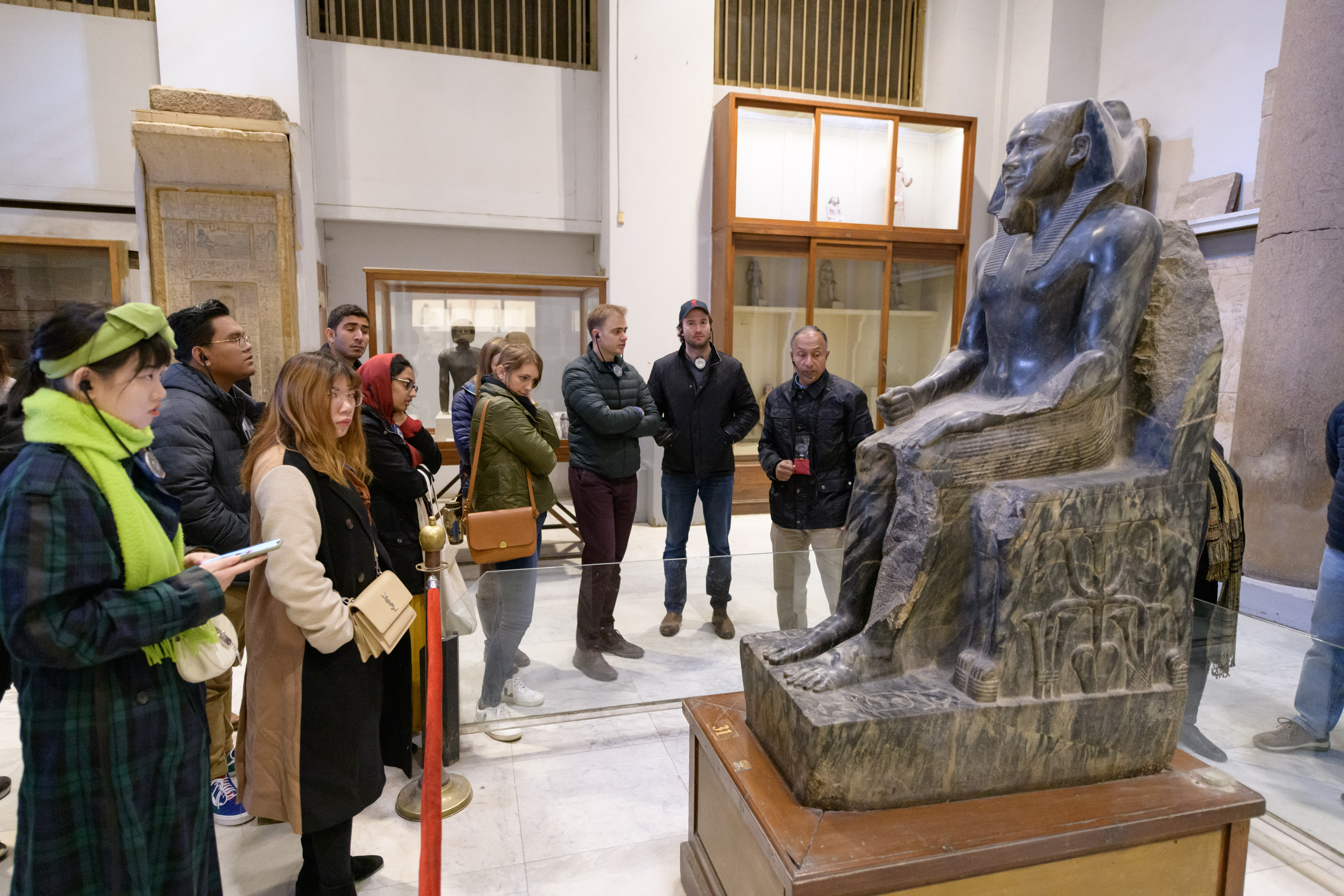 "I believe that the course, as structured, provided a unique community-based learning opportunity for our students, in addition to the cultural interaction with international students," Badawi said. "Collectively as a group, they got the chance to visit many Egyptian institutions and collectively reflect on how those institutions worked — each building on their knowledge of how state institutions worked in their respective countries." 
Badawi added that while the experience was intense, it was also "fulfilling, where students from both institutions have more than lived up to the demands of this condensed course."
During their visits to the different institutions, the students were able to speak with people who work there in order to gain a thorough understanding of how each place operates.
"We did the Supreme Constitutional Court, and tomorrow we're doing Al-Azhar, Parliament, then all the mosques, synagogues and churches," said Yael Sternberg, a junior studying international affairs and conflict resolution at GW. "It's been really interesting. I had no background on Egypt other than reading the news or ancient Egyptian history, but I've been able to pick up on social nuances, the political patterns and the ideas of the structures easily. Doctor Nesrine is an amazing professor; I wish we had her at GW. I've learned much more than I thought I would."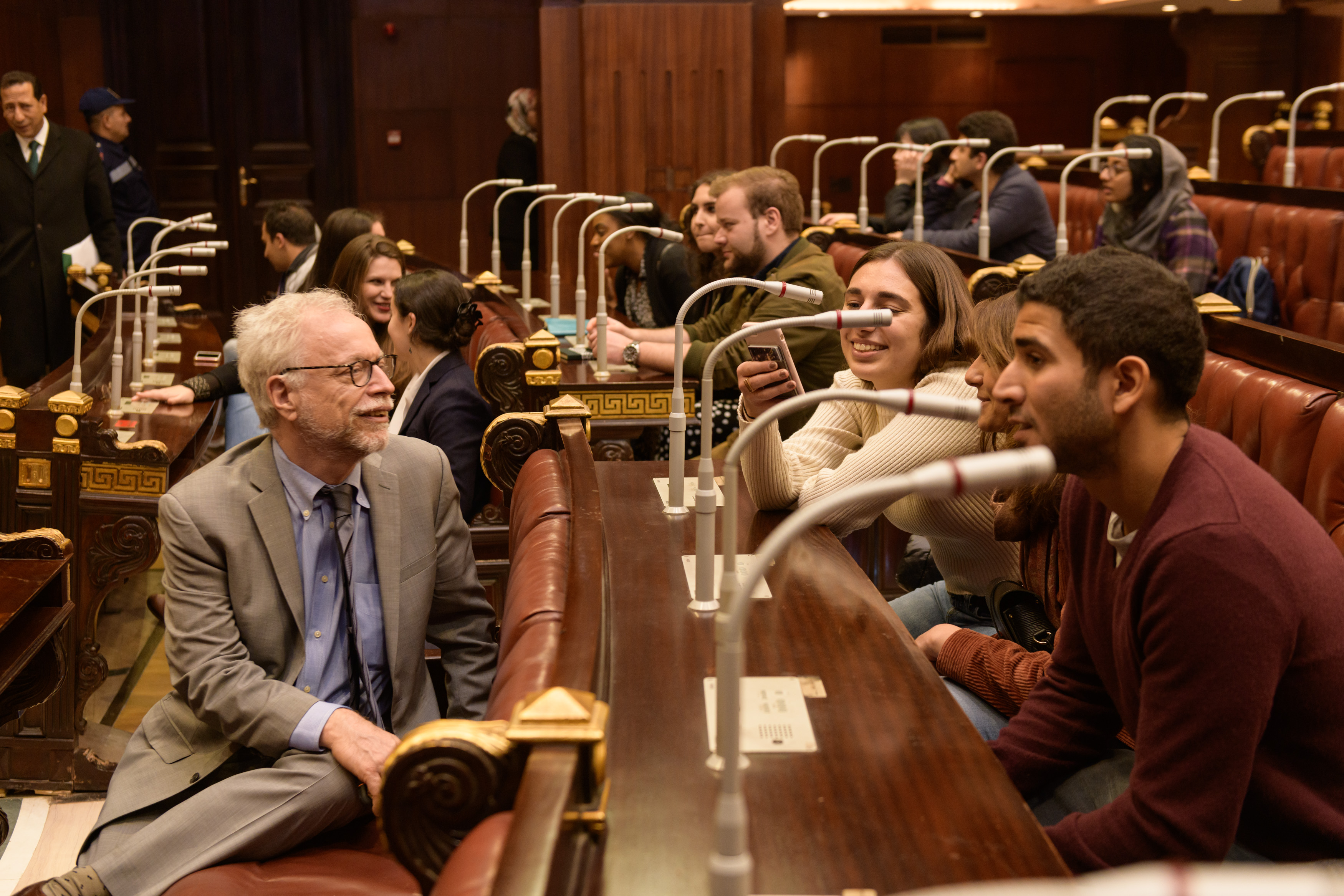 Sternberg emphasized that the overall experience wouldn't be the same without the AUC students in the program. Other GW students agreed, expressing that being able to interact with Egyptian students has taught them more than any class or book could. 
"Not only are we learning from an Egyptian professor, but when we interact with classmates, they're giving us real and contemporary perspectives," said Andrew Morales, a first-year graduate student studying security policy at GW. 
"In America, we talk a lot about things going on in the Middle East, so to interact with people who actually live through these processes gives a really unique insight," said Yosua Siagian, a sophomore studying Middle East studies and history at GW. "There's a lot of degree of separation when you just study, but the people who live here day by day — they're the real experts when it comes to this stuff."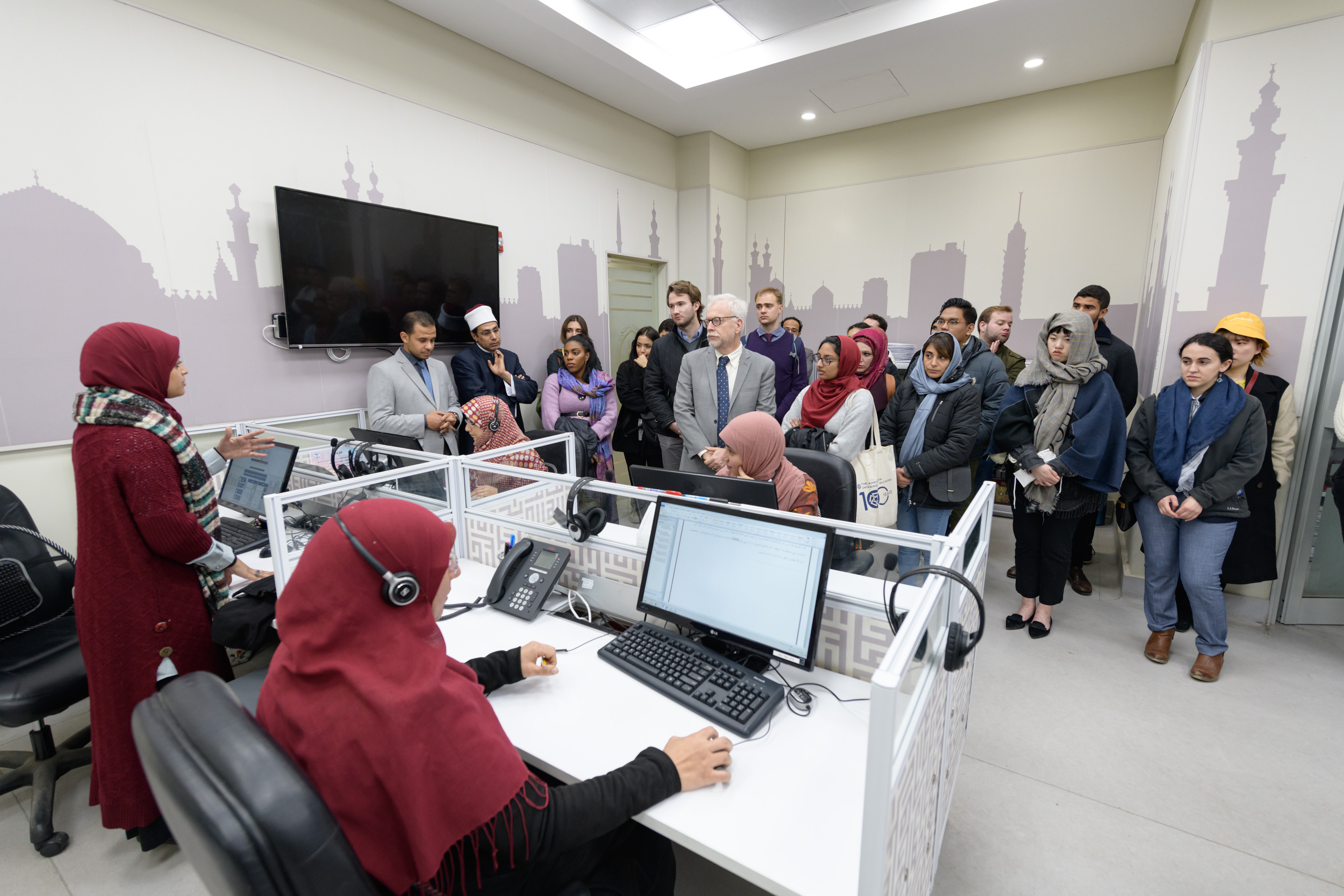 The program is structured as an opportunity for Egyptian students to be exposed to new experiences as well. Whether it's learning from their American classmates, visiting institutions that are often closed off to the public or speaking with legal and political figures such as a constitutional court justice and parliamentarian, the goal is to foster a new understanding of modern Egyptian society.
"Having  the GW students was such a great experience," said Abdullah El Oraby, a senior at AUC studying political science. "During class, we had several discussions that had a different take than a normal setting at AUC and allowed us to see a different viewpoint of the situations being presented." 
This is not the first collaboration between AUC and GW. Both universities signed their first Student Exchange and Outgoing Study-Abroad Agreement for undergraduate students in 2010. Two years later, they signed a student exchange agreement for graduate students from the School of Business. In 2018, AUC and the GW Elliott School of International Affairs have signed a new agreement for Graduate Student Exchange.
The GW students in the faculty-led program this winter expressed how this experience has influenced their views on Egypt and made them eager to return and encourage others to visit. 
"I really enjoyed my time at AUC, and I don't want it to be over," said Maeve Ponticiello, a first-year graduate student studying security policy. "In the future, I'd like to come back to Cairo to work or study. I just think it's a wonderful city. It's so vibrant, and the people have been so friendly. I just feel so welcomed here."
Siagian echoed the same sentiment: "The amazing thing about AUC is that it's at the apex of a new rebuilding of the city as well as maintaining historical aspects of the city. I would like to come back at some point. The campus is beautiful, the students are incredibly knowledgeable and are always hospitable, and the academics here are very similar to back home. I recommend people at my university to come here. It's a great place to study."
When asked what her plans are once she gets back to GW, Sternberg laughed and said, "to try and convince the Elliot School to let us study abroad here."