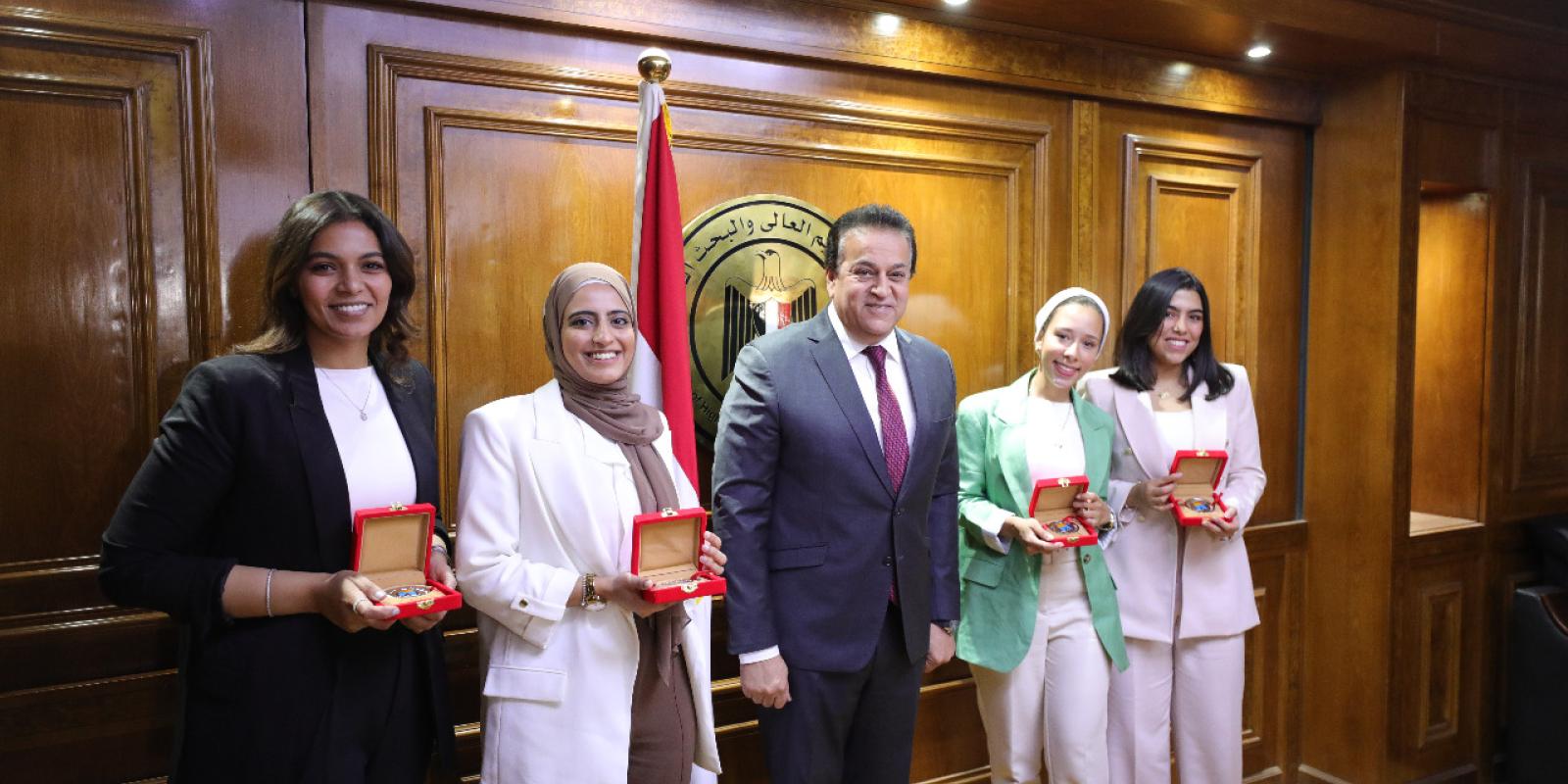 Higher Education Minister Honors AUC Students for Self-Luminous Concrete Thesis Project
Higher Education Minister Honors AUC Students for Self-Luminous Concrete Thesis Project
Minister of Higher Education and Scientific Research Khaled Abdel-Ghaffar awarded the ministry shield to four undergraduate students in the Department of Construction Engineering who have developed self-luminous concrete to light up roadways and pavements at night without using conventional energy sources.
Abdel-Ghaffar met with the four students — Zainab Mahmoud, Fatma Elnefaly, Mayar Khairy and Menna Soliman — who worked on the research project as part of their graduation thesis.

The minister expressed his admiration for the project and stressed the importance of transforming research ideas by youth into reality because of their benefit to society and positive impact on the environment, which aligns with Egypt's strategy to implement the Sustainable Development Goals.
The students explained to Abdel-Ghaffar that their interest in the project stemmed from their knowledge of the negative environmental impacts of using concrete. "The idea of our research came from wanting to make an integral construction material like concrete more sustainable and environmentally friendly in both its creation and function," Mahmoud recalled.
Abdel-Ghaffar encouraged the students to complete their research to achieve the best results. The students, in turn, affirmed that they would continue their scientific endeavors.
"Using this material in Egypt in such a context will reduce heavy reliance on electricity and accordingly be an active step towards fighting climate change and saving the environment," Mahmoud said.
Mohamed Nagib AbouZeid, professor of construction engineering and the team's supervisor, expressed his happiness and pride in the four students and his optimism for the future of scientific research in Egypt. He also highlighted the need to conduct further studies to enhance the properties of the self-luminous concrete and to produce larger quantities for testing at the implementation site. AbouZeid stressed that AUC plays a crucial role in providing opportunities for its students to excel, carry out impactful research, innovate and be creative.