Faculty Develops Data Science Hub Inspiring Impact, Innovation in Egypt and Beyond
Faculty Develops Data Science Hub Inspiring Impact, Innovation in Egypt and Beyond
From creating chatbots that assist instructors using online learning to helping match foster kids with new homes, the Data Science Hub (DSH) is a new interdisciplinary platform that believes in data's potential to help shape the future. Founded in 2020 by AUC alumna Nouri Sakr, assistant professor of data science and operations research in the Department of Computer Science and Engineering, the hub aims to lead the way in data-driven innovation while emphasizing the responsible use of data and leveraging cross-practice perspectives.
Coming from an interdisciplinary background herself, having studied computer science and actuarial science for her undergraduate degree at AUC, Sakr created DSH as a collaboration platform for academics, industry professionals, and research scholars from Egypt and abroad. The hub is open to anyone and includes members of the AUC community, researchers outside AUC, industry professionals and data enthusiasts in general.
"My dream for the hub is that it will help members truly understand what data science is, so they can advance their professional careers while working on innovative solutions for the community," Sakr said. "We take immense pride in celebrating the achievements of our affiliates and are also thankful for where the Data Science Hub is today."
The hub's three pillars are research, training and coaching. For research, members of the hub collaborate with organizations, like NGO's, banks or companies, that present a problem they would like to solve. The hub analyzes the organization's data and then works as a consultant by designing solutions. This data analysis is also used to write research papers which students can publish to international conferences and journals.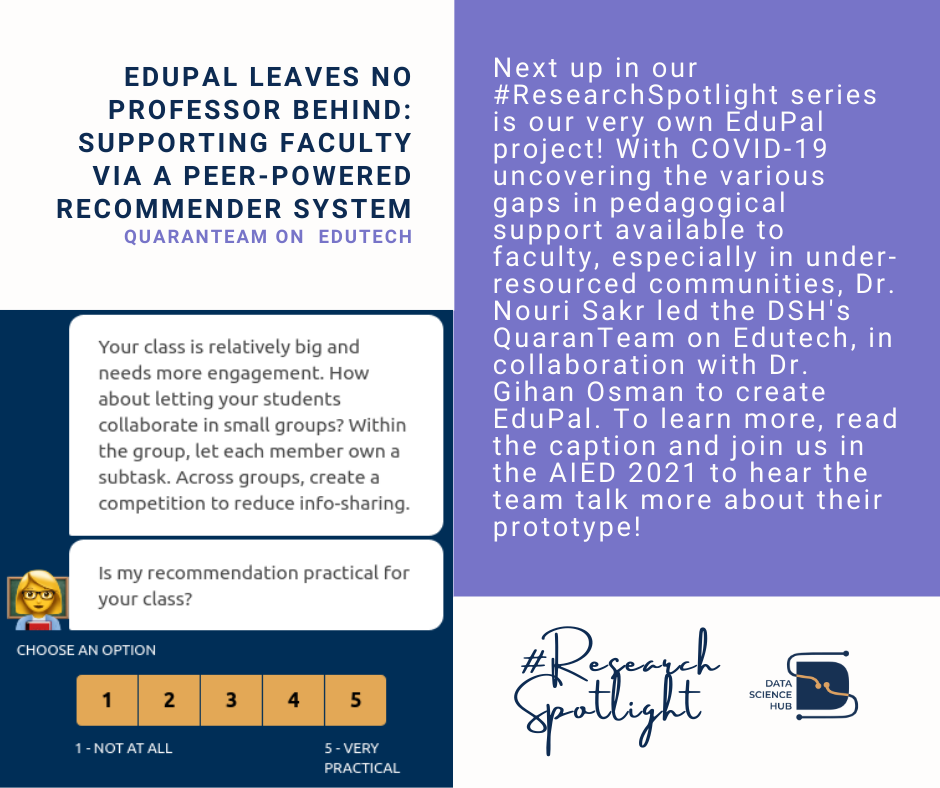 A prime example of the hub's success in connecting academia and the public sector is EduPal, a faculty assistant chatbot designed to recommend best practice and tools for educators in transitioning to online learning. Developed with the AUC community during the pandemic, the hub used data from interviews of AUC faculty, instructional designers from the Center for Learning and Teaching and global experts to design the free chatbot.
For then-freshman Yehya Adelmohsen, working with the hub on the EduPal project familiarized him with research skills and ignited his interest in an academic career.
"For my part, I researched online tools and coded interviews as part of the qualitative analysis process. When needed, I also did some programming," he says. "I think it was an important project because when we were transitioning to online learning, a lot of educators didn't know how to best deliver an education to students, so the system was very much needed."
Adelmohsen is now a graduating senior in the Data Science program and involved in another data science research project with Sakr.
More than 40 AUC students and alumni worked with Sakr on multidisciplinary educational projects during the summer of 2020, pooling resources and expertise from psychology, political science and economics. Sakr's students collaborated with many other projects and people on campus, such as former Assistant Professor Gihan Osman, in the Department of Educational Studies, on the EduPal project, and Sherif Aly, professor and chair of the Department of Computer Science and Engineering, on Dr. Proctor, a multimodal, user-centric online proctoring platform concerned with resolving network, privacy and fairness issues, as well student psychology, when it comes to taking proctored exams online..
"Working at the hub was the perfect start to my career; it gave me the opportunity to explore, learn, grow, and work on something valuable and important. The amount of ownership given to everyone and the great mentoring offered is something I have yet to encounter elsewhere," says Ahmed ElShafey '19, who works as a software engineer for a leading technology firm.
The hub also offers training in data science techniques and Sakr offers weekly coaching sessions that are open to anyone who wants mentorship, from career development to advice on analysis.
"In terms of research, I try to choose thematic applications that would serve the broader community in some sense. Since my time at Columbia University, I worked with my advisor, Cliff Stein, and researchers from the US Department of Energy on cybersecurity and machine learning," Sakr explains. "For another project, we worked with Graham Windhamto improve the success of foster care placements based on data from the children and prospective foster parents in New York. I try to make data science easy and accessible for people who are not data scientists or from STEM backgrounds…people who need those tools but are not yet experts at using them."
Rejecting the perception that data science exists in a vacuum, the Data Science hub seems set on proving that data can indeed play a "revolutionary role in shaping future decisions."