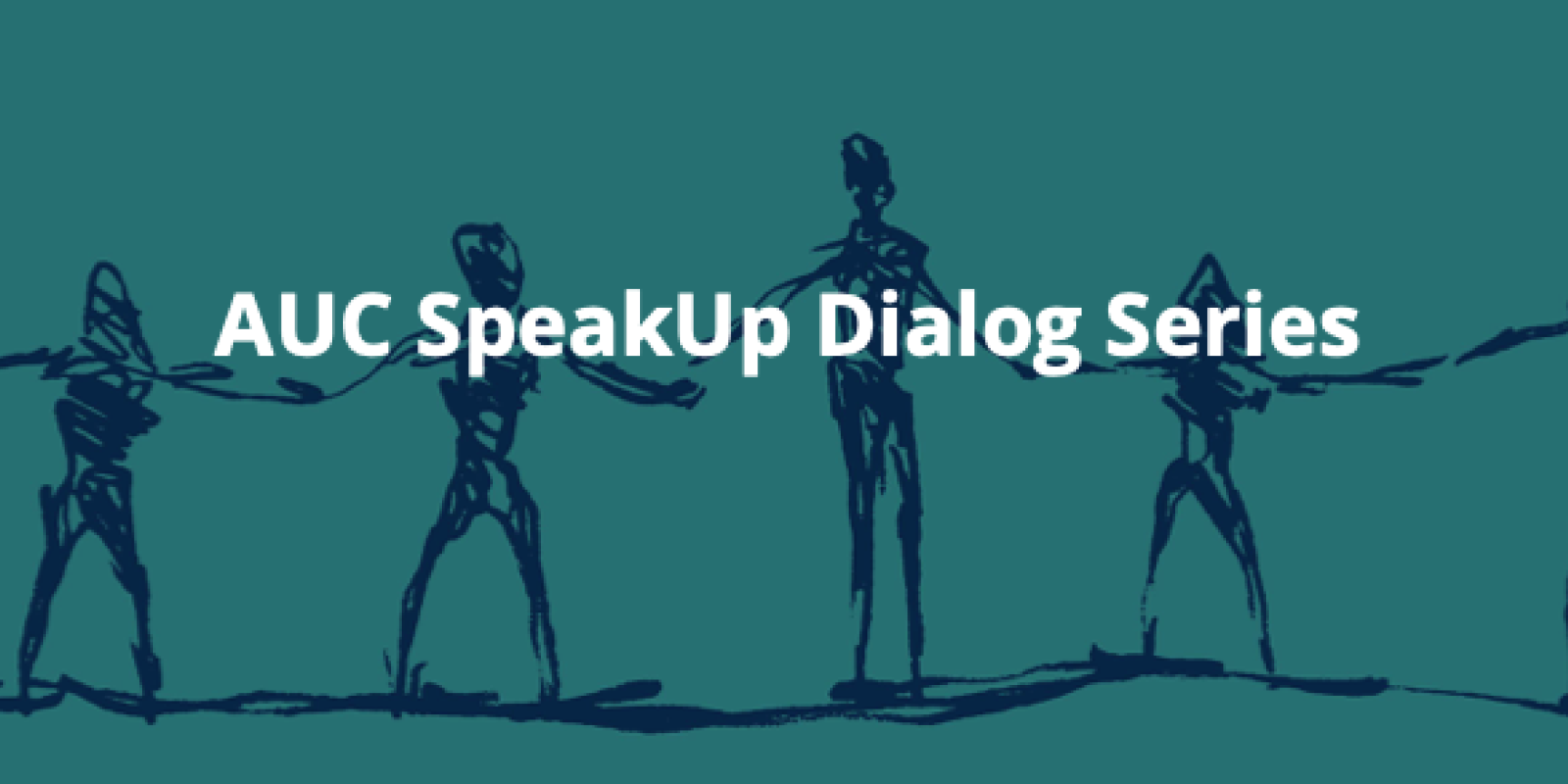 Engaging Anti-Harassment Community Dialog
Engaging Anti-Harassment Community Dialog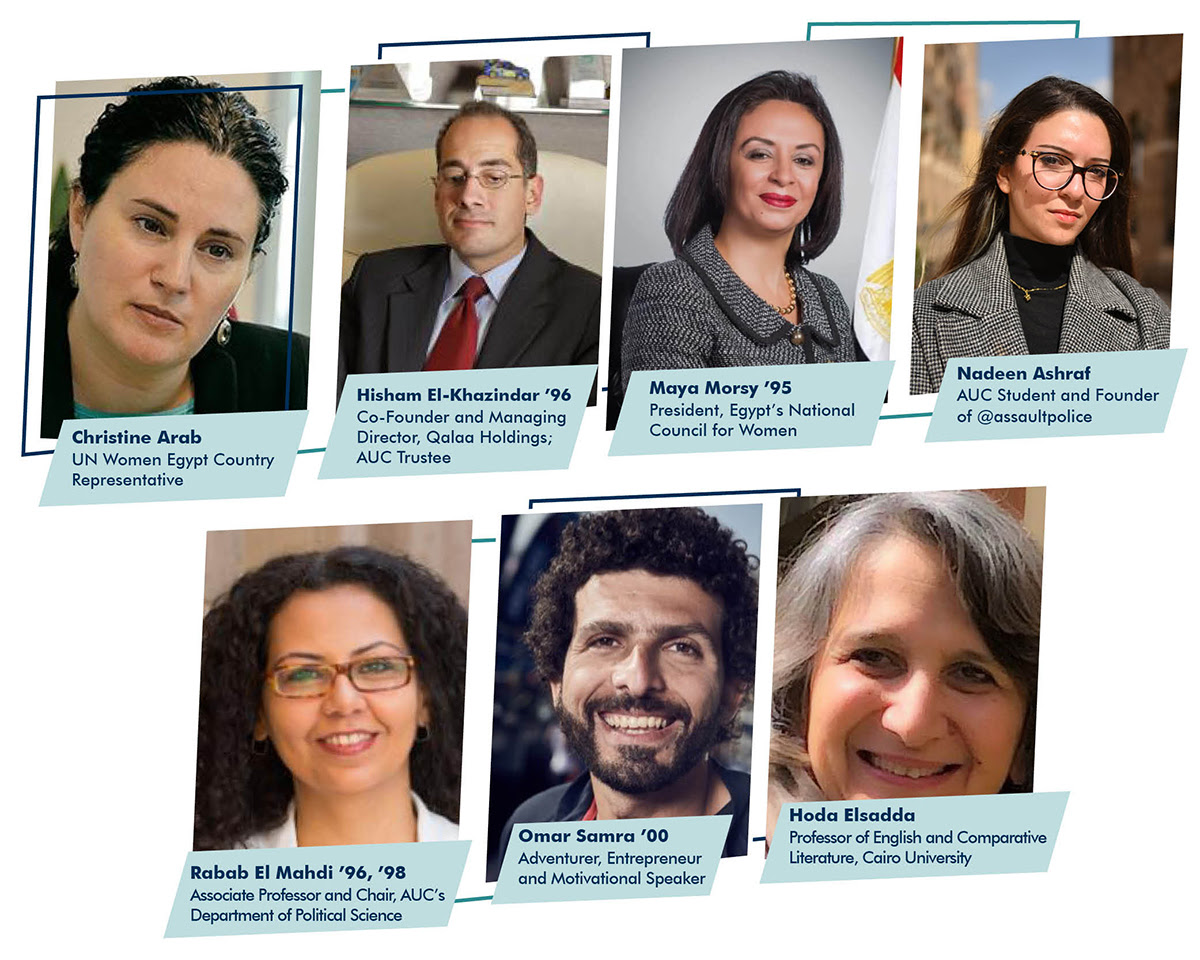 As part of its #AUCSpeakUp initiative, the University is launching a Dialog Series in partnership with a number of institutions and prominent influencers to participate in the national conversation on sexual harassment and raise awareness of this critical issue.
Launching on Thursday, November 19, with a dialog on: How can we combat harassment and why should we care?, the Arabic-language series (with English translation) under the name Lazem Netakalem ("We Must Talk: A Conversation About Harassment") features a set of conversations around key topics ranging from social norms and portrayals of gender in film to safety of public spaces, workplaces and college campus. To view the events in the series, click here.
AUC formed an Advisory Board of distinguished leaders to help shape the topics, speakers, sequence and direction of the series. The board's distinguished members are Maya Morsy '95, president of Egypt's National Council for Women; Hisham El-Khazindar '96, co-founder and managing director of Qalaa Holdings and AUC trustee; Christine Arab, UN Women Egypt country representative; Hoda Elsadda, professor of English and comparative literature at Cairo University; Rabab El Mahdi '96, '98, associate professor and chair of AUC's Department of Political Science; Nadeen Ashraf, AUC student and founder of Assault Police; and Omar Samra '00, adventurer, entrepreneur and motivational speaker.
"We are grateful to the Advisory Board members for their support, input and guidance on this social issue of national and international importance," said Dina Abulfotuh, vice president for marketing communication and public affairs at AUC. While the AUCSpeakUp initiative includes many elements that target the AUC community— training, Office of Institutional Equity, awareness of policy and procedures — the Dialog Series is an important part of our role in engaging with the wider national conversation and doing our part to raise awareness beyond the campus, explained Abulfotuh.
This outreach is an integral goal of the series.
"The Dialog Series is an occasion to educate the AUC community and the general public about the various issues and challenges linked to sexual harassment: the magnitude of the problem, the social, cultural, as well as legal constraints that deter women from reporting incidents of sexual harassment in the workplace and/or in public spaces, the stigma surrounding sexual harassment and how to address it, and sharing and comparing institutional experiences and policies on dealing with sexual harassment," said Elsadda. "These, and other themes will contribute to raising awareness and supporting national efforts to combat the problem."
Seven monthly events are planned from now until June, tackling topics that include: How are we socialized around gender norms?, Portrayals of gender in media and film, How do we make public spaces safe for women?, Are we safe in cyberspace?, Combating harassment on university campuses, Safe, inclusive and diverse workspaces, and Legal framework and violence against women.
"I believe very much that the ideas in the world about many topics, including this one, are very polarized. People are at opposite ends of the discussion, shouting their points of view sometimes," said Samra. "It's important to create discourse, a place where both sides of the argument can come together and converse in a healthy, constructive manner. I hope that's the main impact coming out of this and that my involvement -- whatever I say or whatever I do during the Dialog Series -- helps people think about the issues maybe differently or gets them a step closer to understanding where everyone who's been affected by this issue is coming from."
The role of leading higher education institutions such as AUC is paramount in raising awareness.
"When AUC or any institution is seen to be proactively chasing this issue of sexual harassment and tackling this issue, they're being proactively responsible," said Arab. "It teaches everyone that it isn't a trend or about political correctness. Institutions who are proactive are trying to right a wrong, and it's wrong that all institutions have been responsible for, including at times the United Nations, and are all responsible to correct these wrongs. In real terms, AUC is teaching thousands of people that sexual harassment is not just unacceptable, but it is illegal and will be punished."
For more information: