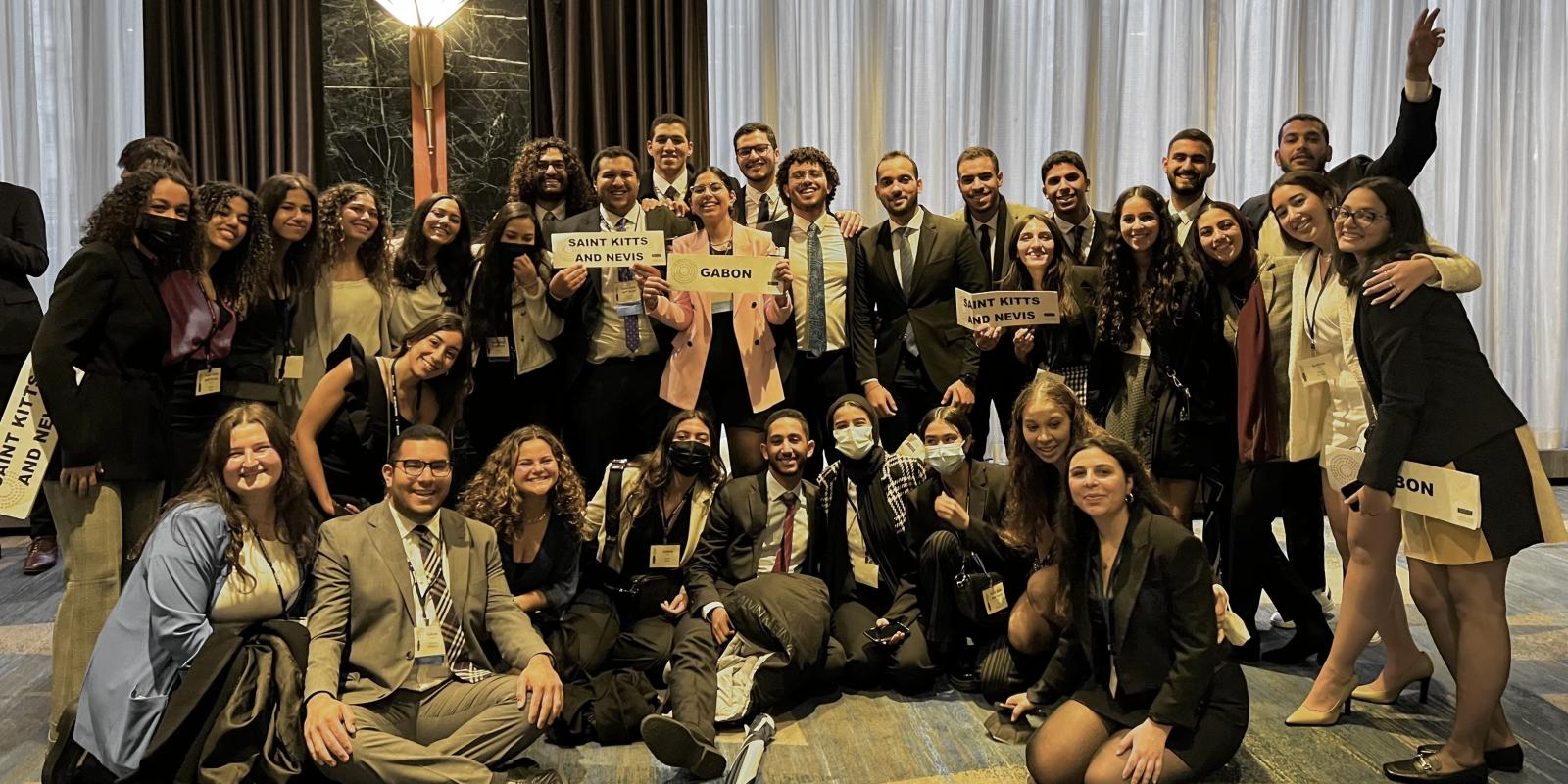 CIMUN Team Wins Big at 2022 National Model United Nations Conference
CIMUN Team Wins Big at 2022 National Model United Nations Conference
Emerging stronger than ever after a three-year hiatus, AUC's Cairo International Model United Nations (CIMUN) team won Outstanding Delegation awards for the 12th consecutive year at the 2022 National Model United Nations (NMUN) conference in New York City this spring.
The team won a total of 19 awards at the conference.
"We were able to win the highest number of awards in the past 31 years of our participation at the New York conference; no other university has collected as many awards as we did with that number of delegates," said said Youssef Ragai, a graduating senior in computer engineering and CIMUN secretary-general. "The Outstanding Delegation Award is also the highest attainable award any university can get at the world's largest Model United Nations conference."
In addition to 17 individual awards (listed below), the team –– made up of 32 students from different majors –– was given two Outstanding Delegation awards this year for Gabon (with Head Delegate Fayrouz Ibrahim) and for Saint Kitts and Nevis (with Head Delegates Youssef Nassef and Nada Selim), catapulting AUC to be recognized alongside 24 other top-performing universities.
"This is the 12th year in a row where AUC has won Outstanding Delegation awards, but this [win] has to be the most memorable," said Ragai. "It has been three years since we last participated in NMUN face to face, so being able to match the University record with a completely new team means that CIMUN and AUC are stronger than ever. Our team's hard work, perseverance and dedication led us to win."
Walid Kazziha, professor of political science and faculty adviser to the CIMUN team, was proud of the team's rigorous preparation despite doubts around travel.
"The students had little hope that they would be granted permission to travel to New York this year," he explained. "Despite this, they worked with such determination — as if nothing could stop them. They proved to be mature, very self-confident, dedicated to working together and highly self-motivated. This year, our CIMUN team exceeded all expectations."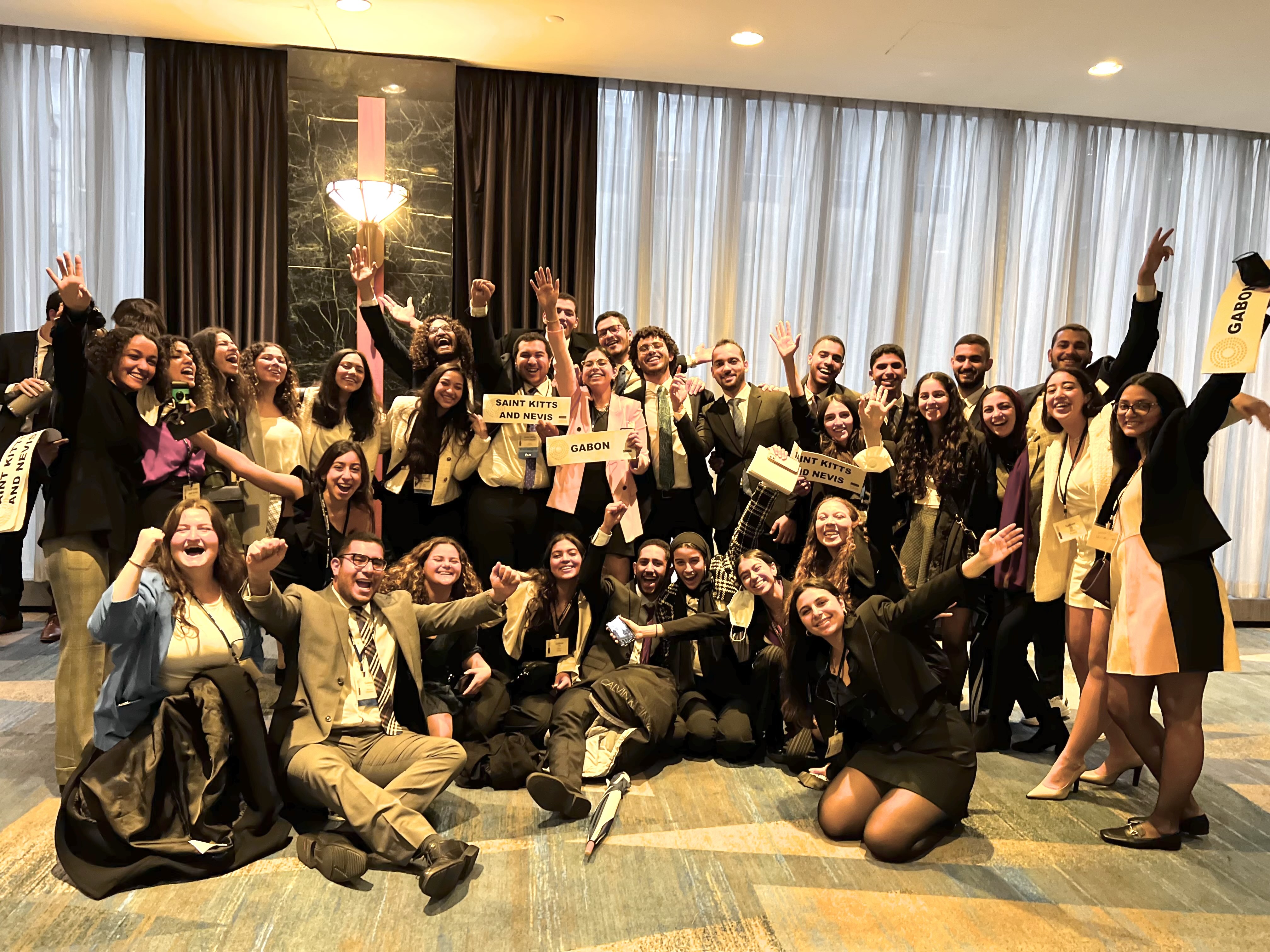 Best Position Paper Award:
Saint Kitts and Nevis in the General Assembly Third Committee, represented by Hana Salama and Ali Hussein

Gabon in the General Assembly Third Committee, represented by Aisha El Leithy and Youssef Diebbes

Saint Kitts and Nevis in the General Assembly First Committee, represented by Farid Moursi

Gabon in the General Assembly Second Committee, represented by Hanya Sedky and Yasmin Raafat

Saint Kitts and Nevis in the General Assembly Second Committee, represented by Ahmed Wael and Ibrahim El Shorbagy

Saint Kitts and Nevis in the United Nations Environment Assembly, represented by Alhussein Mowafi and Alia Tarek

Gabon in the United Nations Human Settlements Programme, represented by Tamara Abdelal

Gabon in the Security Council, represented by Lara Radwan

Saint Kitts and Nevis in the Economic Commission for Latin America and the Caribbean, represented by Logain Ragab and Omar Sedky

Saint Kitts and Nevis in the International Migration Agency, represented by Zeina Nafez and Nelly Khaled

Gabon in the International Migration Agency, represented by Nour Negm and Sama El Hadidy

Gabon in the Human Rights Council, represented by Hania Sultan
Outstanding/Best Delegate:
Gabon in the General Assembly First Committee, represented by Youssef El Massry and Ameena El Agha

Gabon in the General Assembly Second Committee, represented by Hanya Sedky and Yasmin Raafat

Gabon in the General Assembly Third Committee, represented by Aisha El Leithy and Youssef Diebbes

Saint Kitts and Nevis in the Economic Commission for Latin America and the Caribbean, represented by Logain Ragab and Omar Sedky

Gabon in the Human Rights Council, represented by Hania Sultan
Awarded Chair Position in Committees:
Aisha Habib in UN Women

Ahmed Wael in UN-Habitat

Youssef Nassef in the Peacebuilding Commission

Mohamed El Beblawy in the General Assembly First Committee
Recognition for Participation and Exceptional Effort:
Hussein Tarek in the United Nations Environment Assembly

Reema Bedewi in the United Nations Environment Assembly

Hana Khaled in the International Atomic Energy Agency

Youssef Hussein in the International Atomic Energy Agency

Jannah Soliman in the Economic and Social Council