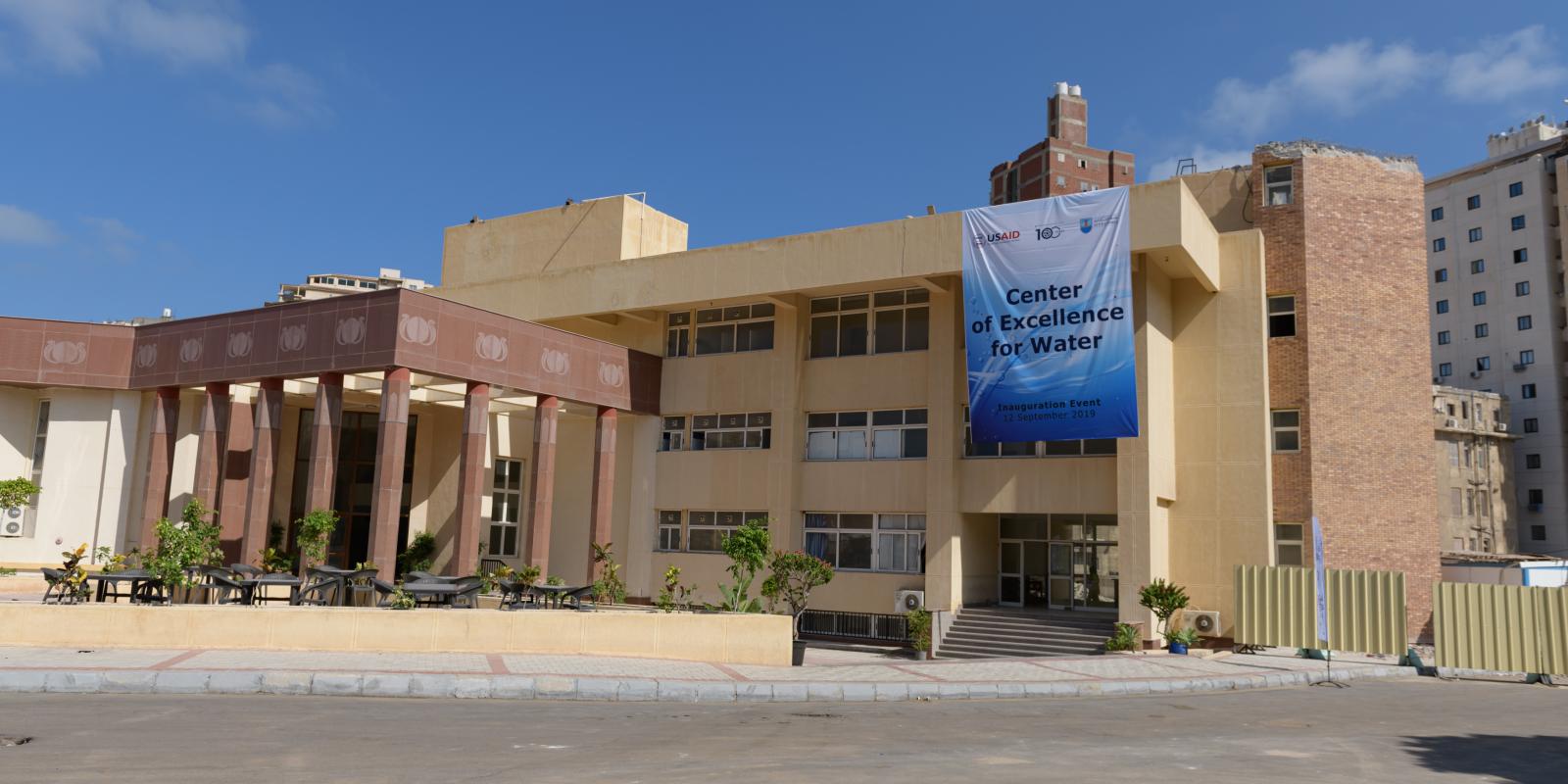 AUC's Center of Excellence for Water Offers Scholarships for Students in Egypt to Study Water Engineering
AUC's Center of Excellence for Water Offers Scholarships for Students in Egypt to Study Water Engineering
AUC's USAID-funded Center of Excellence for Water is offering full four-year university scholarships for students in Egypt to study civil engineering, with a focus on water, at Alexandria and Ain Shams universities.
"Water engineering is becoming a necessity for the world and especially for Egypt," said Yasser El Shayeb, professor in the Department of Petroleum and Energy Engineering and chief of party of the Center of Excellence for Water at AUC. "The University is working together with partners from universities, research centers, and public and private sectors to elevate water education and applied research in Egypt."
The scholarship includes tuition fees, in addition to a monthly salary for students, an annual allowance for academic books, and housing allowance for students coming from outside the University's governorate in which they study. The scholarship holder will also get free English courses and a possibility of internship in one of the leading industrial companies.
The scholarship also includes the possibility of studying a full semester at one of the American universities participating in the project, which are The American University in Cairo, Temple University, Utah State University, Washington State University, and the University of California at Santa Cruz.
"We aim to have a new generation of undergraduate students highly qualified to work on Egypt's pressing problem, which is water. The scholarship also aims to provide students with a new path for entrepreneurship in the water sector," said El Shayeb.
The Center of Excellence for Water is designed to be a state-of-the-art, modern applied research center located within the premises of Alexandria University, The center aims to catalyze long-term sustainable change in the water sector and support the Egyptian government in its Vision 2030 to achieve sustainable development and improve the quality of life. Egypt. It will be the hub for research and a vibrant network of Egyptian industries, research center, and ministries.
The center announced its first call for a research grant in March 2020, and the research team is currently working on the selection process for projects that will be awarded. In addition, the research team is working on a national water research roadmap, which is an investment plan aimed at highest-priority applied research and research capacity investments. The center will also be involved in the Cairo Water scientific committees.
The Center is also signing Memorandums of Understanding with different entities to provide mutual assistance in the areas of research, education and exchange to promote effective water resource management in Egypt. MOUs were signed with the Egyptian Partnering Universities last summer, and four more MOUs should be signed with Al-Azhar University, Holding Company for Water and Wastewater, Sekem Group and Engazaat Development.
AUC, Cornell University and the Massachusetts Institute of Technology are the American universities that were selected to launch three Centers of Excellence in Egypt, fostering research, scholarships and education innovation in water, agriculture and energy. The three centers, worth a total of $90 million, are funded by USAID and are conducted in collaboration with the Ministry of Higher Education and Scientific Research. As part of the center's activities and sustainability pillar, the American universities along with the Egyptian partnering universities are working on various publications tackling different topics in water.
The Center of Excellence for Water aims to improve the relevance and quality of water curricula and develop effective and innovative teaching methods for undergraduates, graduates and professionals of water engineering. It also aims at elevating water-related research capacities and the ability to produce market-driven research products, contributing to Egypt's Sustainable Development Strategy and Vision 2030.
"At AC, we are very proud of the opportunity to collaborate with esteemed Egyptian and American universities, research centers, private sectors and ministries to create this Center of Excellence for Water, which shows once again the impact that AUC is having on the Egyptian higher education and scientific research's landscape," said AUC President Francis Ricciardone
AUC was awarded the Center of Excellence for Water, which was established at Alexandria University in September 2019, in cooperation with a large consortium of U.S. and Egyptian Universities, U.S. and Egyptian private sector companies, and several ministries and public entities in Egypt.
Read more abou the center's inauguration, partnering with Alexandria Universityr and AUC's selection with Cornell and MIT.